---
Jessica Cejnar Andrews / Thursday, March 9 @ 3:09 p.m. / Infrastructure, Local Government
Proposed 28-Day Limit on RV Park Stays Prompt Crescent City Councilors to Weigh Longer-Term Options for Visiting Professionals
---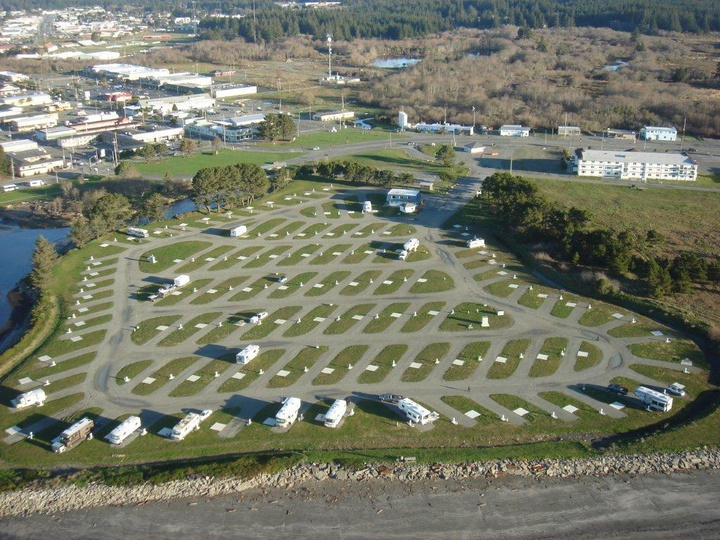 A proposed policy change at the city's RV park limiting stays to 28 days led to a discussion about whether the park could house traveling nurses and other Del Norte County professionals.
In addition to weighing the pros and cons of becoming landlords, Crescent City Councilors on Monday discussed logistics related to accommodating more long-term visitors to Lighthouse Cove RV Park while keeping within that 28-day limit.
The City Council unanimously approved the new policies at Lighthouse Cove. An ad-hoc committee consisting of Mayor Isaiah Wright and Councilor Kelly Schellong will meet to explore if the city could make longer-term options available at Lighthouse Cove as well.
Wright and Schellong were planning to meet to discuss the issue on Thursday.
"We have a lot of traveling nurses that stay at our park, lots, and having a wife that's a nurse, I hear all the stories," Wright told his colleagues. "It's tough because of healthcare the way it is. Our hospital runs pretty much on people coming into our community to help serve us. I always cringe when I think, oh yeah, we're making them leave to come back when they have an eight-week long stint here at the hospital. I'd like to find some ways to definitely make it easier for professionals."
The Council's decision on Monday reduced an RV park guests length of stay limit from 30 to 28 days. The remaining two policies coincides with implementation of the park's new reservation management system, Campspot, next month.
This system will enable guests to pay for their stay when they make online reservations, said Ashley Taylor, the city's economic development and recreation director.
According to Taylor's staff report, guests will be charged for a single night's stay at the standard rate of $45 to $50 when they reserve their space. The guest will pay for the balance of their stay when they check in.
Since the RV park will take payments up front, the new policy changes also include a mechanism for refunding a guest if they cancel a reservation. Guests who cancel their reservation at least seven days in advance will get a full refund less a $15 processing fee, according to Taylor. These changes will take effect April 3.
"Currently when a guest makes a reservation they do not make any kind of payment up front, and that is because we do not have the capability of taking any kind of a card payment," Taylor said. "With having Campspot, we'll now be able to take payment up front, which will reduce the city's liability and will also hold that guest accountable for their stay."
As for the length a guest can stay, Crescent City Councilors decided that visits to the RV park should be limited to 30 days back in 2020. Under state law, after 31 days an RV park space is considered a residents and a guest would become a tenant, Taylor said.
Guests who stay more than 30 days at an RV park cannot be charged transiency occupancy taxes, or lodging taxes, City Attorney Martha Rice told City Councilors.
The proposed length-of-stay limit prompted Councilors to bring up potential ways guests could stay longer at the RV park while complying with the policy. Wright asked if a guest could really be considered as having left if they're parked near Lighthouse Cove.
The mayor initially suggested exploring rearranging a parking lot just outside the RV park so someone towing a trailer couldn't take up more than one space.
Crescent City Police Chief Richard Griffin brought up the city's oversize-vehicle parking ordinance, which states that large vehicles like RVs parked on city streets or parking lots must be moved every eight hours. Wright then proposed asking a guest whose 28-day stay is up to checkout on time at 11 a.m. and return to a different space at check-in time at 4 p.m.
That would keep the guest from officially becoming a tenant, but Rice pushed back a bit on that suggestion.
"I have never been a fan of the idea of having someone live in the same park for three years and just move to the next slot, to the next slot, to the next slot," she said. "If we also limited how long you (could) stay out of a year — if it was however many months out of a year — then clearly they're not living there year-round."
Schellong brought an application process the city has for longer tenancies.
"Let's say you have a fishing guide that comes and stays here for four months out of the year, he can apply for that particular situation," she said.
Taylor said the city's application policy to stay at Lighthouse Cove longer than 28 days is a month-to-month application.
Inscore also suggested looking at an undeveloped portion of the park as a potential location for single-wide cabins similar to those at Whaleshead Resort north of Brookings.
"My guess is we would keep them rented year-round if we wanted to as another revenue (source)," he said. "Our ad-hoc committee ought to jump right into that."
Councilor Jason Greenough, however, warned of potential risk to the city if it begin offering longer term stays at Lighthouse Cove. Having a policy that limits a guest's visit to 28 days protects the city.
"It's beneficial to the city to not have tenants," he said.
City Manager Eric Wier said asking longer-term guests to check out and check back in while moving spots every 28 to 30 days is advantageous since it allows for staff to do maintenance on that spot.
---
SHARE →