---
Jessica Cejnar Andrews / Tuesday, March 14 @ 2:02 p.m. / Crime
Internet Crimes Against Children Tips Lead to Four Arrested On Suspicion of Child Pornography
---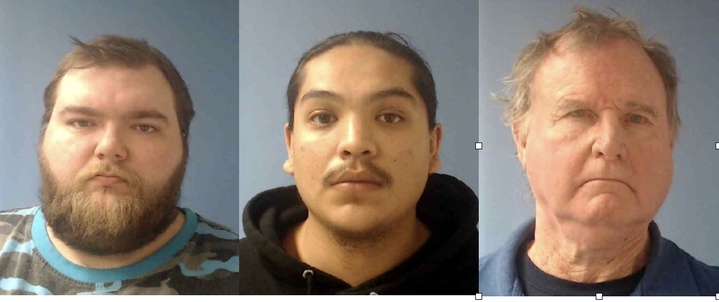 Four people face child pornography charges in connection with three separate cases, including one that allegedly involves a local victim, Crescent City Police Chief Richard Griffin told the Wild Rivers Outpost.
These arrests are the products of search warrants CCPD served on March 8 and March 13 that began as tips the department received from the Internet Crimes Against Children Task Force, or ICAC, Griffin said Tuesday.
The first search warrant, served on the 1000 block of U.S. 101 in Crescent City on March 8, resulted in the arrest of 22-year-old Ta-Teh Kennedy on suspicion of downloading child pornography.
According to Griffin, a search of Kennedy's devices uncovered videos Kennedy and his girlfriend, Elijah Price, 18, had allegedly produced involving a local 6-year-old child. By then, Price had fled the area, Griffin said.
After CCPD contacted Humboldt County law enforcement, Price turned herself in and was booked into the Humboldt County jail on March 12, according to Griffin.
Griffin said the alleged videos Kennedy and Price had been producing might have been made over the course of about a year, though CCPD is still working on a complete forensic download of the digital devices officers seized.
Griffin said he expected more charges to be filed against the suspects.
"We are in contact with the child's parent and they're fully cooperating. They had no idea this was going on," Griffin told the Outpost, adding that they're also investigating the possibility that the child's sibling may also be a victim.
Griffin said he expects the forensic downloads to be finished next week.
Kennedy faces charges of oral copulation with a minor, possessing obscene matter involving a child under 14 and for possessing obscene matter for commercial purposes.
CCPD served a second search warrant at a home on the 600 block of Washington Boulevard, also on March 8. Acting on a tip from ICAC that someone downloaded child pornography through social media, CCPD arrested 68-year-old Howard Coates.
"We did seize several devices and we also got a good interview with (Coates) where he did admit to downloading child pornography," Griffin said.
Coates faces a charge of possessing obscene matter involving a child under 14.
Griffin said officers also interviewed Coates' roommate, who, while not associated with the original investigation, also allegedly admitted to downloading child pornography. However, due to experiencing a medical episode while officers served the search warrant, the roommate was taken to Sutter Coast Hospital, Griffin said.
Griffin said he will be forwarding the results of that investigation to the Del Norte County District Attorney for review and for potentially filing charges against the roommate.
Griffin's officers served the third search warrant in connection with tips and information his department received from ICAC on Monday at the 1900 block of Northcrest Drive. There they contacted and arrested 28-year-old Rod Mustard Jr. and seized multiple digital devices, Griffin said.
According to the police chief, Mustard also allegedly admitted to downloading child pornography. He's charged with sexual exploitation of a minor and possessing obscene matter involving a child under 14.
Griffin said his department is working with the District Attorney's office and fells CCPD has solid cases for the DA to move forward with prosecution.
"These types of cases aren't the easiest to work because of what the officers have to see and the evidence we have to review," he said. "Everything was done the right way. We believe we have solid cases to forward to the District Attorney's office and we've been in constant contact with them also."
---
SHARE →