---
Jessica Cejnar Andrews / Monday, March 13 @ 12:02 p.m.
Gasquet Residents Directed to Smith River For Mail Needs Following Big Rig Crash; Market Open For Business
---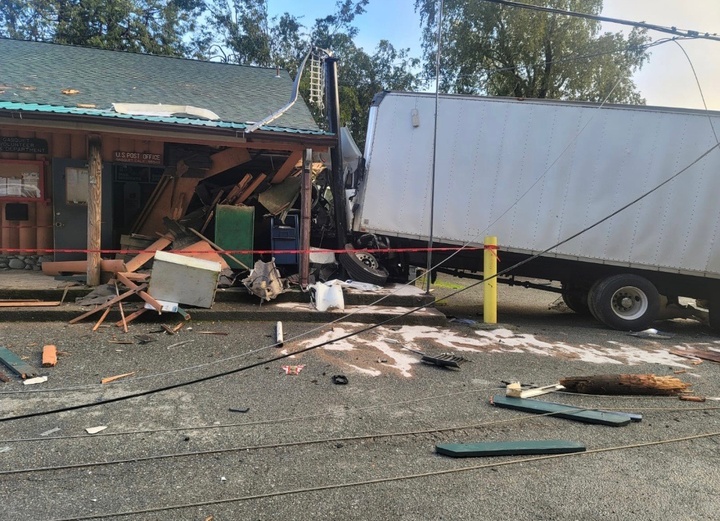 Two days after a big rig plowed into the Gasquet Post Office, residents are being directed to Smith River for their mail needs.
The U.S. Postal Service said residents with PO Boxes could get their mail at the Smith River Post Office, 291 N. Fred Haight Drive in Smith River, starting Monday. Retail services are available there as well, according to a USPS news release. Residents getting their mail need to bring a photo ID.
Those who get their mail delivered to their homes should not experience any impacts, according to the news release.
The collision occurred at about 4 a.m. Saturday near the intersection of U.S. 199 and Middle Fork Gasquet Road and involved an International Box Truck carrying mail from Medford, according to a California Highway Patrol news release.
The driver, a 38-year-old Medford man, had allowed his truck to drift onto the southbound shoulder of U.S. 199. He crashed into a utility pole owned by Pacific Power, a fire hydrant and the Gasquet Post Office and Gasquet Market buildings, according to the CHP.
Del Norte Ambulance transported the driver to Sutter Coast Hospital with major injuries. Because of the damage to the truck and power pole, traffic had to be diverted away from the Middle Fork Gasquet Road section for about five hours. The truck driver was determined to be sober at the time of the collision, according to the CHP.
Meanwhile, Gasquet Market is open for business, according to an employee. The collision didn't affect the store side of the building, but the post office is totally shut down currently, he said. The Gasquet Market employee said the truck plowed right into the desk and front area of the post office.
No one was inside the building at the time of the collision, according to the USPS. The agency is calling the incident an "actively evolving situation" and says it appreciates its customers' patience during the emergency location.
---
SHARE →