---
Jessica Cejnar Andrews / Tuesday, June 20 @ 12:06 p.m. / Community, Education, Our Culture, Parks
Celebration of Tolowa Culture At Tolowa Dunes Coincides With Reclaiming Place Names
---
Marva Jones found it difficult to speak at first.
Standing near her aunt, Sheryl Steinruck, who was cooking surf smelt in a cast iron skillet over a madrone fire, Jones made it clear that being able to share a meal of Tolowa foods on Tolowa land was a big deal.
"It's a form of healing for our people," she said "Being able to reclaim our names for our places is very very powerful. This is only the beginning. Hopefully we'll be able to reclaim the name of our river and our parks. We don't want to uphold colonization. We want to decolonize, this is a form of that."
Saturday's celebration of Tolowa culture at Tolowa Dunes State Park was an extension of a similar event, Tvmchaame' Day at Jedediah Smith Redwoods State Park on Wednesday.
Both honored the original Tolowa place names and coincided with California State Parks Week.
On Saturday, while members of the tribe's natural resources department took visitors on a guided hike of the Sweetwater Creek Trail, other tribal representatives installed signs with the proper place names.
If that wasn't enough, just setting off down the trail Cynthia Ford, the tribe's historic preservation officer, said hikers were in the center of major Tolowa villages including Echulet on Lake Earl, Yontocket on the Smith River and Howonquet near the river's mouth further north.
During the hike, Rosa Laucci, the Tolowa Dee-ni' Nation's marine program manager, and her colleague Rudy Lopez, stopped by one of the older signs. Depicting both a Tolowa house and a ranch house, the sign describes Tolowa Dunes State Park as the center of the Tolowa world. It also discusses the creation of Cadre Ranch and how white settlers transformed the land and clashed with the indigenous people in the area.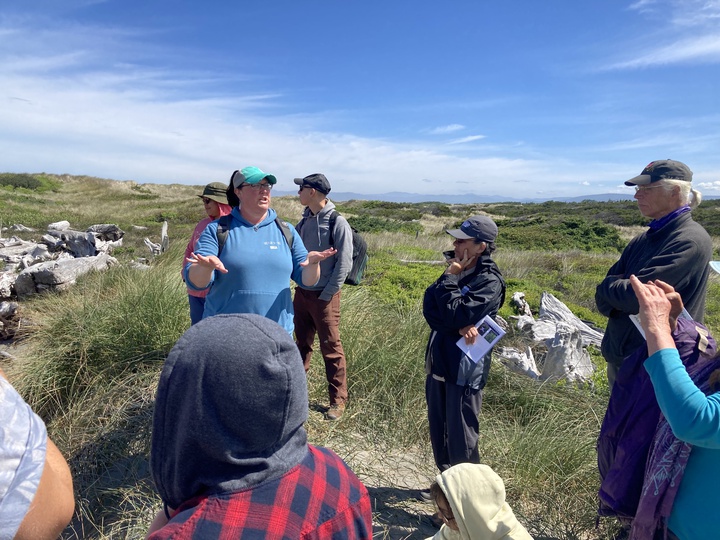 Yontocket, both Laucci and Lopez pointed out, was the site of the third largest massacre of indigenous people in the United States.
"This is the center of our whole universe," Lopez said. "This is the place we would come to every year and have a ceremony. During that ceremony, 150 years ago, all the districts got together and massacred. Up to 500 people were buried alive in a dance house during the ceremony. This site holds a lot of pain, but a lot of energy and when you're out here you can feel the energy."
According to Erin Gates, deputy superintendent for the California State Parks' North Coast Redwoods District, the first land acknowledgment sign in Del Norte was installed at the end of Pala Road near Yontocket in November 2021.
Every state park in the district has acknowledgment signs recognizing the indigenous people who called that place home "since time immemorial," Gates said.
This effort, led by the North Coast Redwoods District and by District Superintendent Victor Bjelajac, is setting the bar for other state parks, Gates said. It's part of a 2021 statewide initiative called Re-examining Our Past, which was the impetus for renaming Patrick's Point State Park to Sue-Meg State Park in Humboldt County as well as renaming Negro Bar to Black Miners Bar at Fulsom Lake State Recreation Area, she said.
Efforts to rename places within the California State Park system is largely led by the community, Gates said. That community group brings their request to the district, which then brings it up to the California State Parks Commission, she said.
"That was the process for Sue-meg," she said. "If anyone in the community wants to or feels like we have an inappropriate or less-than reflective name for any of our parks, they put it in writing and formally make a request to the district and that begins the process."
The events that were part of California State Parks week were made possible through funding from the California State Parks Foundation and the Save the Redwoods League. But, Gates said, many of the celebrations wouldn't have had the significance they had were it not for State Parks' tribal partners, whether it was Elk Valley Rancheria, Tolowa Dee-ni' Nation, Big Lagoon or Trinidad Rancheria.
As for the new signs at Tolowa Dunes State Park and at Tvmchaame' — which translates into "where you cook" and is at the Jedediah Smith Redwoods State Park day-use area — Gates said Guylish Bommelyn, who is part of the tribe's language division, has recorded their pronunciation on You Tube.
"I'll make it into a QR code and adhere that to the signs," Gates said.
---
SHARE →