---
Jessica Cejnar Andrews / Wednesday, July 19 @ 9:04 a.m. / Emergencies, Fire, Oregon
Flat Fire Near Agness Grows to 12,756 Acres; Community Meeting Set For 3 p.m.
---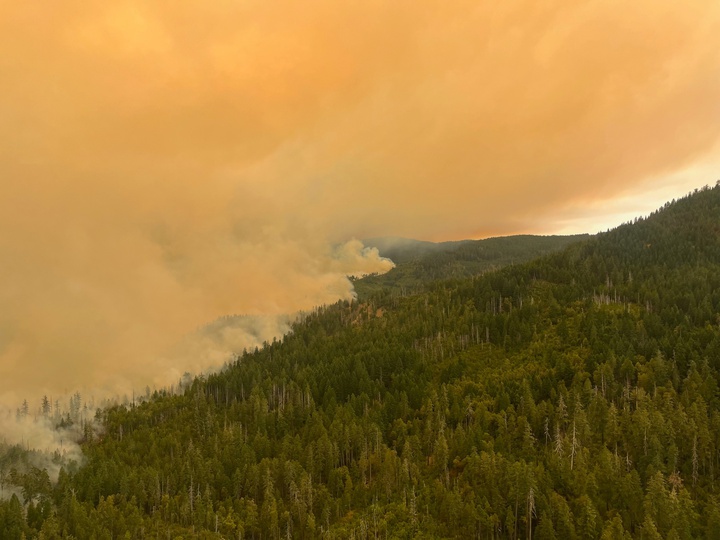 A wildfire southeast of Agness, Oregon has grown to 12,756 acres fueled by dry vegetation and windy conditions, officials reported at about 9 a.m.
A community meeting is scheduled for 3 p.m. today in Agness Park Library.
The Flat Fire has spread up Lawson Creek toward Wild Horse Ridge on its west side, according to a morning update from Northwest Incident Command Team 6. Northeast winds and firefighters' control lines have kept the fire from moving toward Agness. Heavy smoke will continue to impact nearby communities.
Burnout operations in the blaze's northwest section were successful. This made fighting the fire safer and slowed its spread, according to the release.
On the northeast section of the fire, crews are improving roads to increase access around the blaze. Crews are strengthening firelines and using hoselines to protect Agness on the fire's north section.
A total of 516 personnel are fighting the fire, which started at about 6 p.m. Saturday. Residents are urged to monitor the Curry and Josephine County sheriff's offices for evacuation notices.
A red flag warning is in effect due to gusty winds and low humidity. The Rogue River Siskiyou National Forest has closed trails, roads and a portion of the Illinois River due to the fire.
For more information about smoke forecasts, click here. For more information about fire restrictions, click here or call (541) 216-4579 between 8 a.m. and 8 p.m.
---
SHARE →