---
Jessica Cejnar Andrews / Friday, Jan. 27 @ 2:06 p.m. / Community, Film, Our Culture
'We Are Endor': Film Commission Launches Survey on Return of the Jedi Event Ideas for Humboldt and Del Norte
---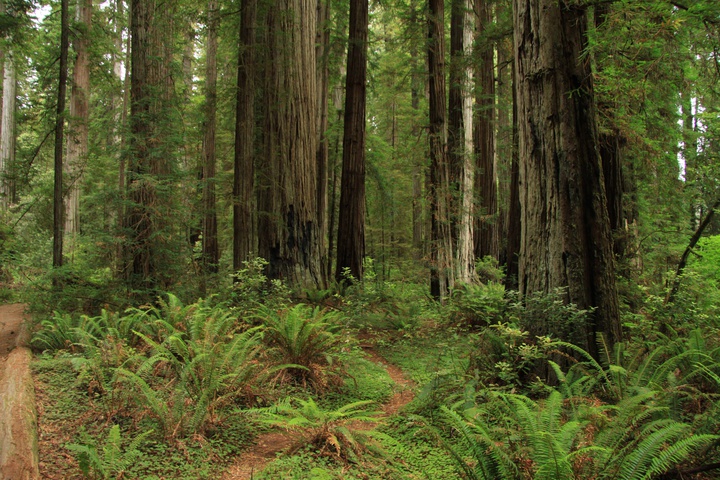 Angela Greenough grew up on Endor's Forest Moon.
As a kid she heard stories about the "crazy summer" when Del Norte hosted the film crew for one of the largest franchises in cinema history. She knew teachers and other community members who took part in its production and can tell other Star Wars fans where to find "Ewoc Rock" (it's at Fort Dick Market).
When the Humboldt-Del Norte Film Crew released a survey asking for opinions on a potential celebration for "Return of the Jedi's" 40th anniversary, Greenough took it right away.
"We got to embrace this," she told the Wild Rivers Outpost, adding that she and her husband, Crescent City Councilor Jason Greenough, are members of several online Star Wars fan communities. "They want to visit film locations. They go to Tunisia, which is Tatooine. They travel to these film locations and they want to know where the Ewoks are, they want to know where the Storm Troopers are."
One hundred Del Norters turned into Storm Troopers when George Lucas filmed Episode VI in the original trilogy, according to the Humboldt-Del Norte Film Commission's Map of the Movies. Jedediah Smith Redwoods State Park stood in for the Forest Moon, and the speeder chase raced through Grizzly Creek Redwoods State Park in Humboldt County.
But most of the filming occurred on Miller-Rellim Redwood Company property near Smith River. According to a May 4, 2022 SFGate article, the logging company clear-cut that land months after filming concluded.
The film commission still doesn't want to leave Del Norte County out. According to its survey, any Star Wars-related event would span both counties, providing "a weekend full of fun activities for the whole family to enjoy." This would also include a free screening of "Return of the Jedi."
Things aren't set in stone, but the film commission has already checked in with Lucasfilm to make sure an event wouldn't run afoul of any intellectual property issues, Film Commissioner Cassandra Hesseltine told the Outpost. This includes ensuring any vendors, community partners and other participants respect Lucasfilm's intellectual property rights, she said.
Though the 40th anniversary of the movie's release is in May, Hesseltine said the overall goal is to create an annual event celebrating its impact on the Redwood Region.
The film commission's goal with the survey is to find out if communities in Humboldt and Del Norte counties would support it, she said.
"From there we will be launching something kind of like a dress rehearsal this year," Hesseltine told the Outpost. "We're doing baby steps. We want to make sure it's successful. We don't want to throw something so big that I can't do the main part of my job, which is to market film production. Or we launch too big and it becomes a disaster."
According to Hesseltine, the Humboldt-Del Norte Film Commission has been working with the City of Eureka to host a community event celebrating "Return of the Jedi" for about 10 years. Before the COVID-19 pandemic, those discussions included Humboldt Made and similar organizations in Del Norte County.
Last year, the film commission collaborated with Eureka and the Sequoia Park Zoo Foundation to hold a May the Fourth Be With You event last year, which included a meet and greet with Kevin Thompson, who played Chubbray, one of the Ewoks form the film.
When asked if a date for this year's event has been discussed, Hesseltine said the film commission and other partners are discussing the first weekend of June, though things could change.
"A lot of this will be outside is my assumption at this point," she said, "so we want to make sure we have good weather."
Cindy Vosburg, executive director of the Crescent City-Del Norte County Chamber of Commerce and Visitors Bureau, said the organization she represents is in the loop on the film commission's plans. She said Hesseltine has promised to brainstorm with the chamber.
"We're hoping this will be a two-county event and not just Humboldt County," Vosburg said. "That's what we're encouraging."
Jason Greenough said he was excited that the Del Norte County Visitors Bureau is collaborating with the film commission to ensure the community participates in a "Return of the Jedi" celebration. Star Wars fans flock to Comic-Con and D23 conventions, he said.
"It's a real opportunity for our community to come together and to share with the world what Endor is and where we're at," he said. "We are Endor. It's not south of us. It's not San Francisco. It's here."
---
SHARE →