---
Jessica Cejnar Andrews / Wednesday, Feb. 15 @ 4:08 p.m.
Tim Tebow Foundation Gives Del Norte, Brookings Special Needs Adults A 'Night To Shine'
---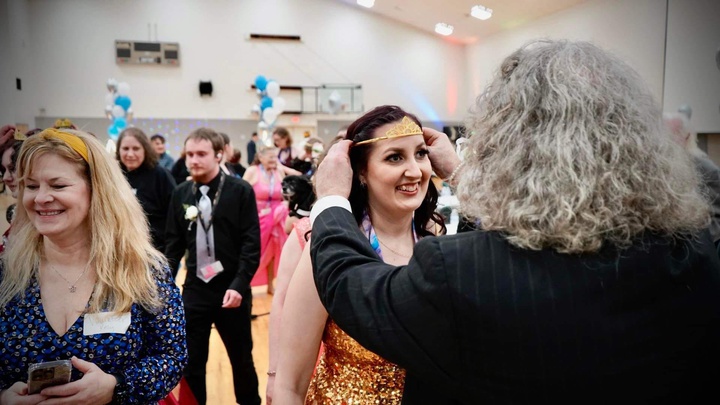 Special needs adults from Del Norte County and Brookings experienced a night they're not likely to forget last weekend.
Thanks to the Tim Tebow Foundation, Foursquare Church, Kenna Gavin and roughly 20 volunteers, the ladies donned formals and the gentlemen wore dress shirts and ties. There was a limo, a red carpet, corsages, boutonnieres, tiaras and crowns.
Saturday was their "Night to Shine."
"It was an amazing night," Gavin, Del Norte County area director for the Special Olympics, told the Wild Rivers Outpost, adding that each prom-goer could bring a plus-one. "We're going to try to make it an annual event."
Gavin said she was introduced to Night to Shine back in 2019. A complimentary event for those with special needs, it was open to anyone with living with disabilities ages 14 and older. Since a church must be involved, and since she went to Foursquare Church, Gavin asked its pastor, Roger Bodenstab, if they'd host the event.
Gavin said the Tim Tebow Foundation notified her in September that they had selected Del Norte County as one of the recipients for the 2023 Night to Shine. She got her volunteer team together and invited special needs people from Brookings to attend.
"My goal was to do something for the special needs community, to get them more involved," Gavin said. "My daughter has Down's syndrome and she's 22. She didn't get to go to her prom, and this was a night for all of them."
In addition to working with Foursquare Church and the Fairy Godmother Boutique, Crescent Uniform provided dress shirts and ties for the guys. Other volunteers included law enforcement, emergency medical technicians and a fireman there.
"He wanted to give rides in the fire truck," Gavin said. "And we had a limo service drive them from the fairgrounds up to Foursquare Church to give them a little extra special ride. A short ride, but a special one."


---
SHARE →