---
Jessica Cejnar Andrews / Wednesday, Aug. 30 @ 12:48 p.m.
Del Norte Sheriff Hopes to Allow Gasquet Residents Home Soon; County Roads Superintendent Says French Hill, Patrick Creek Took Minor Damage
---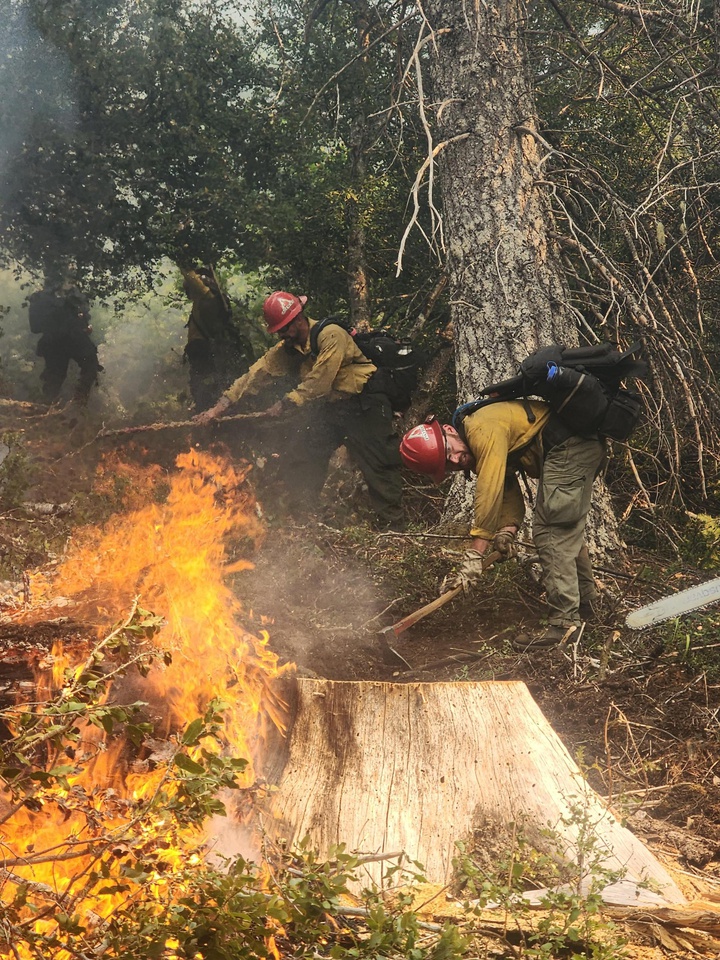 Previously:
• Gov. Newsom Declares State of Emergency in Del Norte and Siskiyou Counties Due to Fires
• Del Norte County Official Frustrated By Delay In State Disaster Declaration For Smith River Complex; Oregon Governor Mobilizes Additional Firefighters, Equipment
###
Crews battling the Smith River Complex still have today's "wind event" to get through, but Pacific Power is already making sure Gasquet residents have electricity when they're able to return home.
The utility serving Del Norte County will install a large commercial generator at the substation serving the mountain community over the next two days. Once it's installed, crews will patrol distribution lines serving the area before bringing them back online, Pacific Power announced Tuesday.
In the Patrick Creek area, Pacific Power will provide residents with a generator to meet their electricity needs as they're unable to repair the infrastructure due to fire activity.
Del Norte County Sheriff Garrett Scott says he's waiting on the incident management team commanding fire operations to determine that an imminent threat to homes in the community is over. He said could relax the Level 3 evacuation order residents have been under as soon as Thursday evening ... or it may be Saturday.
Once Scott does allow Gasquet residents to return home it may be another four to five hours before they have electricity. They'll still be under a 2-hour standby to evacuate if the fire reanimates. Water service from the Gasquet Community Services District will also be limited since it's being used by crews battling the flames, Scott said.
"I do have our emergency operations center looking to find out a way to get a backup potable water plan so people could get water in buckets or something like that," Scott told the Wild Rivers Outpost on Wednesday. "The firefighters are filling up water tenders one right after another, not only from the river, but they're also using the district's water. I feel like residents, knowing they're fighting fires and using water for very good purposes, would be pretty understanding."
The Kelly Fire is burning about a half mile away from Gasquet, though Tom Engberg, public information officer for California Interagency Incident Management Team 15, said he's confident containment lines in the area will hold. Still, the weather forecast calls for gusts up to 30 mph affecting the fire area, which means the fire could reanimate, he said.
The Smith River Complex is now at 75,775 acres and is 7 percent contained. A total of 3,035 personnel are working on the fire currently, according to a U.S. Forest Service news release Wednesday.
California Governor Gavin Newsom finally issued an emergency proclamation for Del Norte County.
The proclamation waives licensing requirements and fees for out-of-state contractors and others working to restore electricity to Del Norte County residents. It also eases access to unemployment benefits and waives fees for fire victims to replace driver's licenses and other records.
According to District 3 Supervisor Chris Howard, the governor's disaster declaration helps Del Norte access federal emergency dollars to "backfill what we're spending out of the general fund right now."
In Oregon, Governor Tina Kotek invoked the Emergency Conflagration Act, which allows the state fire marshal's office to bring additional firefighters and equipment into the area.
According to the U.S. Forest Service, gusty winds of up to 20 mph in the upper elevations did arrive on Tuesday, but an increase in moisture helped limit fire activity. Firefighters conducted hose lays to water containment lines north of Gasquet near Pioneer Road and in a recently burned out area south of U.S. 199 to French Hill Road.
"These lines continue to hold and the threat of the fire reaching Gasquet continues to decrease each day," the U.S. Forest Service states.
Crews have also been falling hazardous trees and mopping up hot spots along the highway so Caltrans can reopen it.
According to Engberg, in the complex's northwest corner, crews have corralled the Corral Fire — it's 100 percent contained currently, he said — and have nearly fully contained the Diamond Fire.
Another incident management team, Southwest Area Incident Management Team 2, will assume command of the Smith River Complex on Thursday, Engberg said.
Meanwhile, with state officials saying they needed an initial damage assessment from Del Norte County on the fire's impacts, Roads Superintendent Richard Mello on Monday toured French Hill Road to Camp 6 and Patrick's Creek Road roughly seven to eight miles up from U.S. 199.
On Wednesday, Mello told the Outpost that though fire activity kept him from being able to review all county roads, he saw minor damage on the two he was able to tour.
"From what I've seen, our roads have not taken near the beating the state highway did," Mello said. "But I haven't got to see the back end."
There were "cooked culverts" and signs on French Hill and Patrick Creek roads did take some damage, Mello said. He said you could also see orange on trees in the area where the fire crept around them. But, unlike the damage 2020's Slater Fire did to the vegetation on Oregon Mountain Road, those trees are still standing, Mello said.
"(The Slater Fire) burned culverts and burned guardrail we had up there," he said, adding that Oregon Mountain Road had been overgrown at the time. "It went through there and matchsticked everything. There were no needles on the trees, they were just matchsticks. From what I saw here, I didn't see as many matchsticked trees. There were some orange trees where fire had crept around and up toward Camp 6."
Mello credited shaded fuel breaks and other preventative measures spearheaded by the Smith River Collaborative on the French Hill Road area.
"Those shaded fuel breaks helped lower the intensity of the fire," he said. "And up there at the tunnel, during the Slater Fire, we didn't have those in place and it burned hotter."
Once residents are able to return to Gasquet, Scott said he'll ask them to limit traffic on the roads due to the fire equipment in the area.
Scott said he set up a command post at Gasquet Mountain School, though it's had to move a few times due to fire activity. Still, he said, protection lines around the community "are darn close to being accomplished."
"I have my Search & Rescue team and that encompasses about 20 people or so, but they're on a rotating basis so there will typically be five or six of them at a time," he said. "And they've been feeding animals for people and doing security for different areas and different roads where people tend to sneak through."
Scott said his focus is to keep looters out of homes residents had to leave. Two deputies are patrolling Gasquet during the day and are relieved by two of their colleagues at night. Scott said he also has deputies in the Big Flat area.
Meanwhile, Scott said he put out a call through the California State Sheriff's Association for help. As a result, law enforcement from Fairfield, Yuba City, Sonoma County and other areas are patrolling Crescent City, Smith River and Klamath, he said.
"It's amazing the camaraderie with all the law enforcement agencies in California," he said. "The help they sent is just unbelievable."


---
SHARE →