---
Jessica Cejnar Andrews / Friday, Aug. 25 @ 3:40 p.m. / Infrastructure
Pacific Power Says They've Electrified Nearly All Del Norte, Crescent City Customers
---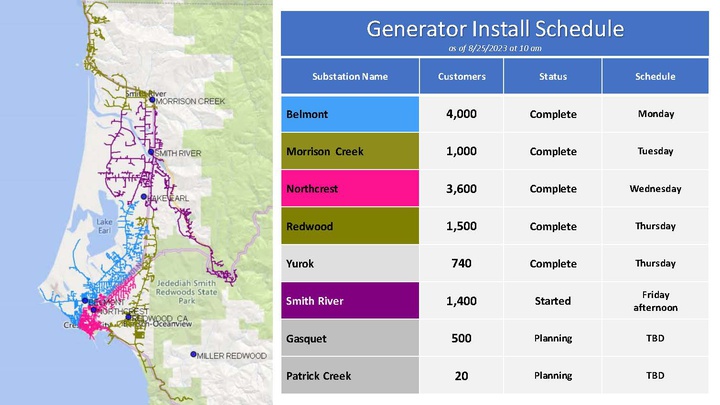 From Pacific Power:
CRESCENT CITY, CA (Aug. 25, 2023) - With field crews working around the clock, Pacific Power has now restored power to nearly all customers in the Crescent City and Del Norte County area using large generators.

The Gasquet and Patrick Creek areas remain without power due to Level 3 evacuation orders from Del Norte County.

"We understand it's been a frustrating and difficult week for our customers in northern California," said Allen Berreth, Pacific Power's Vice President of Transmission and Distribution Operations. "We're proud of the hard work our teams have put in to get power flowing back into our system using these generators. Pacific Power is committed to supplying generator power to our customers until we are able to safely re-energize the transmission lines."

Customers whose power has been restored can resume normal electricity use. Customers who are still without power outside Gasquet and Patrick Creek are advised to contact Pacific Power Customer Service at 877-508-5088.

In coordination with Del Norte County Emergency Management, Pacific Power will be closing the Customer Resource Center at 225 Klamath Blvd, Klamath, CA 95548 at 8pm Friday.

Due to continued wildfire activity in the transmission corridor serving Crescent City, it remains unsafe to re-energize the transmission line serving the city and surrounding areas. Pacific Power continues to closely monitor all fire activity in the region and will restore power for all customers when it is safe to do so.

For more details, visit: PacificPower.net/Outages.
---
SHARE →