---
Jessica Cejnar Andrews / Friday, Aug. 18 @ 10:53 a.m.
(UPDATE) Most 199 Communities Under Evacuation Notices Due To Smith River Complex; Community Meeting Set For Saturday
---
Video Courtesy of Bill Steven, Del Norte OES
Update at 12:45 p.m.
Del Norte County residents are going to see a surge in manpower, fire engines and aircraft over the next several days as crews get a handle on the Smith River Complex.
Roughly 60 people with California Interagency Incident Command Team 15 are currently stationed at the incident command post at the Del Norte County Fairgrounds, Bill Steven, public information officer for the Del Norte County Office of Emergency Services, told the Wild Rivers Outpost. That's not including crews fighting the fire, he said.
"I'm quoting their PIO, Tom Stokesberry, and he said that we have been prioritized on a national level," Steven told the Outpost. "This fire has been put at the top for resources. We expect to get more aircraft, more firefighters and more engines headed this way because of the prioritization."
Two fires in the northern part of the Smith River Complex, which has been mapped at more than 7,500 acres as of this morning, are moving toward transmission lines. Though the county is on edge, Steven said, residents can prepare for the possibility of a power outage. He echoed a statement from a Pacific Power spokesman, who said that the utility would notify customers if they plan to de-energize the lines.
Meanwhile, another concern has reared its head near the Howard Griffin Memorial Bridge at the north end of the four-lane stretch of U.S. 199. Either one of the existing fires has spread or a new start has occurred on the ridge above the water fall in that area, Steven said.
"It's a new concern they're keeping an eye on at the north end of that freeway," he said. "The highway is closed witha permanent CHP presence, at least on this side past the ranger station in Gasquet."
Steven urged residents to get information about the Smith River Complex from official sources including Del Norte OES, the Six Rivers National Forest, the Del Norte County Sheriff's Office, or updates on KCRE and KPOD. Another live update will be broadcast at 3 p.m. Saturday, ahead of the community meeting at 6 p.m. at the fairgrounds.
A community information line has also been established at (707) 383-9727 or at 2023.smithrivercomplex@firenet.gov.
Steven also warned motorists not to try to use backroads to get to Cave Junction.
"A lot of those roads are not going to work because they are closed," he said. "You can't get through them and there ar eprobably trees down and firefighters trying to use those roads. If you try to sneak your way over on one of those mountain roads, you can't. They're closed."
****
Most communities along the U.S. 199 corridor are under some type of evacuation notice due to the Smith River Complex that's been mapped at a total 7,593 acres as of about 9:15 a.m. Friday.
There are currently about 12 fires burning within the Gasquet Ranger District, Six Rivers Fire Public Affairs Specialist Adrianne Rubiaco said. The largest are the Holiday Fire near the Oregon border and the Kelly Fire that has burned down to U.S. 199 south of Patrick Creek.
"We have a photo courtesy of Caltrans of debris on the highway, which was taken by their maintenance crews," Rubiaco said. "We've not heard reports of damage to the transmission lines. At this time we do not have any (word) of structures being lost."
Residents in the Patrick Creek, Little Jones Creek, Copper Creek Drainage, Coon Creek, Washington Flat, Pioneer Road and Panther Flat Campground areas were ordered to evacuate Thursday evening.
The communities of High Divide, Rowdy Creek and Gasquet from Pioneer Road to Slant Bridge received a Level 2 "Be Set" notice to leave their homes at a moment's notice.
French Hill, Big Flat and Rock Creek, Low Divide and Hiouchi from Slant Bridge to the east end of North Bank Road received a Level 1 "Be Ready" notice, the lowest level evacuation notice.
The highway itself is expected to be closed until the middle of next week, according to an update from the U.S. Forest Service and Del Norte Office of Emergency Services at 8:30 a.m. Friday. Backroads are also closed.
"The best route to Grants Pass is to go north to Bandon, east on Highway 42 to Winston and South on I-5," Crescent City posted on its Facebook page.
A community meeting is scheduled for 6 p.m. Saturday at the Del Norte County Fairgrounds and will be streamed live on the Six Rivers National Forest Facebook page.
An incident information line has also been established at (707) 383-9727 or at 2023.smithrivercomplex@firenet.gov.
The local American Red Cross chapter also opened a shelter at the fairgrounds about two days ago.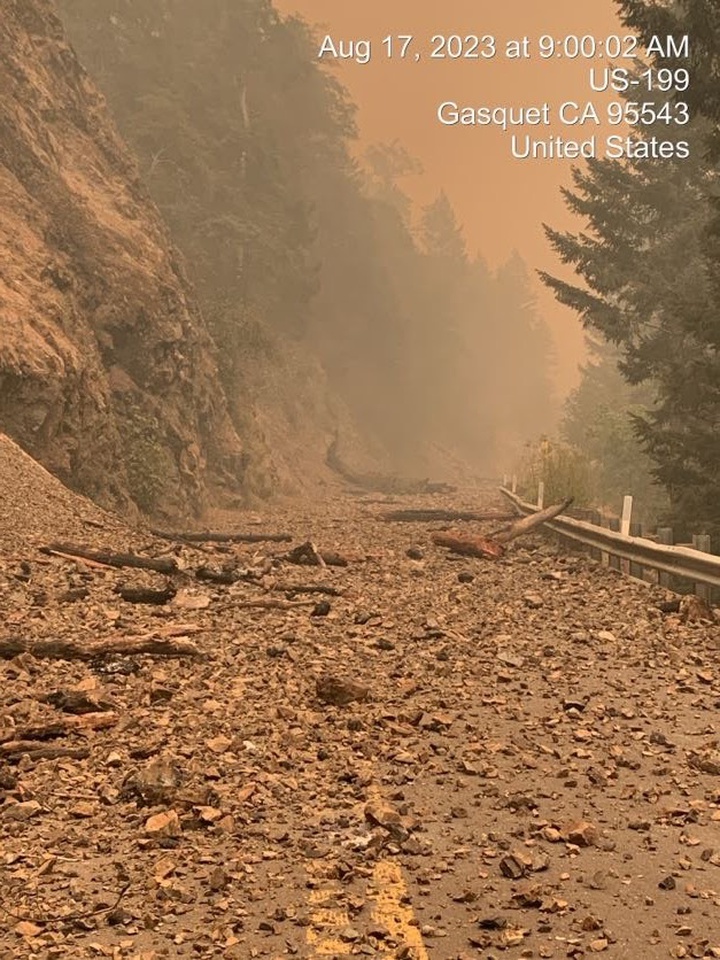 Meanwhile, the Del Norte Office of Emergency Services is working with the California Incident Management Team, which assumed command of the fire at 6 a.m. Friday. Del Norte OES is also handling evacuation plans, especially for the community of Gasquet whose residents have been told to be ready to leave at a moment's notice, said Bill Steven, public information officer for the county emergency operations center.
"I like to plug Search & Rescue," Steven said, referring to the Del Norte County Sheriff's Office Search & Rescue team. "Since this thing started, they had a command post at the ranger station in Gasquet. They've been spending the night up there and they're ready. They formulated a plan to make sure everybody gets taken care of and evacuated if it comes to that — doors are being knocked on."
Crews are focusing on fully suppressing the Smith River Complex using ground and air resources, Rubiaco said. This includes water-dropping helicopters that are expected to arrive Friday and will be deployed along the 199 corridor.
The Oregon Department of Transportation is also working in conjunction with Caltrans to maintain a hard closure at the state line, Rubiaco said.
As for the transmission lines in the area, a Pacific Power spokesman said the utility isn't planning on de-energizing the power lines at this point, though that's a possibility. Pacific Power would notify its customers via text or email in advance if that does happen, he said, though the utility feels the flames are a safe distance away from its infrastructure.
---
SHARE →