---
Jessica Cejnar Andrews / Thursday, May 5, 2022 @ 1:10 p.m. / Elections
District 4 Supervisor Contenders Discuss Homelessness, Mental Illness, the DNSO and Youth Vaping at Candidates Forum
---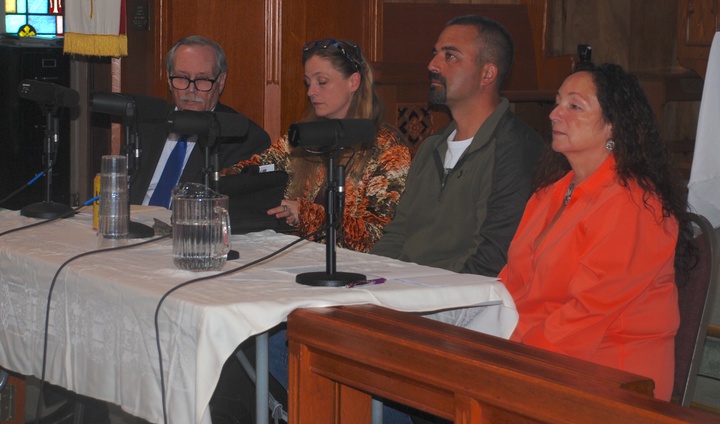 Mental health, homelessness and the crisis in the Del Norte County Sheriff's Office continued to dominate at a candidates forum Tuesday for the District 4 seat on the Board of Supervisors.
KFUG Community Radio and Redwood Voice, a youth media organization, hosted the forum, which featured candidates Brian Stone, Joey Borges, Margaret Sargent and Patty Adams.
In addition to fielding questions from panelists Dan Schmidt, of the Del Norte Triplicate, KFUG Community News's Mike Thornton and the Wild Rivers Outpost, candidates answered questions from Redwood Voice reporter Monique Camarena.
Camarena asked candidates about recent efforts to pass a tobacco retail license to reduce vaping among Del Norte youth. She also asked candidates how they would improve access to mental health services for Del Norte's young adults.

Homelessness in Del Norte County
Schmidt kicked off the questioning, posing the hypothetical situation of Del Norte County being awarded a grant to build a 200 unit homeless housing project and asking each candidate how they would differentiate between those who are struggling with mental illness, substance abuse and those with "repeat criminal behavior" versus those who have fallen on hard financial times.
Thornton later asked candidates if they would support proposed tiny house programs, transitional housing projects and a safe parking program for those living in their vehicles.
Stone, who is Crescent City Harbor District commissioner, brought up Del Norte County's Housing Element report, which outlines the housing needs in the community for the next eight years and the number of Airbnbs and vacation rentals in the community.
Reading from the Housing Element, Stone said there are 9,405 housing units in Del Norte County of which 8,151 are occupied. More than 400 of the 1,254 unoccupied units are "presumed to be" Airbnbs, he said, though only 151 are on the books.
"Let's say I'm making minimum wage — I'm trying to maintain a house, I've got a young child and a wife — first thing, I'm going to ask my boss for more money so I can pay my rent because my rent keeps going up, why?" Stone asked rhetorically. "My rent keeps going up because there are more Airbnbs sucking up the number of homes that are available out of the market."
This affects business owners who have to pay a higher salary to their employees in order to keep them, Stone said. The county also loses revenue, he said.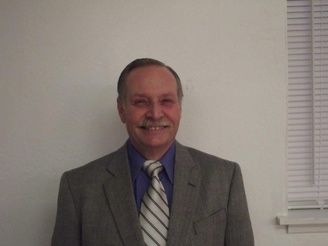 As for Schmidt's question about a housing project, Stone said there are grant programs, particularly the U.S. Department of Housing and Urban Development's Section 8 that serve low-income families and the Legacy, a former motel in Crescent City that Del Norte County purchased with state Project Homekey dollars. Both programs are different, Stone said.
"They are tailored and have certain requirements and certain things under the law," he said. "As a supervisor, you try and get loans and make sure these things are put together properly. As far as supervisors separating out the individuals, that's where Health and Human Services comes in, that's where the individual grants come in and where they're broken apart. Government is a very complicated animal and you have to follow the laws and the rules that go along with it."
Answering Schmidt's question, Adams said she hoped that such a grant would allow for separation between those who are struggling with mental illness and substance abuse and those who have fallen on hard financial times. She pointed out that one population is different from the other and both groups need "individual guidance."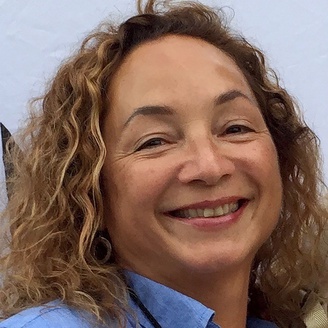 "The person that's recently displaced might just need a transitional housing situation until they can get permanent housing. They might need more assistance along the lines of job training or mentoring," she said. "As far as the other group, which is, I think, a bit more challenging, they're going to need a wraparound. They would need both the housing plus the programs that would assist them with their substance abuse issues, medication, etc."
In response to Thornton's question, Adams said she would support tiny house and safe parking programs, especially since the latter would get vehicles off the street that would otherwise create blight. Mentioning Rogue Retreats in Medford, Adams said she thinks those are great, but should be paired with other services.
"I think if you just put people into a home, great, they're off the streets, now we don't see them anymore. That's not the solution," she said. "The solution needs to be paired with programs that helps them with their mental health issues whether it's medication, counseling etc. and then you have the substance abuse issues that you would need to have involved as well."
In response to Schmidt's question about the hypothetical grant and housing project, Borges said those who have fallen on hard financial times and have found themselves homeless because of it, will do what they can to get out of homelessness. Those folks would separate themselves from people struggling with mental illness, substance abuse or repeat criminal behavior, Borges said.
The "drug addict-type people who aren't real interested in helping themselves" likely wouldn't be able to attend drug or work classes — things those who are homeless need to "check off their list" to find housing, Borges said.
As for tiny house projects or a safe parking program, Borges said he heard of Rogue Retreats in Medford and a similar program in Chico.
"I would have an open mind," he said. "I wouldn't have a clear answer of yes or no until I see the studies and see how they've worked."
Sargent said she agreed with Borges that those who have fallen on hard financial times would try to separate themselves from those struggling with mental illness or substance abuse. Focusing on accountability and volunteering and those who are willing to "be part of the answer will present themselves."
Sargent said she supported both tiny house programs and safe parking programs. She said she heard of a safe parking program in Arcata, which Thornton referred to when he asked his question. She said a safe parking program seems to be a safe solution for those living out of their vehicles.
"Why not go with what it is they can support themselves with," Sargent said. "Also, the other transitional types of housing definitely helping people go through programs and education so they're accountable for upholding that living and being sustainable for themselves. Education is huge and so is the community supports for that."
Sargent pointed out that those who struggle with homelessness shouldn't be looked at as just a problem.
"They can be part of the solution as well," she said. "Those that need that direction, they could volunteer and be part of the solution to help the community."

The Del Norte County Sheriff's Office
At Tuesday's forum, Thornton also brought up dysfunction at the sheriff's office and the Del Norte County Jail.
Thornton referred to former appointed sheriff Randy Waltz being charged with voter fraud, statements from DNSO Lt. Daniel Schneck that he would have trouble maintaining 24-hour patrol if Measure R is repealed as well as recent photos of a jail cell belonging to an inmate awaiting transfer to a state mental health hospital.
"Despite repeated requests, to the best of my knowledge, there has been no accounting for how long this inmate was held in this cell in the conditions that we have seen in the photographs," Thornton said. "To be clear, no one is asking for any HIPAA-protected health information, just simply how long this inmate was held in the conditions that were depicted in the pictures of that cell. Do you believe the residents of Del Norte County have a right to know the answer to that question and if elected as a county supervisor, will you use that position to make sure that kind of transparency is standard operating procedure when it comes to the Del Norte County Sheriff's Office and the jail?"
Adams called the photos, which shows the cell littered with food trays, smeared with feces and with an overflowing toilet, scandalous and "designed to spark a direct response." But, she said, there should be more visibility and transparency at the Del Norte County Jail.
Mentioning Measure R — the county's 1 percent sales tax approved in 2020 and earmarked to go toward public safety, among other things — Adams said the county is trying to hire a grant writer, but concerns of a possible repeal of Measure R has made them hesitant to move forward with that hire.
Adams also called for greater scrutiny of the Del Norte County Sheriff's Office, going so far as to suggest an oversight committee to conduct an audit of the sheriff's department.
"It seems like there have been a long time of these faux pas, these tragedies, these incidences and it seems like there should be greater scrutiny," Adams said. "I understand that there's been a lack of accountability, that there's been turnover, that there's been so much that maybe they need to have a reboot and have more eyes on them."
Borges, who also grew up in Del Norte County, pointed to a lack of accountability within the DNSO, staff turnover and a lack of leadership. He said he's hopeful these issues would rectify themselves once a new sheriff is elected.
Speaking to the jail cell photos directly, Borges said there are only two correctional officers on duty at the jail compared to "70-80-90 inmates." He also asked about the nurses tasked with overseeing medical care for jail inmates.
"We're paying $1.4 million for these nurses to take care of these people in the jails," Borges said, referring to a contract the Del Norte County Board of Supervisors approved in August 2021 with Wellpath for medical services at the jail. "Where are they at during this? Why are they not held accountable for this? And why is our Health and Human Services not in there and checking on the health and the services of these humans in the jail? There's a huge lack of accountability and it needs to be addressed."
Stone said the recent jail cell photos were appalling and called for new leadership and better ways to fund it. He spoke of recent Infrastructure Investment and Jobs Act as a potential source of funding to renovate the jail.
"Jails are one that is specifically named (in the bill)," Stone said. "We need to have a specific grant writer on staff at the county to apply for these grants and this funding. We can get funding for the jail itself to have a nice jail. Have something new."
In the meantime, Stone called for jail improvements, saying "we can't let it fester" with mold. He said the "arrest and release routine" isn't working. But it will take time to come up with solutions and it's not an "easy quick fix."
"Where do we start? That's the real question," he said. "We start by taking care of the administrative needs, and that's the responsibility of the Board of Supervisors. They need to provide adequate funding and this Measure R is doing some of that work."
Sargent advocated for focusing on our community "helping ourselves," and said she has faith in Garrett Scott, who is running unopposed for Del Norte County sheriff in the June 7 primary.
"I know his heart and leadership is very much about accountability and structure," Sargent said. "And within his grounding and views, I believe we won't have much of an issue there to have to worry about."
Sargent argued that while taxes aren't popular, the community could choose "what we want to do with those taxes," which includes creating another jail.
When responding to Thornton's questions about whether the public has a right to know how long the inmate had been in the jail cell in the conditions depicted in the photos, Sargent said it would be worth looking into whether there were any "real health risks and trauma to that individual." But, she said, she hadn't seen the photos.

Tobacco Retail License and Youth Mental Health
Camarena, pointing out that youth vaping has become a major point of contention within Del Norte schools, brought up efforts by students to get the Crescent City Council and the Board of Supervisors to approve a tobacco retail license.
Listing the components of a tobacco retail license, which includes banning flavored vapes and advertising in "youth-friendly areas," Camarena asked each candidate if they supported a TRL
and, if not, what their solutions to the youth vaping problem would be.
Stone said he would be in favor of an ordinance restricting the sales of vapes in Del Norte County, though he said he would have to do some research into the specifics of such an ordinance. He said he believes youth-friendly flavors should be banned
"It's something that needs to happen," he said. "There needs to be enforcement provisions that come with it for the retailers are selling their products."
Sargent agreed that there needs to be guidelines surrounding youth vaping, but said "community action" needs to be taken. She called for more education for youth on the health risks associated with vaping, including at the grade school level.
"Maybe once they get in high school, they're (willing) to not do it themselves," she said.
Borges said it's the responsibility of the parents to ensure youth aren't vaping. Parents should tell their kids that vaping "is not a good idea."
"To enforce more government licenses on businesses will further restrict that business," he said. "But if you go to the store and they don't have the right flavor Gator-Ade, you're going to go to the next store, you're going to go to the next until you get it. At some point, the parents need to step in and enforce these things on their children. It's not always the government's job to solve everything."

Adams said she also didn't support a tobacco retail tax. Such an ordinance would negatively impact businesses and because Del Norte County is such a small community "we need every tax dollar we can get."
Adams agreed with Borges that it's up to parents to make sure their children don't get addicted to e-cigarettes.
"When it's teenagers, you feel like you can live forever," she said. "You don't recognize the dangers and certainly the dangers that might hit you when you're 40. It is education."
Adams pointed out that vape pens and flavors are available online, not just in local stores.
"There has been talk about putting sensors in the bathrooms to detect the steam or vape, I think that would be great," Adams said. "Because when the kids are doing at school on their breaks, parents have no control over it, teachers have no control over it because of privacy."
Camarena also brought up mental health services for youth and asked each candidate how they would improve access to quality services for youth.
Borges said he would advocate for making mental health services more readily available, but said the county Behavioral Health Branch primarily serves adults. He proposed opening more programs for the youth to alleviate the mental health issues they may suffer from as adults.
"Redirecting some of that to the youth would be a good start," he said.
Adams called for more support services within the local school system, enabling teachers to identify what students may be struggling. She also called for more counseling services and outreach to make therapy less of a stigma "just like going to the doctor."
Stone called the issue complex, pointing out there are "different types of mental health" from youth struggling with schizophrenia to those dealing with depression to others "tripping out because of drugs."
"The question then comes down to, well how do we parse them out? How do we set out the services?" He said. "It's one thing to say yes I love the idea, question No. 2 is always how do we fund it? We're in such bad conditions as a county that we're really stifled on what we can do for the public."
Stone kept calling for alternative revenue streams, bringing up a 25.5 percent lodging tas he paid during a recent business trip. Those taxes pay for a myriad of things and didn't deter people from traveling, he said.
"If we wanted to do some of these things, that's the whole point of a TOT tax," Stone said, adding that increasing the lodging tax wouldn't keep people away. "When you have individuals that come from outside the area, they bring their problems with them — they use our roads, they use our services — we can also tax them for this. And we are not taxing them for it."
Sargent kept bringing up the concept of community being the most "natural form of mental health." She also brought up the need to create a sustainable supply of local food, adding that that would help create security.
"If we're working together to show and lead the children on how to work together as a unit, this naturally builds mental health awareness because we're around each other and we can see and speak to one another," she said. "It encourages education, and building a community is huge in that."
KFUG and Redwood Voice will hold its final forum featuring candidates for Del Norte County District 5 at 6 p.m. May 10. Forums will be streamed live on Redwood Voice's Facebook page and broadcast on KFUG 101.1 FM in Crescent City. For more information and to submit questions, click here.
---
SHARE →