---
Jessica Cejnar Andrews / Friday, March 4, 2022 @ 2:52 p.m. / Crime, Oregon
Curry County Deputy Seizes Half-Pound of Meth, Scales, Packing Material During Traffic Stop Near California Border
---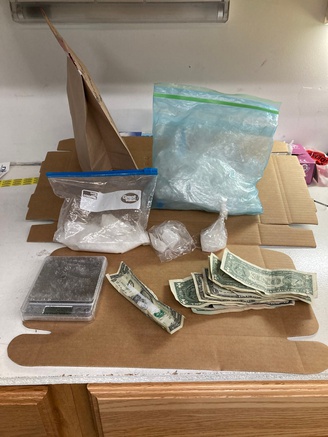 From a Curry County Sheriff's Office press release:
Sunday February 27th, 2022, at about 10:14pm, a Curry County Patrol Deputy attempted to stop a vehicle on U.S. Highway 101 near Museum Road in Harbor for erratic driving. At first the driver of the vehicle failed to yield to the emergency lights and when he finally pulled to a stop, the driver foot bailed and ran south towards the California border, leaving his two passengers in the vehicle. The deputy attempted to give foot chase and after losing sight of the driver, he returned to the vehicle and identified the two passengers as Ruben Aguilarleal from Smith River and twenty-nine-year-old Angel Shankel of Idaho. A K-9 Deputy and his K-9 arrived on scene and attempted to locate the driver but were unable to locate him.

During the investigation and consent search, the deputy located about a half pound of suspected methamphetamine, packing material and scales in a purse inside the vehicle that belonged to passenger Angel Shankel. After collecting the evidence, the passenger Aguilarleal was released and Shankel was transported to the Curry County Jail and lodged on Possession and Delivery of Methamphetamine. While at the jail and during the booking process, Shankel was found to be in possession of more suspected methamphetamine and was charged with introducing contraband into a correctional facility.

All evidence was sent to the Oregon State Crime Lab for verification and all information regarding the arrest and evidence was provided to the District Attorney's Office. The Curry County Sheriff's Office will be continuing the investigation.
---
SHARE →