---
Jessica Cejnar Andrews / Friday, June 10 @ 10:48 a.m. / Crime, Emergencies
(Update) No Active Shooter Situation At Crescent Elk, CCPD Chief Says
---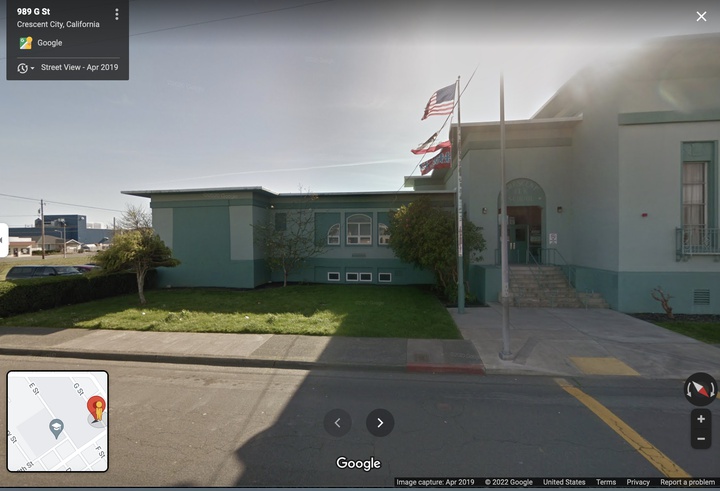 Image courtesy Google Maps
(Update at 11:13 a.m.: Crescent City Police Chief Richard Griffin said the situation has been evaluated that there's "not a threat" and the people involved have been located. He said the threat was "overdone by Facebook" and the school is being taken off lockdown.)
Crescent City Police Chief Richard Griffin wanted to dispel unfound rumors about an active shooter situation at Crescent Elk Middle School.
According to Griffin, the school is on lockdown as a precaution after a threat came into the CCPD of two students possibly coming into Crescent Elk to shoot someone.
He said found out about the threat at about 10:30 a.m. Friday and he's working with other agencies, including the Yurok Tribal Police Department, to track down the source of the threat. The threat is "apparently coming from the Klamath area," Griffin said.
"Until this is over, I'm here on scene myself managing it," Griffin told the Outpost at about 10:45 a.m. Friday, adding that rumors have already begun to circulate via social media. "And I have other units in the area also. There is no threat. Nobody is in harm's way."
According to Griffin, the threat stems from an altercation that took place off campus and had nothing to do with the school itself, though the students involved attend Crescent Elk Middle School.
This is a fluid situation. The Wild Rivers Outpost will have more information as soon as it is available.
---
SHARE →