---
Jessica Cejnar Andrews / Wednesday, July 27, 2022 @ 1:54 p.m. / Community, Local Government
Meet CCPD's New Recruit — Sgt. Kostya!
---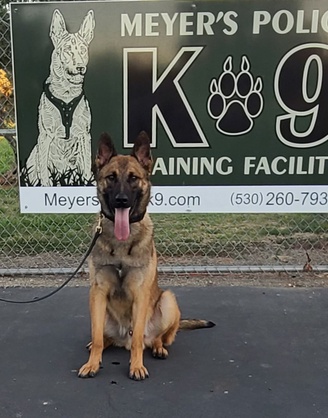 A new four-legged officer will join Lt. Kai in keeping Crescent City safe.
Sgt. Kostya — Ukrainian for Constantine — will join the Crescent City Police Department on Aug. 7, CCPD Chief Richard Griffin told the Wild Rivers Outpost. The new K9 will join his partner, School Resource Officer Daniel Sanders, and be presented to the City Council on Aug. 15, Griffin said.
It was Sanders who decided Kostya's name, Griffin told the Crescent City Council on July 18.
"Officer Sanders served in the U.S. Coast Guard and afterwards he spent a couple years teaching English in Ukraine," Griffin told Councilors. "He's fluent in Ukrainian and Russian and a couple of his friends died recently in the war."
CCPD worked with the Chico-based Meyer's Police K9 Training to recruit Sgt. Kostya, receiving a $2,500 donation from residents Kevin and Gayle Hartwick and a $7,500 grant from the AKC Reunite Foundation. According to Griffin, Sgt. Kostya's purchase is co-sponsored by the Lost Coast Kennel Club in Eureka.
On July 18, Griffin asked Councilors to approve the total grant amount of $10,000 from the AKC Reunite Foundation. The grant amount includes the $2,500 donation as a local contribution, he said.
A second K9 officer was also the desire of the Measure S Oversight Committee, Griffin told the Outpost on Wednesday. However, according to his July 18 staff report to the Council, there will be a "net zero impact" on the city's general fund.
According to Griffin, CCPD already has an extra K9 vehicle. Once Sgt. Kostya arrives in Crescent City, he and Sanders will spend time riding around and getting to know each other. At the end of August, both officers will attend a five-week basic academy for police K9s.
Sgt. Kostya will then be deployed in the field with Sanders who will be supervised by Lt. Kai's partner, Sgt. Anthony Lopez.
"I'm excited to expand this program. It's been awhile since we had two dogs on the road," Lopez told Councilors.
According to Griffin, the AKC Reunite Foundation grant isn't a "one-time thing." If people want to donate $2,500 to the Lost Coast Kennel Club and they vote to accept it, they can send CCPD a check for a new K9 officer, he said.
---
SHARE →