---
Jessica Cejnar Andrews / Friday, July 1 @ 11:38 a.m. / Community
People Who Ignore Holiday-Related Parking, Road Closures Could Have Their Cars Towed, Impounded, CCPD Chief Says
---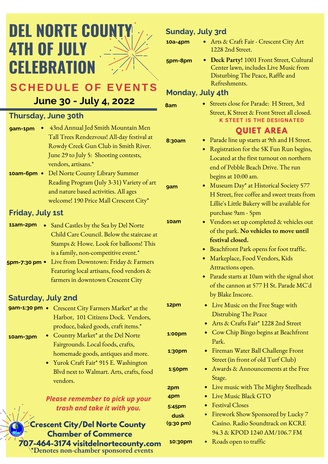 Cones are already out along the parade route in Downtown Crescent City and in the Beachfront Park area as the community gears up for the 4th of July.
Starting at 11 p.m. Sunday, those who disregard those cones will find their vehicles towed and impounded, according to Crescent City Police Chief Richard Griffin. Anyone going past those cones during the parade and the festival in the park on Monday could be arrested for it, he said.
"That's for security purposes. We did have people driving through the activities down Front Street and during the parade last year," Griffin told the Wild Rivers Outpost on Friday. "We'll have our explorers down there and we'll have a couple of volunteers. And we've doubled our shifts since it's the biggest event of the year."
Every CCPD officer, including those who are off duty, will work the holiday, Griffin said. He noted that last year, his officers had to tow two vehicles that disregarded the road closures and said he definitely doesn't want to do that this year.
Griffin added that there will be a soft closure around the North Jetty and Crescent City's B Street Pier as the city prepares for the annual fireworks display. As soon as the fireworks start, CCPD will have to maintain a closure around the "blast zone," he said.
Streets along the parade route in Downtown Crescent City — H, 3rd, K and Front streets — will be closed starting at 8 a.m. Monday.
The parade lineup starts at 8:30 a.m. at 9th and H streets and the parade itself kicks off with the blast of the cannon in front of the Del Norte Historical Society at 10 a.m.
Vendors participating in the festival at Beachfront Park should have completed set up and moved their vehicles out of the park at 10 a.m. Though the festival closes at 5:45 p.m., Front Street will be closed until about 10:30 p.m. after the fireworks show.
Earlier this week, Crescent City also sent out a public service announcement reminding people to be careful with any campfires they may have on the beach, warning of dry vegetation that's prone to rapid fire growth.
Beach fires are prohibited on public beaches between Battery Point Lighthouse in the south and Preston Island in the north. Fires are also banned on private property without the owner's written permission. Where they are permitted, beach fires must be no larger than 3 feet in diameter and 2 feet high and must be at least 25 feet away from structures and vegetation. Only organic material can be burned.
Fires must also be extinguished before leaving the area. The city also reminds people not to bury their fire coals since they can injure others walking on the beach.
According to Griffin, though his department's main focus will be on Beachfront Park, CCPD will still maintain its regular patrol and will enforce the city's fire regulations if they're called on it. Police will also be working with Crescent City Fire & Rescue, Griffin said.
For more information on 4th of July activities, click here.
---
SHARE →