---
Jessica Cejnar Andrews / Thursday, Jan. 20 @ 3 p.m. / Emergencies, Infrastructure, Local Government
Del Norte's Emergency Alert System Error During Tsunami Advisory Sheds Light on Importance of the Now-Vacant Emergency Services Manager Position
---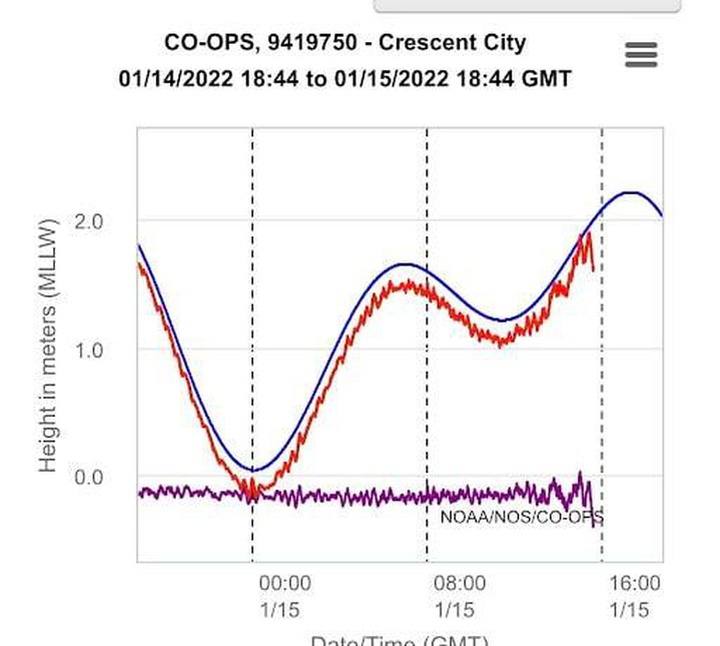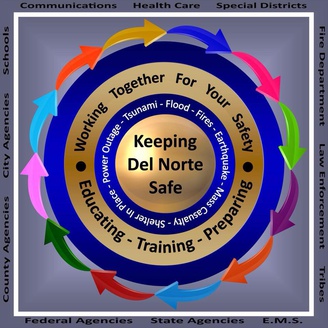 The first alert woke Neal Lopez up at 4:15 a.m. Saturday: A volcano had erupted near Tonga, 5,400 miles away, and was sending a tsunami toward the West Coast.
It was predicted to be a "low-level event," but Lopez, Del Norte County's administrative officer and director of its Office of Emergency Services, notified his deputy director and activated the county's emergency operations center, or EOC.
The EOC pushed alerts out via Facebook, Bicoastal Media, the Prepare Del Norte website and the county's website starting at about 6 a.m. The Del Norte County Sheriff's Office and the Crescent City Police Department also warned people to stay away from the beach, harbor and other low-lying areas.
But when officials decided to activate Everbridge, the emergency alert system, the county's information technology department — acting in the absence of an emergency services manager, a position that has been vacant for about four months — hit the wrong button, Lopez said.
"The button that was selected was for 'all contacts,'" he told the Wild Rivers Outpost on Wednesday. "We were not aware that when you select 'all contacts' it doesn't pick up the people who have self-subscribed. What we needed to do was select 'all contacts' and 'all users' in order to get everyone and we didn't realize it until afterwards."
If Del Norte County had an emergency services manager, it would have been his or her job to advise the OES director or deputy director to activate the emergency operations center, Lopez said. It would also have been that person's job to activate Everbridge, which sends alerts to residents through a phone call to a cell or landline, a text or an email.
Del Norte's emergency operations center consists of an operations division, which includes first responders, firefighters and law enforcement, a finance division, a logistics division and a management division, Crescent City Manager Eric Wier told the Outpost.
It's the emergency services manager who coordinates the various tasks between the EOC divisions and communicates with the California Office of Emergency Services, or CalOES, to ensure Del Norte County is receiving adequate resources, Wier said.
"That emergency manager position is an integral part of the EOC and our response to an emergency," he said. "It's really the position that helps coordinate a lot of those facts that is the pivotal position in operating the EOC between the operations branch, the planning branch and the management branch, which is where I land nowadays as city manager."
If Saturday's tsunami had been more serious, Wier said Del Norte County's emergency operations center would likely have leaned on the expertise of its previous emergency services manager, Kymmie Scott.
Wier said Scott still volunteered during the initial hours of the tsunami advisory Saturday, making phone calls and trying to coordinate resources. But Lopez took on a more active role than he probably would have otherwise because of the vacant emergency manager position, Wier said.
"If we'd have had an emergency manager, maybe some of the things (Lopez) was doing would have been delegated to the emergency manager," Wier told the Outpost. "We don't have that key position and those duties still need to get done, so we're going to have to find internal resources to do them."
According to Lopez, Del Norte County has been searching for a new emergency services manager since Scott left the position about four months ago. However, officials are finding that "maybe our salary is just not competitive enough," Lopez said.
The county had adjusted the emergency services manager salary about three years ago when Scott took on the role to reflect her expertise and training, Lopez said. The county's employee groups had also negotiated wage increases that Lopez says is significant for the local area.
Lopez said he hopes this potential salary increase generates a little more interest in the emergency services manager position.
"It is a critical position," Lopez said of the emergency services manager. "It's the only operational position that we had here in the county that has been filled on a regular basis for quite some time. Having this gap in this position is taking its toll on the rest of us. We're trying to fill in, but none of us are emergency manager experts."
Scott became Del Norte's emergency services manager in 2018, taking over from Cindy Henderson, who retired after working for the county for 13 years.
Recently, Del Norte County nearly filled the emergency manager position, Lopez said. But the job offer was ultimately rejected due, in part, to salary. According to Lopez, the county came close to the salary the candidate had asked for, but wasn't able to meet the exact amount.
"The person we initially offered the job to wanted time to think about it, and they took a long time," Lopez said. "They were really qualified and we were really excited about it. But when they turned down the job, it put us back at square one, which is unfortunate."
Currently, Del Norte County's job listing states that an emergency services manager I has a biweekly salary range of $2,308.14-$2,805.54. An emergency services manager II has a biweekly salary range of $2,423.53-$2,945.81.
Acting on feedback from Del Norte's regional CalOES manager and from Scott and based on other research county staff has been doing, Lopez said he thinks the county is "kind of in the ballpark now" when it comes to the emergency services manager salary.
Del Norte County staff also conduct salary surveys of most professional positions, comparing the pay to other counties, Lopez said, but sometimes it can't pay as much as other communities can.
If salary continues to be an obstacle to Del Norte County hiring a new emergency services manager, Lopez said the Board of Supervisors may have to step in.
"The next step would be to take it to the next level and ask for a wage adjustment from the Board of Supervisors if it comes down to that," Lopez told the Outpost, adding that he and his staff are reviewing two more applications they received over the past month. "We're hoping it doesn't come down to that. Wages have been adjusted from just a few years ago and so we're hoping to find somebody who's qualified to fill the position. But we can't continue to have it vacant either."
In addition to trying to fill the vacant emergency services manager, Del Norte County is recruiting for an emergency services coordinator who would assist the manager, Lopez said. This is a new position that would be paid for through revenue generated by Measure R, the 1 percent sales tax for public safety that Del Norte voters approved in 2020, he said.
Lopez said he hopes to have the coordinator position filled some time in February.
If the emergency services manager position continues to be vacant, one possibility may be relaxing the qualifications and placing someone who qualifies to be a coordinator in the role, Lopez said.
Currently, the minimum qualifications for an emergency services manager is to have a bachelor's degree in disaster preparedness, emergency management or a related field. But if a candidate has 10-20 years practical experience or related education through the military or law enforcement, the county may be able to waive the degree requirement, Lopez said.
"We may be put in a situation where it's somebody who's not ready to hit the ground running, but who has the aptitude and ability to take the courses necessary to get up to speed and be an emergency services manager," Lopez told the Outpost.
Lopez said Del Norte County, Crescent City and other agencies will conduct a hot wash to debrief on the response to Saturday's tsunami.
On Saturday, after realizing the error with the emergency alert system, Del Norte County sent out a second message just before 10 a.m. and posted on Facebook notifying the public about what had happened. Lopez said Wednesday that the error wouldn't happen again.
Lopez said the county office of emergency services will conduct a "hot wash" with the city and other agencies soon to discuss what went well, what went wrong and how to fix it.
In addition to using the radio, social media and Everbridge, Del Norte County coordinated with Crescent City and Caltrans to deploy electronic signs warning people to stay away from the beach, Wier said.
When they arrived, the tsunami surges were about 1-2 feet on top of a high tide, Wier said. The city's lowest lying areas, particularly at the mouth of Elk Creek, were affected the most, but the tsunami didn't cause the stream to exceed its banks. There was no flooding and no damage to city facilities, he said.
"The strong currents were the biggest concern," Wier said. "What this does is it draws back out and then it comes in and it comes in quickly and it could catch you off guard. That's why the warnings were so important for people to heed even though it's only a 1-2 foot surge."
---
SHARE →