---
Jessica Cejnar Andrews / Friday, Feb. 4, 2022 @ 4:41 p.m. / Community
Wild Rivers Community Foundation Survey Seeks Info From Unemployed, Out-of-School Youth
---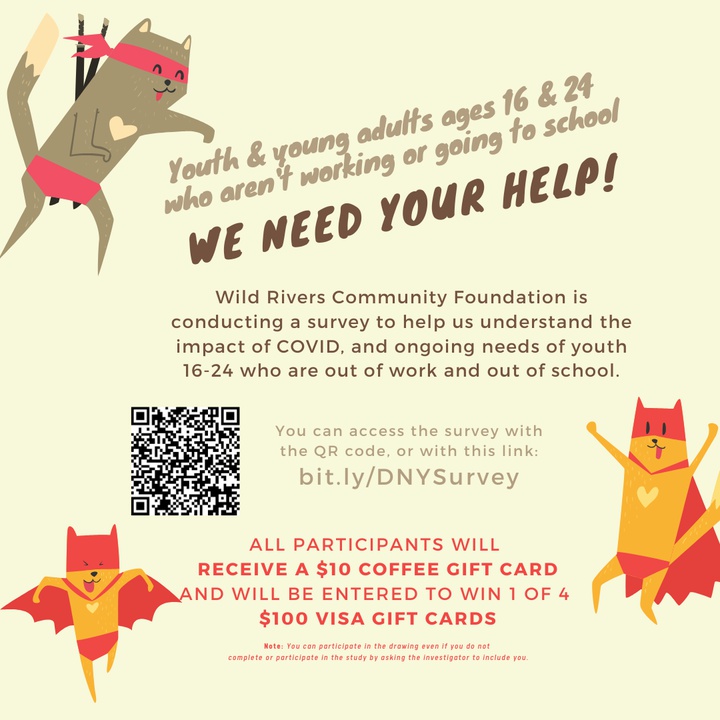 The Wild Rivers Community Foundation hopes to hear from a segment of the population that is difficult to reach — youth ages 16-24 who are unemployed and out of school.
WRCF, which serves Del Norte and Curry counties, has partnered with the Humboldt Area Foundation and California Center for Rural Policy at Cal Poly Humboldt to conduct a survey asking about housing, accessibility to technology and transportation, said CCRP Research Analyst Tracie Wynand.
The survey also seeks to discover what's preventing those youth from either entering the job market or continuing their education, Wynand said. There are also questions about the pandemic and its role in their current situation, she said.
"We based the survey off the American Community Survey, the Census survey, to look for comparable data and fill in those missing pieces of data the American Community Survey may not be able to capture on a more local level," she said.
According to the Aspen Institute, which provided the funding for WRCF's survey, opportunity youth are between the ages of 16 and 24 and are unemployed and are not enrolled in school. There are currently 4.6 million opportunity youth in the United States.
In Del Norte County, 18 percent of its youth were disconnected from work and school in 2020, according to County Health Rankings & Roadmaps. Lassen was the only California county to have a higher ranking than Del Norte's, with 19 percent of its youth disconnected from work and school, according to County Health Rankings & Roadmaps.
Despite that ranking, in Del Norte County estimating the actual number of opportunity youth is difficult, Wynand said. According to the 2019 American Community Survey, there were 2,870 15-24-year-olds in Del Norte County, but the survey didn't indicate whether or not they were employed or still in school, she said.
"They're a difficult population to find or to contact at least," Wynand told the Outpost. "We're trying to understand the barriers they may be facing in these types of institutions or education systems and we also want to understand what are their needs to start engaging in them."
To increase survey response, CCRP and the Wild Rivers Community Foundation has reached out to community partners in Del Norte, urging them to help with its distribution.
"We hope to learn from the data of what those needs are and hopefully be able to partner with Del Norte partners to figure out the processes and programs to help this demographic group engage in these systems," Wynand said.
According to Wynand, this is the second time CCRP and the WRCF deployed its Opportunity Youth Survey. The first opening of the survey occurred on Nov. 30, she said.
This second survey will be available until the end of February, according to Wynand.
Survey participants don't have to provide their name or any information that will identify them. Each participant will receive a $10 gift card for completing the survey and will be entered into a drawing for one of four $100 gift cards.
To participate in the survey, click here.
---
SHARE →