---
Jessica Cejnar Andrews / Tuesday, Aug. 23, 2022 @ 3:25 p.m. / Community, Health, Youth
Del Norte Supervisors Approve A Tobacco Retail License Without Flavor Ban
---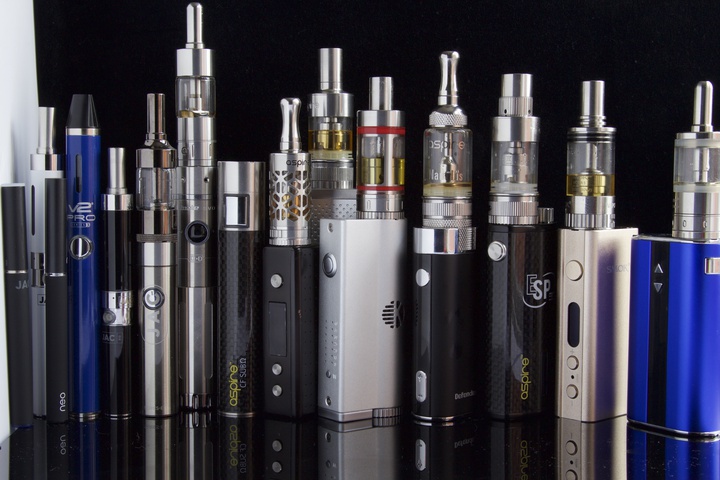 Del Norte County supervisors unanimously approved restrictions on how retailers can advertise tobacco products. But they stopped short at banning the flavored items local youth say get their peers addicted.
It's a step their counterparts on the Crescent City Council refused to take about five months ago. And it prompted several supervisors and one business owner on Tuesday to worry that people will go to stores inside the city limits or on tribal land to get their bubblegum-flavored nicotine fix.
"If there's a ban on something, if they want something to be banned from Del Norte County and everybody's doing it, I'll be the first to do it," said Sabina Renner, whose family owns C. Renner Petroleum. "I don't agree with banning it from retailers outside the city. They're just going to go to the city and if they want the product, they will get it."
Every retailer selling tobacco products will be required to obtain a tobacco retail license starting Jan. 1, 2023. That retailer must have been in business on July 1, 2022 in order to apply for a license, which are non transferable.
The ordinance prohibits pharmacies from selling tobacco products and prohibits retailers from advertising those items within 500 feet of a school, park, library or youth center. Retailers must also maintain a 5-foot buffer between candy, snack and non-alcohol beverage displays and advertising for tobacco products, according to the county's staff report.
The license also includes an application fee, though that will be part of a separate ordinance regarding the county's fee schedule, according to County Counsel Joel Campbell-Blair.
Though the Board of Supervisors were unanimous in their stated desire of keeping tobacco away from children, Gerry Hemmingsen and Darrin Short noted that if California voters approve Proposition 31 in November, retailers would be unable to sell flavored tobacco products.
Approval of Prop 31 would uphold Senate Bill 793, banning the sale of flavored tobacco products statewide, according to Ballotpedia. If it fails, SB 793 would be overturned and selling flavored tobacco would remain legal in California.
Hemmingsen noted that if voters uphold SB 793, a county ban on flavored tobacco may be moot. He added that he would be extremely reluctant to ban flavored tobacco products in the county if that band doesn't extend to businesses within Crescent City limits or on tribal land.
"I don't like squeezing the balloon and allowing some people to profit off of this and excluding other people from profiting off of this," Hemmingsen said. "If we have the authority to ban it everywhere, I certainly would."
District 3 Supervisor Chris Howard suggested targeting the "delivery system," especially after learning from NorCal4Health Program Director Amber Wier that one vape device can contain 300 milligrams of nicotine — more than seven times the amount it takes to get a youth addicted.
"Tobacco use through traditional methods of cigarettes has fallen by the wayside in favor of this new delivery system," Howard said.
According to Wier, the U.S. Food and Drug Administration is looking into setting up an oversight process governing e-cigarettes. Del Norte County could approach a tobacco retail license from that angle, she said, but it would require a lot of resources.
When it came to the question of whether a ban on flavored vapes within the county would send people to tobacco retailers in the city, Wier said the county's actions could apply pressure on Crescent City to make a better decision. She brought up a ban on flavored tobacco by the Mendocino County Board of Supervisors that has prompted similar proposals in Ukiah, Willits and Fort Bragg.
"It's all on their City Councils now for a TRL," she said. "They're coming up to parity. Whatever the county passes, those cities are trying to be in parity."
If the Board of Supervisors passes rules on where products are placed, Wier said, the retailers have to follow those rules.
"Then it's no longer the retailer fighting the tobacco company on where they want to place that product because the rule is there," she said. "It releases the obligation of the retailer fighting with Big Tobacco."
Del Norte County District 2 Supervisor Valerie Starkey resurrected the tobacco retail license discussion last month. On Tuesday, she said she sent a letter to all 13 tobacco retailers within the unincorporated area of Del Norte County, so they would be aware the discussion would be on the agenda.
Starkey said she also met with the representatives within the county Public Health Branch along with principals and Del Norte County Superintendent of Schools Jeff Harris.
Though Harris was unable to speak about the issue Tuesday, he left a bag of e-cigarette devices with First 5 Del Norte Executive Director Amira Long to show supervisors.
Those devices came from students at Sunset High School, Principal Tony Fabricius said.
"That's only about a year and a half worth of vapes," he said. "You can see they come in all shapes and sizes. They are puff bars, they can look like USB things, zip drives, they can look like anything."
Charles Tweed, who works for Del Norte Ambulance but was speaking as a parent, advocated for a multi-layer approach that also helps empower the school district. He said he and his wife, though they believe they're good parents, started noticing "these little devices around the house."
"It looked like a mechanical pencil holder. What you might see as a computer part," he said. "It's something you can see and just pass off very easily."
---
SHARE →