---
Jessica Cejnar Andrews / Thursday, Aug. 18 @ 2:25 p.m. / Infrastructure, Local Government, Oregon
Despite Port Orford Opposition, Two Curry County Commissioners Approve Zoning Ordinance Changes Regulating Short-Term Rentals, Multiplex Housing
---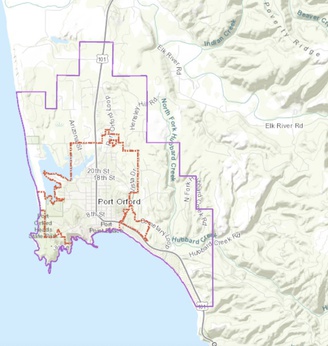 Previously:
• Curry County Planning Commission to Hold Public Meeting for Proposed Seven-Lot Subdivision in Port Orford, Regulating Short-term Rentals
• Curry County Commissioners Discuss the Possibility of Regulating Vacation Rentals
###
Fearful of impacts to their drinking water and the "fabric of the community," Port Orford area residents urged Curry County commissioners to forego approving zoning ordinance changes that includes regulating vacation rentals.
Residents, most living within Port Orford's urban growth boundary, were also concerned that the updated zoning ordinance allowed multiplexes in their area. They urged Commissioners Court Boice and John Herzog on Wednesday to direct staff to conduct studies to determine the county's housing and economic needs before making a decision.
"What is proposed is a monumental leap into a massive unvetted package of (Curry County Zoning Ordinance) changes from which there is no ability to alter course in the future," Langlois resident Bob Morrow told commissioners. "You need informational research to inform your decisions. I haven't seen any. You need economic data upon which to base your decisions — I haven't seen any. You need population growth forecasts upon which to base your decisions. You need environmental determinations to protect city watersheds, where is it?"
Herzog and Boice argued that a housing study was completed, that there are no regulations on vacation rentals in the county currently and if developers can't meet zoning ordinance requirements, they won't be allowed to build. Both voted to approve the ordinance changes.
Commissioner Chris Paasch was absent.
"It's not going to be a willy-nilly thing," Herzog told his constituents. "We're going to regulate short-term rentals properly. I hear your concerns, but I know in my heart we're going to do it correctly."
Approved by the Curry County Planning Commission on July 21, the zoning ordinance amendments aims to quell the county's housing crisis.
Referencing an April analysis by ECO Northwest, Planning Director Becky Crockett said Wednesday the median home sale price in the county was $557,000. Median gross rent ranges from $1,200 to $1,600 a month, according to her staff report.
"Essentially a household would need to earn over $74,000 a year in order to afford a house in Curry County," Crockett told the Board of Commissioners. "This precludes affordable housing options for most people."
The zoning ordinance amendments would allow accessory dwelling units, or ADUs, in rural residential areas, according to Crockett. Duplexes, triplexes and fourplexes would be permitted within a community's urban growth boundary provided the owners can provide sewer, community water and access to transportation services for its residents, she said.
Under Oregon Senate Bill 391, which passed last year, ADUs on rural residential zoned properties must be within a fire district on a parcel that's at least 2 acres and cannot be used as a vacation rental, Crockett said.
There are more than 400 short-term rentals in unincorporated Curry County, Crockett told the Wild Rivers Outpost on Thursday. While spread throughout the county, most are in the Brookings-Harbor area and near Floras Lake, she said.
According to Crockett, the urban growth boundary encompass areas planned for future annexation by the cities of Brookings, Gold Beach and Port Orford.
Port Orford City Councilor Gregory Tidey noted that the area's urban growth boundary is roughly twice as large as the city itself. It's much larger than Gold Beach and Brookings, and increasing the density of development in the area would strain city resources, Tidey said.
He, along with several others attending Wednesday's meeting, urged commissioners to delay approving the amended zoning ordinance until they received more feedback from Port Orford residents.
Referring to a special meeting the Port Orford City Council held last Friday, Tidey said residents felt the changes don't adequately address concerns regarding housing and short-term rental density as well as fire suppression or water use.
"Many areas of Port Orford's comprehensive plan and goals refer to the urban growth areas. One of those goals is (for) the city of Port Orford to grow and annex properties (within) the UGB into the city in order to build the city out," Tidey said, reading a letter from him and his colleagues into the record. "The proposed changes would have affected the city's comprehensive plan and have the unintended consequences of enhanced density and commercialization through [short-term rentals]."
Port Orford resident Tim Palmer also urged commissioners not to approve the changes to the zoning ordinance. He argued that the amendments would likely do nothing to increase full-time workforce housing in Curry County. Any new development would likely go toward vacation rentals, he said.
Palmer argued that if the county really wanted to build its housing capacity, there is "an abundance" of undeveloped land within Port Orford city limits that could be used rather than looking to the urban growth boundary.
"I think better attention would be paid to increasing density within the city limits itself," he said. "Development outside of that raises additional problems from water supply, new water sources, public services that would be needed and of wildfire risk, which is not the least of our concerns here."
Palmer also argued that few Port Orford residents were aware of the proposed zoning amendments despite the Planning Commission public hearing on July 21.
Zoe Bradbury DeSurra, whose family owns Valley Flora Farm in Langlois, also felt the zoning amendments didn't further the development of affordable housing. Though the ordinance states ADUs can't be used as vacation rentals, DeSurra argued that it left the development of vacation or long-term rentals within the urban growth boundary up to the free market.
DeSurra referred to a Lincoln County ballot measure that sought to phase out vacation rentals but was overturned last week by the Oregon Land Use Board of Appeals.
"Once you give people the opportunity to run an Airbnb, you may never be able to change that," DeSurra told commissioners. "And the housing supply we have, if it gets diverted into vacation rentals, there's a chance you will never recapture that for long-term rentals to support the community here. What does that mean if we do continue to need more housing for permanent residents?"
DeSurra urged the Curry County Board of Commissioners to encourage long-term residential development by waiving fees for anyone wanting to build an ADU. To discourage outside investors, she said, require that those ADU developers have a minimum residence in the community of 15 years.
DeSurra also urged Commissioners to set a cap on the number of vacation rentals to ensure visitors have a bed to stay for the evening and make sure they're not "running ram-shod through the local community making it possible for the people who change those sheets to actually live and work here."
Claire Reynolds, who operates Claire Reynolds Vacation Rentals on Jerry's Flat Road, said she lost one of her contractors over the summer because she was unable to find a place to live. Vacation rentals — the properties her business manages — aren't designed for workforce housing, she said.
Reynolds also said there was a need for more housing and economic studies in Curry County. She said she created a roundtable of homeowners with short-term rentals to "look at viable and healthy-for-the-community solutions for short-term rentals in the area."
"One of our biggest things, we're likewise wanting to see reports and statistics on the impact of housing in our area," Reynolds said.
Curry County's representative in the Oregon House of Representatives, Port Orford native David Brock Smith, said despite his constituents' fears, there isn't a drive to develop vacation rentals inside the urban growth boundary even though they're currently allowed there. Oregon House Bill 2021, which passed in 2019, allowed for multi-family housing within the urban growth boundary, such as duplexes and triplexes, to increase affordable housing options for residents.
"We have very strict land-use laws when it comes to siting and building property," Smith said. "They have to have adequate water and be able to have adequate septic systems that are highly regulated through the (Department of Environmental Quality)."
Crockett said her staff fields questions about short-term rentals every day, sometimes three to four times a day. Some come from residents who need a supplemental income and want to turn part of their property into a vacation rental. Others are from those who have had terrible experiences with vacation rentals in their neighborhood, Crockett said.
"If the county does not regulate short-term rentals, it will just increase and the last year it has increased substantially, the amount of issues that come to the Planning Department on both sides about STRs," she said.
If there's a run on vacation rental applications in Curry County, commissioners can discuss the potential of instituting a cap, Crockett said.
"All of us are in that same mindset of not wanting to turn the community upside down," she said. "To risk transitioning to a vacation village throughout Curry County would be detrimental to all of us."
Documents:
• Curry County Amended Zoning Ordinance
---
SHARE →