---
Jessica Cejnar Andrews / Friday, Oct. 1 @ 5:16 p.m.
Del Norte COVID Cases Continue Trending Downward; Hospital Resuming Elective Surgeries
---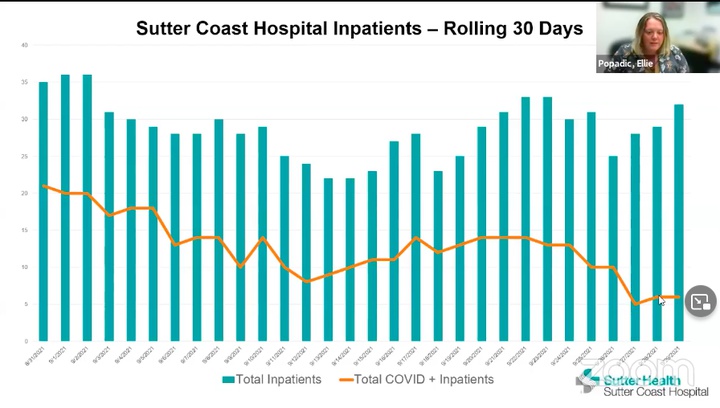 With average daily COVID-19 case counts decreasing and hospitalizations leveling off, Del Norte County's public health officer says he may be able to lift his mask mandate in about two weeks.
Meanwhile, Sutter Coast Hospital has resumed elective surgeries, according to spokeswoman Ellie Popadic. Four people were in the hospital with the novel coronavirus as of Wednesday and no one was on ventilators, she said Thursday.
"Since about the 22nd, we've seen a precipitous decrease in hospitalizations due to COVID," Popadic said during the last community briefing the City of Crescent City has hosted during the past six weeks. "We're starting to see that anticipated downward turn now."
Six new COVID-19 cases were confirmed in Del Norte County on Friday, making for a total of 52 active cases overall, according to the Public Health Branch. Six people were in the hospital with COVID as of Friday, according to the Public Health Branch.
According to Del Norte Public Health Officer Dr. Aaron Stutz, this week, the average number of cases per day has dropped to about 14.1. At the peak of the surge, Del Norte County saw an average daily case count of 30 to 40 or more, he said.
The county's test positivity rate has also decreased to about 6 percent, which is an improvement to the 18-20 percent it was at the height of the surge, Stutz said. But, he said it's not where he'd like to see it.
"I'd like to see it something less than 3 percent," he said.
As for vaccinations, though Del Norte County's vaccination rate has inched up another percentage point to 47.7 percent as of Sept. 23. Two people have died of COVID during the last week, Stutz said.
Sutter Coast Hospital saw 100 COVID-19 patients since Aug. 1, 86 percent of whom were unvaccinated, Popadic said. Fifty-five percent of those 100 patients were under age 65, she said.
During those two months, 38 patients needed critical care measures, 88 percent of whom were unvaccinated, Popadic said. Twenty-two patients needed ventilators, 95 percent of whom were unvaccinated.
Over the past two months, 23 COVID-19 patients died at Sutter Coast Hospital, Popadic said, 91 percent were unvaccinated.
"As of yesterday we are down to four patients in our community hospitalized with COVID, which is a really great thing because as you will recall in prior weeks we've had significantly higher (numbers) than that," she said. "This is the right direction as far as patients needing acute care. We do want to continue vaccinations. There are still individuals in our community who are not vaccinating and we are hoping not coming to the facility to be hospitalized because they're sick."
Sutter Coast Hospital continues to offer vaccinations and testing, Popadic said. Vaccines are available from 9 a.m.-6 p.m. Monday through Saturday at Sutter Coast Community Clinic, 780 E. Washington Boulevard. Testing is available from 9 a.m.-5:50 p.m. Monday through Saturday also at the clinic.
Popadic also urged those who just tested positive for COVID or who may have had a close encounter with a COVID-positive person to call the hospital at (707) 464-8511 about monoclonal antibody treatment.
There are other testing opportunities through Optum Serve from 8 a.m.-4 p.m. Monday, Thursday, Friday and Saturday at the Crescent City Cultural Center, 1001 Front Street.
Optum Serve also offers testing sites at the old Ray's Food Place in Smith River on Tuesdays and at the Holiday Inn Express in Klamath on Wednesdays.
With the recent surge in COVID cases waning, Crescent City Manager Eric Wier said he'll consult with Stutz about whether the city can relax its policy on mandatory weekly testing.
Crescent City Mayor Pro Tem Blake Inscore said that relaxing the testing program doesn't have to wait for a decision from the City Council.
"If Dr. Stutz were to say, 'I do not believe the city needs to continue with mandatory weekly testing, Mr. Wier would have the authority to make that adjustment and put this back in the tool box," he said. "If we find ourselves in another extreme situation, we will once again consult with our public health officer and have that available."
There have been a total of 3,591 COVID-19 cases in Del Norte County and 38 deaths since the start of the pandemic.
---
SHARE →