---
Jessica Cejnar Andrews / Saturday, Nov. 20, 2021 @ 9:59 a.m. / Arts, Community, Education
'Build A Bridge To A Better Tomorrow'; Del Norte Experiences New Crescent Elk Auditorium
---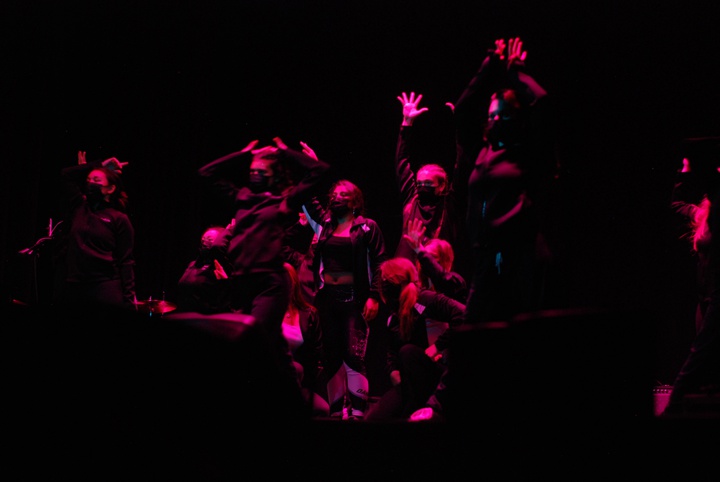 Del Norte's largest indoor event in two years brought tears, applause and a hope for the future as the community celebrated the grand reopening and renovation of the Crescent Elk Auditorium.
But for Del Norte High School band director, Dan Sedgwick, whose students traded notes with instrumentalist Jacob Scesney of Post Modern Jukebox fame, it was simple.
"My kids crave this," Sedgwick told the audience. "It's what we do."
Community members entered the 92 year-old music venue Friday for the first time since the COVID-19 pandemic began. They saw walls sporting a uniform deep blue rather than chipped paint, refurbished lights, floors free from scratches and put butts into seats that were wide enough to accommodate them.
Purchasing a separate cushion to make it through the evening is no longer required.
According to Del Norte Unified School District Superintendent Jeff Harris, the journey to upgrade the auditorium began with Board of Trustees conversation in 2019 about repainting it and turned into a discussion regarding a five-year plan for renovating the venue.
"We never thought it would happen in five years, but we said, 'Let's see what it looks like,'" Harris said. "And then, out of the blue, there's a lightning bolt that happens in January of 2020. Nick and Lisa Rail announced the donation of 100 instruments to our music program."
At the end of that evening in January 2020 — the first "ta da" moment that formally reintroduced the Rails to Del Norte County — Harris said Nick Rail made a proposition concerning the Crescent Elk Auditorium.
"He said one simple thing, 'I'll supply the lights if you paint the auditorium,'" Harris said of Rail. "Nick and Lisa's generosity started immediately. What was supposed to be, at best a five-year program to put this place back into some semblance of shape, turned into 18 months of fevered construction with Nick and Lisa saying, 'OK, here's the next level.'"
Nick Rail, who grew up in Del Norte County, attending Redwood School where he first learned to play the cornet, went on to become one of the largest retailers of musical instruments in Southern California.
Rail reconnected with his roots via Sedgwick, who frequented Rail's Santa Barbara store and even worked for him. For years, Rail supplied DNHS with repairs, music folders and other supplies, which led to that first donation of musical instruments.
After that donation, the Rails started the Nick and Lisa Rail Music Foundation. They pledged pledged $50,000 for new stage lighting and $131,409 for the new seats, according to Steve Morgan, the district's director of facilities and maintenance.
Matt and Rae Fearing, of Northridge Electric, donated $25,000 for a new electric panel to replace one that had been powering the facility since 1929. Matt Fearing also paid to refurbish the lights, Morgan said.
Local sound engineer, John Degler, who has volunteered his services to community events and performances since 2006, also pledged $5,000 toward the technical setup and configuration of the stage lighting, Morgan said.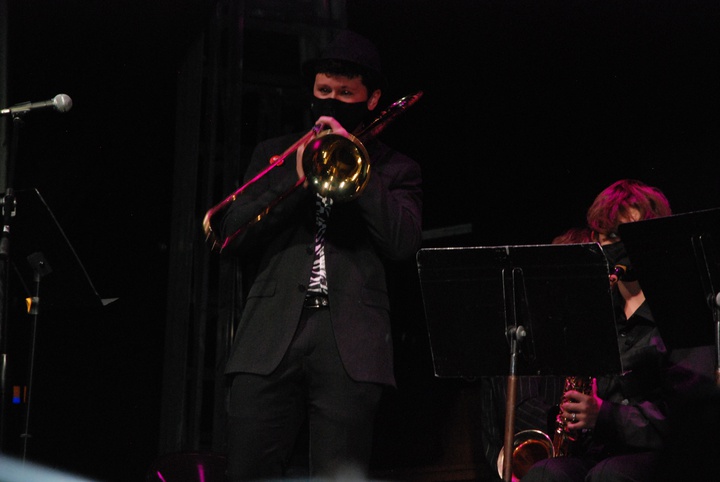 "He's probably been there for, I don't know, 10 or 12 hours a day all week getting ready for this," Morgan said of Degler.
Fashion Floors of Medford installed the new flooring in the auditorium, according to Morgan. PBK Design also provided architecture and design services for the refurbished facility, Morgan said.
For DNHS dance instructor, Katie Peña, the new auditorium makes her excited for her students' upcoming concerts.
"I can't even begin to tell you how crazy some of the experiences have been of my past concerts here," Peña said. "We've had rain falling on the girls and we've had curtains stuck halfway open. We've had music shut down in the middle of a performance and we've had blown fuses, among other things. I'm excited to kind of start anew with concerts this year."
Though Peña's students won't officially perform until January, her Dance III kids gave the audience a taste of what the new lighting system can do.
"We're really grateful for the new lighting feature," she said. "Lights add a level of drama to a piece that is so important in a dance concert. And with the ability to utilize more color options and more special effects, our first concert here should be a blast."
According to Rail, the new system allows Peña and others to operate the lighting sequence from their personal computer or tablet.
Sedgwick said Friday's celebration was the first real live performance for the DNHS steel drum band and jazz band since the pandemic shut things down.
It's not totally back to normal, Sedgwick said, but "this is as close as it's been."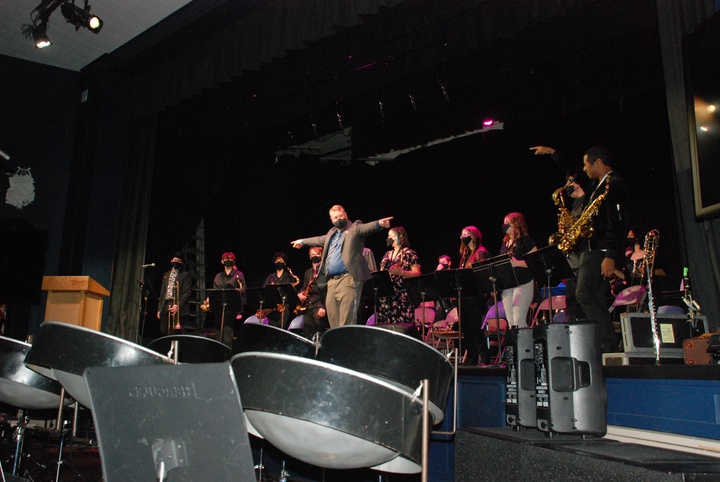 During the evening, Smith River School teacher Marshall Jones and others passed out red "Go PAC" buttons. PAC stands for Performing Arts Center and represents the ultimate goal on Nick Rail's bucket list.
Rail said a new nonprofit, The Partnership for the Performing Arts, is working with DNUSD toward opening a 1,000 seat venue on the Del Norte High School campus with most of the funds coming from "a variety of sources outside the county." The school district will provide the land, Rail said, with plans to open in August 2028.
Rail envisions the performing arts center to host endless school band, choir, dance and theater productions. He sees it as a training ground for career technical education classes in sound and lighting engineering as well as set and prop design.
Community arts organizations will hold their concerts and theater performances inside the new venue, Rail said. It can also be used as an emergency evacuation center for the community, he said.
"Imagine, no more high school band concerts in the gym," he said. "I am a firm believer in the power of positive thought. Wear this button proudly and when people ask you what it means, please take the time to share a great story and help us build a bridge to a better tomorrow, for all of us."
---
SHARE →