---
Jessica Cejnar / Monday, May 24 @ 4:38 p.m.
Caltrans Introduces Spider Excavators, Drapery Netting to Last Chance Grade
---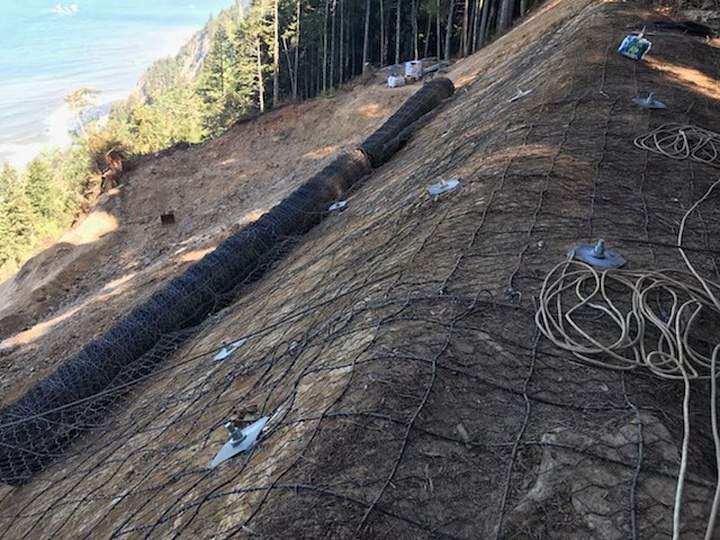 Caltrans continues work at Last Chance Grade to stabilize the hillside above U.S. 101 and prevent slip out below the highway.
The agency brought spider excavators to the landslide roughly 10 miles south of Crescent City last week to install rock anchors and a cable drapery system, Clayton Malmberg, Caltrans senior construction engineer for Northern Humboldt and Del Norte County, told the Wild Rivers Outpost on Monday. Workers are working to reshape the slope at a 40-degree angle, which, he said, engineers feel is "sustainable and uniform."
"We're excavating ahead," Malmberg said, "And as we excavate and we establish that slope where we think is sustainable, we're installing rock anchors and cable drapery to prevent, or at least decrease, risk of future rock or material coming down from the slope onto the roadway."
Since rain in Del Norte County has slowed, so has slide activity above the highway at Last Chance Grade, Malmberg said. Crews haven't seen any material movement at the site other than what they bring down themselves, he said.
Motorists have experienced two-hour delays weekdays since a landslide shut the road down on Feb. 13. Caltrans had reopened U.S. 101 to one-way traffic three days later only to have to close it down again on Feb. 18 when slide activity resumed.
The road reopened on Feb. 22 during the day, but was shut down so heavy equipment could be brought to into the area. The closure at Last Chance Grade prompted the Del Norte County Board of Supervisors to declare an emergency Feb. 23.
According to a Caltrans Facebook post on Monday, two-hour delays will continue from 9 a.m.-11 a.m.; noon-2 p.m.; and 3 p.m.-5 p.m. Monday through Thursday. There will be two-hour delays Friday from 9 a.m.-11 a.m. and from noon-2 p.m.
Motorists can expect 30-minute delays outside those hours. According to Malmberg, there won't be long closures Saturday, Sunday and Monday, which is Memorial Day.
When asked about a timeline for the current project, Malmberg said it was an estimate.
"Most likely over the next two months, we'll be continuing to install that netting and stabilizing the slope," he said.
Malmberg and Caltrans continue to address an ongoing active slide below the highway at Last Chance Grade. This work is an effort to prevent additional slip-out, he said.
"Below the roadway, there's a series of retaining walls we continuing to be constructing," Malmberg said.
Caltrans constructed large retaining walls above and below U.S. 101 and are constantly having to repair or replace them, Malmberg said.
"There's constant movement throughout that area that's resulting in the need to repair walls and create new walls," he said.
As Malmberg and his crew work to keep the current U.S. 101 alignment open, Caltrans is still exploring the feasibility of two potential permanent fixes to Last Chance Grade. Recently whittled down from a list of seven possibilities, the two options include an inland tunnel that's roughly a mile long, while the entire route would be about 1.5 miles long.
The estimated construction cost is between $1.1 billion and $2 billion, according to Caltrans' Last Chance Grade website.
The second option would keep U.S. 101 along its current route, but would involve permanently shoring up the slope and hillsides along the highway, according to Caltrans.
---
SHARE →