---
John Ross Ferrara / Monday, May 17, 2021 @ 12:30 p.m. / Crime, Education, Traffic
Curry County School Bus Driver Killed in Head-On Crash By DUI Driver From Crescent City, CHP Reports
---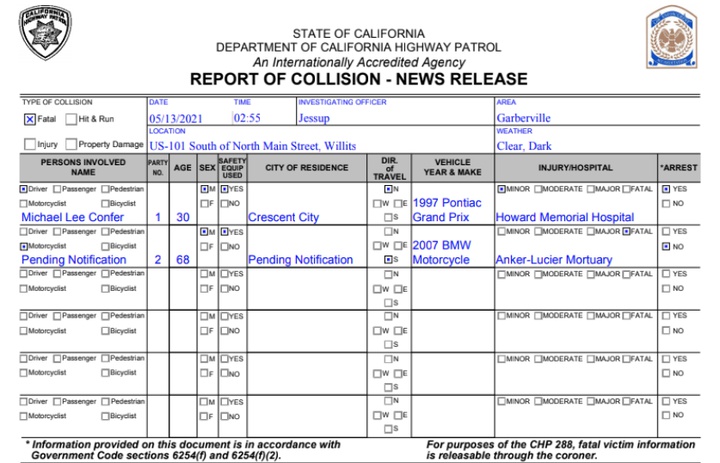 A Central Curry School District bus driver was killed in a two-vehicle motorcycle crash on Highway 101 shortly before 3 a.m. in Mendocino County, Calif. on Thursday.
The California Highway Patrol reports that 68-year-old school district employee Wayne Berry was driving southbound on the Willits Bypass when an oncoming Pontiac Grand Prix driven by 30-year-old Michael Lee Confer of Crescent City traveled into the wrong lane of traffic and struck Berry's motorcycle.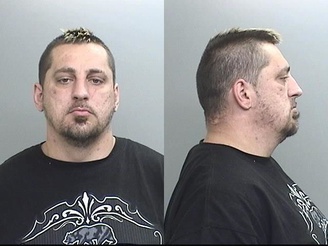 "For reasons still under investigation, Confer allowed his Pontiac to travel over the double yellow painted lines, which separated the northbound and southbound lanes, directly into the path of the motorcycle," the CHP collision report reads. "A head-on collision occurred, subsequently ejecting the male rider and his motorcycle over the side of the elevated bypass, where they came to rest below. The force of impact caused Confer's Pontaic to ignite and catch fire."
Berry reportedly succumbed to his injuries on scene and Confer was arrested on suspicion of driving under the influence of a controlled substance. Confer was booked into the Mendocino County Jail on felony DUI and vehicular manslaughter charges.
The Central Curry School District issued a statement on social media yesterday about Berry's passing.
"It is with great sadness that we report the death of Wayne Berry, who passed away on [Thursday, May 13] after injuries sustained in a vehicle accident in California," the statement reads. "Wayne had been a District employee for several years, most recently assigned as the Agness route bus driver and athletic trip driver. Wayne will be remembered for his care for all students and staff with a special heart for the underdog."
The Central Curry School District Crisis Team is available to grieving students and staff at both its campuses today.
The crash remains under investigation by the CHP's Garberville office.
---
SHARE →