---
Jessica Cejnar / Wednesday, March 24 @ 5:06 p.m.
Sutter Coast Hospital CEO Says Local Mental Health Crisis is Endangering His Staff, Acute Care Patients
---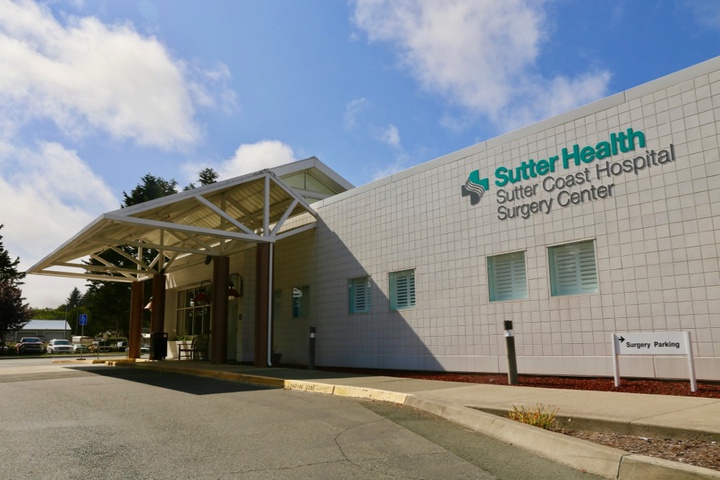 The CEO of Del Norte County's hospital called out the sheriff's office and the Department of Health and Human Services for contributing to a crisis he said peaked Tuesday morning.
"We have six psych patients out of nine patients in our ER," Mitch Hanna told county supervisors. "There is a mental health crisis in our county and it is causing a harmful and potentially dangerous situation at Sutter Coast Hospital."
The number of mental health patients — including those detained on a 5150 charge who are deemed a danger to themselves or others — has increased at Sutter Coast's emergency room, Hanna said. Many of those patients present a danger to his staff and the hospital's other patients, he said. It also prevents ER staff from attending to those who need acute care, Hanna said.
Moreover, the county seems unable or unwilling to support the hospital's efforts to find a better situation for those who are mentally ill, Hanna said. This includes working with the hospital to create a crisis stabilization unit — which the county indicated it couldn't afford, he said.
"When we have locations identified for psychiatric patients to be transferred to, the county is frequently unwilling to pay for those transportation costs and often times are unwilling to authorize transfer," he told the Wild Rivers Outpost. "Really, in my mind, they have shirked their responsibilities. If there are inadequate funds — we hear all these things in terms of the county donating funds for different purposes whether it's for the homeless or for the Boys & Girls Club or what have you, this is a critical issue in this county and we can't continue to brush it under the rug."
Since Hanna's remarks before supervisors on Tuesday, he has spoken with one member of the Board and has a meeting set for March 31 with DHHS Director Heather Snow.
According to Hanna some of the mental health patients he referred to at the Board of Supervisors meeting had been at the hospital for four days because of the difficulty to find more appropriate care for them. He said he's had to assign three to four additional staff members to monitor those patients.
"These are not caregivers," he said. "These are people to protect the caregivers and protect other patients. There's a huge cost associated with that."
There is a shortage of appropriate mental health and psychiatric facilities statewide and even at the state-level, health providers have acknowledged that a mental health crisis has reached "an extremely challenging unmanageable high," Snow told the Outpost via email.
With its closest contracted in patient facility roughly five hours away in Red Bluff, Del Norte County is experiencing this shortage in an exaggerated way, Snow said. She also noted that clients experiencing a mental health crisis often encounter law enforcement.
"We live in a time when it is not unusual for the county jail to be filled with individuals who are suffering with deteriorating mental health and for the emergency room and the jail to disagree about which location is most suitable for the individual, while attempting to ship them back and forth," she said. "Unfortunately, this is all common knowledge and it is what we face every day."
According to Del Norte County Sheriff Erik Apperson, two of the psychiatric patients Hanna had mentioned Tuesday had been in his department's custody. But, he said, a person who hasn't committed a crime can be placed on a 5150 hold if they're a danger to themself or others.
The two in DNSO's custody had met the criteria for 5150 as determined both by law enforcement and the Del Norte Behavioral Health Branch, Apperson said, so they were transferred to Sutter Coast Hospital.
"When an officer is out in the field, often we are the quickest units to respond to any sort of public safety need. Sometimes we'll go to these calls and the matter isn't so much criminal as it is a mental health challenge," Apperson said.
Those individuals are brought to Sutter Coast Hospital because "there's no other option," he said.
"Sutter Coast is really the only game in town," Apperson said.
According to Snow, County Behavioral Health crisis workers evaluate each patient in the hospital's emergency department with possible psychiatric placement needs once they're medically clear. If they meet the 5150 criteria, the crisis worker will evaluate with a supervisor and write a legal hold for the individual.
"Our crisis workers have a list of all the hospitals we are contracted with and begin the task of gathering information, calling hospitals and faxing required documents to each hospital to find an open bed to place the patient," Snow said. "This process can take from two hours to a couple of days. The crisis workers continue to monitor each patient on a 5150 hold and continue to evaluate newly medically cleared patients that have been presented to Behavioral Health."
According to Hanna, there are psychiatric hospitals within the Sutter Health network, but none near Del Norte County. He, too, acknowledged the difficulty of finding appropriate care for mental health patients and said staff are "very conversant in terms of what our responsibilities are as acute care providers vs. the responsibilities of counties."
Some counties step up and own their responsibilities, Hanna said. One, Placer County, which also houses a Sutter Health facility Hanna is CEO at, opened its own mental health facility.
"I believe that's a 12-bed, maybe an 18-bed unit," he said. "Often times they are at capacity and we have similar issues with psychiatric patients there, but the county gets access workers on a timely basis and work collaboratively with us to manage the care of the patients and get them to an appropriate setting. Unfortunately we have not had that same experience here."
Hanna said by the time he left work at about 6:30 p.m. Tuesday, the six psychiatric patients that had been in the ER earlier that day dwindled down to one or two. He said he's not giving up hope that the hospital can work collaboratively with the county.
"The county can't afford what (had) been done in Placer County, which actually purchased a previously existing mental health facility to use for their own patients," he said, adding that he hopes the March 31 with the county meeting proves productive. "But we need to come up with some alternatives that are a little bit safer."
---
SHARE →