---
Jessica Cejnar / Saturday, Feb. 20 @ 2:15 p.m.
Caltrans 'Working Every Truck In Town' To Clear U.S. 101 At Last Chance Grade; Road Face Is Stable, Officials Say
---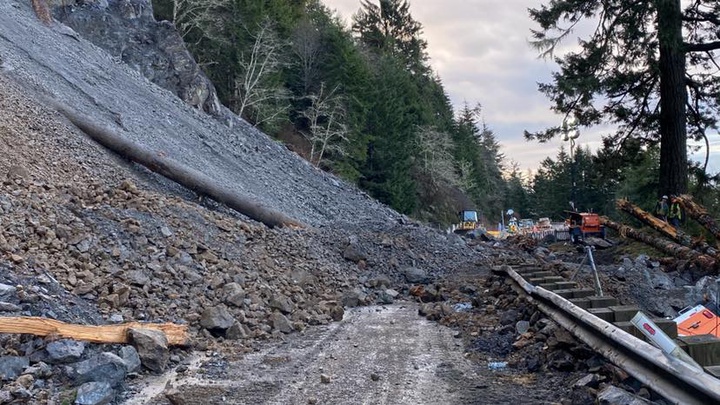 Caltrans officials are "working every truck in town" to remove 12,000 cubic yards of debris off U.S. 101 in the Last Chance Grade area, Del Norte Emergency Services Manager Kymmie Scott reported Saturday.
The department hopes to reopen the highway south of Crescent City by 8 p.m., said Scott, who met with state and local officials earlier Saturday afternoon, but can't make any promises.
"Right now it's looking pretty good," Scott said. "This has been primarily a weather-driven event, and the nice weather is helping."
Though there is 12,000 cubic yards of debris on the road and another 5,000 "just hanging" the highway itself is stable, Scott said. There are no concerns about losing the road, she said.
"They just need to get the debris off the road and off the side of the hill and once that's done, we can go back to having a secure route," she said. "I think everybody can breathe a sigh of relief that the failure has not compromised the roadway."
Another slide along with toppled power lines has been cleared from Highway 169, opening the road that leads into Klamath Glen, Scott said. Power has also been restored, though communications is expected to be available some time this afternoon, she said.
The agreements the Del Norte Office of Emergency Services has with Humboldt County to provide emergency services in southern Del Norte are still in place, Scott said.
The most recent slide activity on Last Chance Grade occurred around 2 p.m. Feb. 13 and continued through Monday morning until Caltrans reopened the U.S. 101 to one-way traffic.
The slide became active again at around midday Thursday. Caltrans reopened the road at about 4:45 p.m. Thursday and then closed it again at 6:15 a.m. Friday.
The closure on U.S. 101 Friday hampered efforts to get to the Klamath area to clear the slide on Highway 169. Caltrans brought crews in from Eureka. PG&E also responded from Eureka to help restore power in the Klamath area, though Pacific Power is the utility there.
On Saturday, Scott said there also continue to be issues with motorists trying to find a way around the slide by taking the snow-covered Gasquet-Orleans Road. Though Del Norte County Search & Rescue hasn't been deployed recently, barricades have been erected and law enforcement are there to deter people from going past them, Scott said.
For updated information about conditions on U.S. 101, visit Caltrans' Quick Map web page. For more information about efforts to re-route the highway around Last Chance Grade, visit lastchancegrade.com.
---
SHARE →