---
Jessica Cejnar Andrews / Thursday, Dec. 16, 2021 @ 6:04 p.m. / Local Government
Though Its Ordinances Are Now Codified, Crescent City Harbor Commissioners Say Further Discussion on Specifics is Needed
---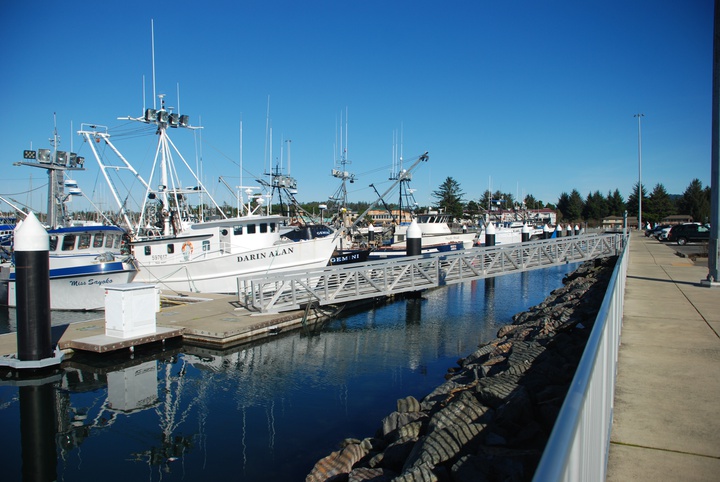 Crescent City Harbor commissioners on Friday unanimously approved the first two articles of an ordinance code outlining the port's rules and regulations.
But though they spent nearly four hours combing through the new code page by page with the public on Thursday, commissioners agreed there were several items they needed to discuss at greater length. These range from the date and time Crescent City Harbor District meetings should take place to whether a boat owner should pay extra if their vessel is wider than a slips in the port's inner boat basin.
Commissioners discussed concerns from commercial fishermen who felt singled out due to a proposed provision requiring them to have an approved isolation transformer or galvanic isolator, deciding to make that a requirement for all vessels.
One commissioner, Gerhard Weber, also took issue with the use of the word misdemeanor when it came to movement of vessels in the harbor and obeying the harbormaster's orders or directions.
"I'm uncomfortable talking about misdemeanors," Weber said. "Everybody has to follow the harbormaster and the regulations, there's no need to talk about misdemeanors."
Weber and his colleagues approved Article 1 and 2 of the Crescent City Harbor District Ordinance Code on Thursday. Article 3 of the Ordinance Code will come before harbor commissioners in January or February, according to the port's legal counsel, Gina Herrera.
Moreover, the ordinance code doesn't contain any new regulations, Harbormaster Tim Petrick told the Wild Rivers Outpost. Though some regulations need updating to be brought into legal compliance, about 90 percent were approved by previous Harbor District boards more than 20 years ago, he said.
Commissioners goal on Thursday was to make the port's regulations more accessible and easier to read, Petrick said.
"This is not a major overhaul of the ordinances in substance," he told the Outpost last week. "It's more an overhaul of them in format."
On Thursday, Herrera said that the ordinance code would take effect immediately after the Harbor District Board approves it, when it comes to things like slip rentals or isolation transformers, it would be up to the harbormaster to decide when an individual should come into compliance.
Petrick said he would need to discuss those issues with individual boat owners and come up with a timeline that would work for both parties.
"Some issues, like with isolation transformers, 90 days is not possible for a lot of these folks, so individual timelines for those ones will need to be discussed and issued with boat owners," he said.
Before delving into the ordinance code Thursday, Harbor District Board President Brian Stone presented his colleagues with a question in the interest of saving money.
Stone, pointing out that the Harbor District spent $1,000 in publishing fees to the Del Norte Triplicate to make the ordinance code public prior to the meeting, asked his colleagues if they wanted to approve the ordinance as written. If no substantive changes were needed, Stone suggested they amend the ordinance code after the Harbor District Board approved it.
"If we make any substantive changes to this, we're going to have to go back and republish," Stone said. "Just so everybody's clear, it's going to cost us more money to republish if we make substantive changes."
Commissioners said they weren't comfortable approving the ordinance code without a discussion first.
During that discussion, one of the first issues commissioners and the public disagreed on had to do with the date and time the Harbor District meets.
Currently, commissioners meet at 2 p.m. the first and third Tuesday of the month, but as Annie Nehmer, a member of the public pointed out, parents are picking up their children, there's a shift change at Pelican Bay State Prison and commercial fishermen are out on the water.
Commissioner Harry Adams proposed removing the provision in the code stating the specific date and time meetings will take place.
Stone balked at this, pointing out that meetings were originally at 5 p.m., but were moved to 2 p.m. so the Harbor District didn't have to pay its staff over time.
Harbor Commissioners also didn't want to conflict with the Del Norte County Board of Supervisors, which meets at 10 a.m. the second and fourth Tuesdays of the month, Stone said.
"I understand, Annie, that you have certain obligations as a mother and an individual to take care of your kids, but this is a decision for the board to (make)," Stone said to Nehmer. "This is an item for commissioners to decide whether we want to change the existing meeting pattern, which has been in place now for five years."
Stone said a 5 p.m. meeting time is at dinnertime when people commute and it's difficult for some to make it to the Harbor District. Plus, Stone said, he liked the 2 p.m. meeting time.
"The day before I'm going over all my notes and all the background and in the morning, I'm reading through everything again to make sure I caught everything I want to know about," he said. "I spend almost two days loading everything in my brain about what's going on at that meeting."
District 4 Supervisor Gerry Hemmingsen, who owns a commercial fishing vessel, said even when he and his colleagues changed the meeting date and time, it didn't change the number of people who attended.
"If people are concerned about an item on the agenda, they show up," he said. "When they're not concerned with what you're doing, they don't show up. It's better off to be more consistent — pick a time and stick with that time is way more important. If you're changing it to accommodate the public you'll always have problems."
Though Adams proposed moving meeting times to 7 p.m. at a future meeting, according to Petrick, under the state Harbors and Navigation Code, the Crescent City Harbor District must adopt a day and time to conduct its meetings.
"The next president, which will be decided next Tuesday, can make it one of their first actions of the new year, deciding what the new meeting date and time should be," Petrick said.
When it came to berthing regulations, the size of a vessel and the moorage fee they're required to pay, commissioners debated whether or not a boat owner should be charged more if their craft's size exceeds the width of their berth.
Under the current fee schedule, approved in 2017, a vessel beam may not exceed 80 percent of the slip beam. Vessels exceeding 80 percent of the slip width must pay an additional 20 percent on their moorage fee. Boats exceeding 100 percent of the slip width must pay an additional 50 percent for their moorage space, according to the current fee schedule.
According to Petrick, the intent of the rule is to ensure the Harbor District not lose out on slip rentals because one boat takes up too much space.
"This has been in place since Nov. 27, 2017. We have not billed it," he said. "And my thought would be that we do not enact billing if we agree to continue this until after crab season is over."
The fee schedule will be part of Article 3 of the Harbor District Ordinance Code, according to Petrick.
On Thursday, Commissioner Rick Shepherd, a commercial fisherman, said if two vessels can occupy a designated slip, which is designed for two boats, then additional charges shouldn't be levied.
If one vessel is taking up too much space and another can't be accommodated, only then should its owner be charged an additional fee, he said.
"If we can get two boats in there, I don't care what the tolerance is," Shepherd said. "We got people in here that pay for two slips because their boats are wide and they don't want another boat next to them."
Hemmingsen said he had multiple problems with the way the ordinance was worded.
"If you take 80 percent, which I don't agree with, if you can park next to another boat, why is there an issue?" he asked commissioners. "Are all your slips full?"
Hemmingsen said the Harbor District should address boat owners whose vessels are more than 27 feet wide.
Petrick said the 80 percent figure in the Harbor District's fee schedule gives vessels room to get into and out of their slip without striking another boat, though he couldn't speak to the exact wording of the fee schedule.
Hemmingsen said the Harbor District needs to strike that 80 percent provision from the ordinance altogether.
"I deserve as much as I can without extra fees as long as two boats in that space can operate without hitting each other, which we do," he said. "I think you need to drop the 80 percent."
Both Shepherd and Adams agreed with Hemmingsen.
"If they've been making it work and you can get two boats in the slip, then it's just normal moorage," Shepherd said. "But there should be a specific clause that states if you take up so much room that the other boat is not capable of mooring there, you should pay an extra fee."
Stone proposed drafting the ordinance code to state that if a boat is oversized, the vessel's owner would pay for both slips. If the Harbor District is able to rent the adjacent slip out to a second boat, that boat's rent would be credited to the owner of the first boat, Stone proposed.
"The bigger boat (has to) pay for both slips," Stone said. "If we can fit a smaller boat, the bigger boat gets credit back to him in the amount of the smaller boats' rent. And the Harbormaster would make every effort to get another boat next to him."
Herrera suggested that instead of crediting the owner of the first vessel the amount the second boat pays in rent, the Harbor District should not require the owner of the first vessel to pay an additional fee if the adjacent space is made available to another boat.
According to Petrick, those changes will be made to the Harbor District's fee schedule as well. At the end of the meeting, he said, the fee schedule will be brought back before the Board of Commissioners for update in January or February.
"The fee schedule's a couple of pages, it's not like this," Petrick joked.
Documents:
• Crescent City Harbor District Ordinance Code
---
SHARE →