---
Jessica Cejnar Andrews / Wednesday, Dec. 1, 2021 @ 3:24 p.m. / Community
Prison Paws Program Makes Debut at Pelican Bay
---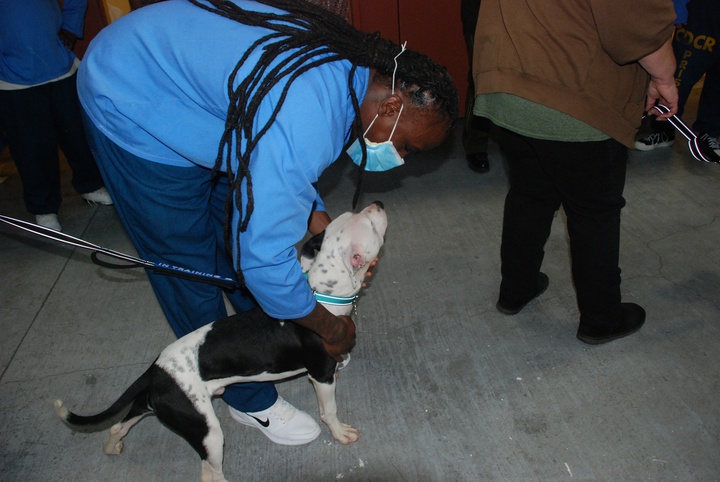 It had been more than 16 years since Donald Walker played with a dog.
But when Millie, a petite girl with one brown eye and one blue eye, tentatively approached him, the Pelican Bay State Prison inmate held out a hand, spoke softly and gave her head a scratch.
"I feel proud," Walker told the Wild Rivers Outpost on Tuesday. "I'm fortunate to have this unique opportunity."
Walker is one of eight inmates in the prison's Facility D to take part in the new Prison Paws Partnership program, a collaboration between the California Department of Corrections and Rehabilitation, the Humane Society of Del Norte and the Del Norte County Department of Animal Control.
For roughly six weeks, Walker and his fellow inmates will socialize Millie and three other dogs who would otherwise be in kennels at the county animal shelter awaiting adoption. Once the four pups graduate from the program, they'll hopefully move into the perfect home, said Humane Society board vice president Eileen Bennett.
On Tuesday, an adoption application had already been filed for a speckled youngster named PeeWee and prison staff were also calling dibs on the other new arrivals.
"Now we can cry, Danielle!" Bennett cried, hugging her colleague, Humane Society board president Danielle Larsen-Wheeler.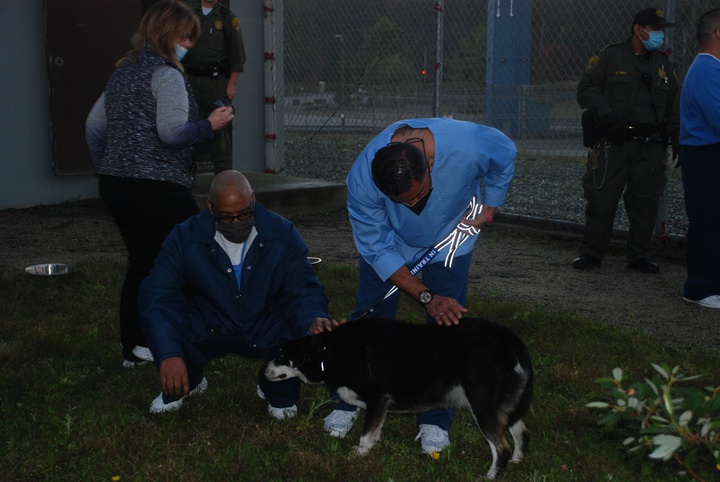 Larsen-Wheeler, Bennett, animal shelter volunteers Laureen Yamakido and Brittany Pratt, and Karrie Hall, owner of Karrie's Kanine Academy, introduced the four pups — Millie, PeeWee, Baron and Max — to the inmates on Tuesday.
Larsen-Wheeler said she had wanted to bring a program pairing shelter dogs with prisoners to Pelican Bay since about 1996, even going so far as to discuss it with the institution's warden at the time.
Larsen-Wheeler, Bennett and other Humane Society volunteers began working hard on bringing the Prison Paws Partnership program to the prison for about four years.
"Once we knew what we needed to do, we put our face to the desk and got it done," Bennett said.
Steps taken to bring the Prison Paws Partnership to fruition included tours of the pod within PBSP that will house the dogs, said Animal Control Director Justin Riggs. The pups will be assigned to two handlers each and will sleep in kennels near the inmates, he said.
Three of the four dogs had been the victims of neglect or abuse and were part of a law enforcement seizure that brought them to the Animal Shelter earlier this year, according to Riggs.
The Humane Society used donations to hire Hall, who work with the inmates and their charges every week, he said.
"Training will be focused on basic obedience and socialization to make them more adoptable and help them fit into a home setting," Riggs said. "The Humane Society deserves a lot of credit. They stuck with it and worked out a lot of details such as what types of collars and leashes and what will meet with Pelican Bay approval."
Riggs also pointed out that the Prison Paws Partnership will help free up space at the animal shelter.
Jill Brown, a Pelican Bay State Prison employee who is the sponsor of the Prison Paws Partnership program, said the pups' inmate handlers had to go through an interview process before being able to work with the dogs. About 13-14 prisoners threw their hat into the ring, Brown said.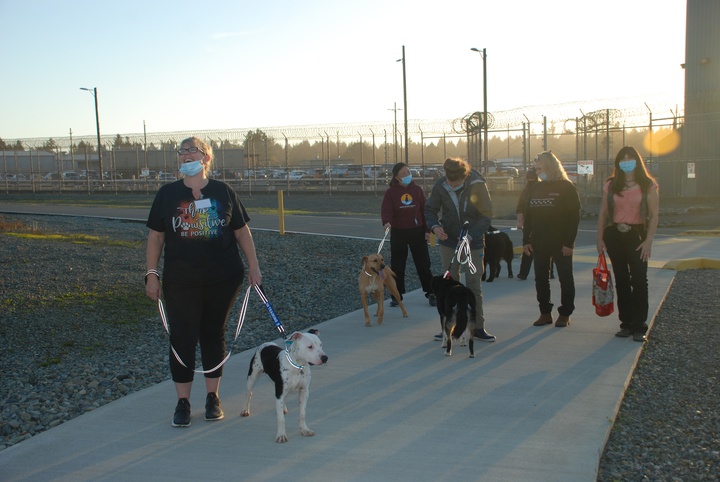 "We narrowed it down to eight," she said. "That way there'll always be a handler with them."
Many prisons across the country pair shelter dogs with inmates including Vacaville and Mule Creek state prisons and California State Prison-Los Angeles County.
Back at Pelican Bay on Tuesday, Walker found out that he will help take care of Baron, who's larger than his canine peers with a black fluffy coat.
"My goal is for us to help each other," Walker said. "They're not only helping me grow, I'm helping put them in their forever home."
---
SHARE →