---
Jessica Cejnar Andrews / Monday, Aug. 30 @ 5:20 p.m. / COVID-19
One More COVID Death Over Weekend; Facebook Memorial Group Created to Honor Those That Died
---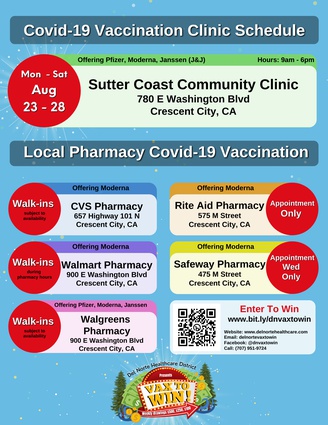 Hospitalizations are down, but one more person has died from COVID-19 over the weekend, the Public Health Branch reported Monday.
A total of 85 new cases were reported to the Del Norte Public Health Branch, including two new cases among the county's incarcerated population.
Thirteen people are hospitalized for COVID-19 as of Monday, down from 20 on Friday, according to the county's COVID-19 Information Hub.
Del Norte's total death count is now at 23 since the start of the pandemic, according to the Information Hub.
As of Thursday, 42.6 percent of Del Norte County's population had been fully vaccinated, according to the California Department of Public Health. Roughly 49 percent of the county remained unvaccinated and 8.4 percent are partially vaccinated as of Thursday.
With 10 deaths in Del Norte County due to COVID last week, including Bayside Realty Agent Mitzi Travis, Emergency Services Manager Kymmie Scott created the Facebook group, Del Norte Memorial — For All the Love We've Lost.
"I thought we all might need an area to come together and share and heal together," she said in a Facebook post.
Meanwhile, the Del Norte Healthcare District is continuing an incentive campaign to try to get all county residents vaccinated against COVID-19.
The Del Norte Vax to Win! campaign includes weekly drawings of $500, $250 and $100 for those that are newly vaccinated and for those who previously received the shot. Winners must show their proof of vaccination card and residency to receive a prize.
---
SHARE →