---
Jessica Cejnar / Wednesday, April 7 @ 4:59 p.m.
Recology Makes Case for Rate Increase at Town-Hall; Meeting Drew One Comment
---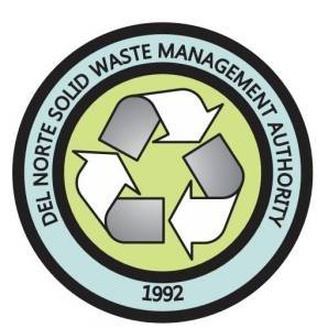 Though most Recology Del Norte customers could see their rates increase by about 5 percent in July, a town hall meeting allowing them to protest the potential change Tuesday drew a single comment.
Stringent regulations and changes in the recycling market, both locally and globally, are forcing Recology Del Norte to change its rates, according to General Manager Jeremy Herber.
But Donna Westfall, former Crescent City councilwoman and president of the Del Norte Taxpayers Association, said wages should be frozen and salaries cut before rate increases are approved. She didn't specify if those wage freezes and cuts should apply to Recology employees or staff at the Del Norte Solid Waste Management Authority.
"There's no way anyone's income should go up because rates are going up," Westfall said via email. "You should consider a 15 percent decrease for anyone making $60,000 and above and a 10 percent decrease for anyone making $40,000 and above. If nothing else, freeze wages effective immediately for anyone over the next two years."
Recology Del Norte has held the curbside collection franchise with the DNSWMA since July 2011, manning street garbage and recycling containers as well as community recycling bins, according to DNSWM Director Tedd Ward. The agreement expires in June 2023.
Recology manages about 55 percent of the $9 million in waste-related fees that are collected annually, Ward said. Lesser percentages go to Hambro WSG, which manages the transfer station, and the Del Norte Solid Waste Management Authority itself.
The authority is responsible for approving Recology's request to restructure its rates, according to Ward.
"The main reason for this meeting is to allow all customers to make sure they're subscribing to a lever of service (they want) and are not paying for a level of service (they) don't need," he said.
Under the proposed new fee schedule, a residential customer with a 32 gallon trash and recycling bin will find their monthly rate increase from $29.71 to 31.06 in July 2021. A residential customer who has a 32 gallon trash bin and wants a 64 gallon recycling bin will have to pay an extra $5.20 a month, increasing their rate to $36.28.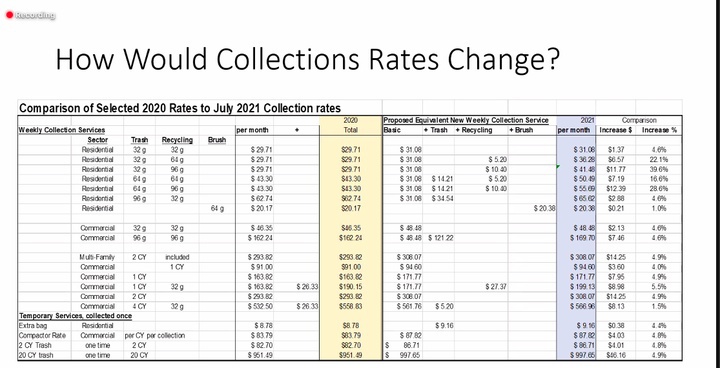 A commercial customer who has a 32 gallon trash bin and a 32 gallon recycling bin will see their rates increase from $46.35 to $48.48 in July. A commercial customer with a 96 gallon trash bin and a 96 gallon recycling bin will see their rate increase from $162.24 to $169.70.
The collection rates will also increase from $8.78 to $9.16 for residents asking for an extra trash bag.
Since 2011, Recology has offered 30-, 60- and 90-gallon trash carts and free recycling carts to its customers. It also had a "solid agreement" with local processor Julindra Recycling, Herber said. But rising costs and finding places to accept Del Norte's recyclables made it difficult for the small processor to keep its head above water, he said.
When its founder Jordan Kekry died in 2016, Julindra held on for a few more months until Kekry's daughter, Julie Badorek, gave Recology 30 days' notice that it was terminating its contract with them, Herber said.
On Dec. 31, 2016, Julindra stopped accepting material Recology Del Norte collected, leaving hauler with two problems — finding a new home the community's recyclables and reducing the amount of trash that had contaminated Del Norte's recycling stream, Herber said.
"We found out quickly that the material was contaminated to a level that sometimes reached over 50 percent — 50 percent garbage and 50 percent recycling — and we couldn't take that material anywhere," he said. "The industry standard in today's markets is 10 percent or less, and that was back in 2017. We had to get permits to hold the material and it had to be at 10 percent or less. We had a real problem on our hands."
Recology and DNSWMA worked for several months to find a new home for the community's recycling. As of Sept. 23, 2017, this turned out to be Recology Humboldt's processing center in Samoa, Herber said. But even then, the contamination was often so bad that Recology Humboldt rejected it and its Del Norte County counterparts had to resort the material, he said.
Since then, Del Norte has gotten better about not putting trash in with its recyclables, Herber said. He estimated that the current contamination level is between 10 and 14 percent.
But while Del Norte struggled to get its contamination levels to the industry standard, international changes — particularly China's National Sword policy in 2017 made recycling a more costly operation, Herber said.
Until that point, China had taken fiber material and plastics from the United States and other places all around the world, according to Herber. But in 2017, China ruled that the material had to have a contamination level of less than a percent by March 2018, he said. Recology had to find a new market overseas and had to guarantee a clean product, he said.
In 2019, Recology Del Norte purchased the old Julindra plant and asked for, and was granted a 6.12 percent rate increase, Herber said.
"Right after we got done with the rate increase, our processor had to go through numerous changes and costs went back up in 2019," Herber said.
New regulations from the California Air Resources Board under Assembly Bill 233, the Healthy Heart and Lung Act, which requires removal of diesel trucks as well as propane-powered forklifts and other off road equipment, also exacerbates costs, according to Herber.
"As we're forced to replace these vehicles and do collection franchise work, we're hoping to get assistance with being able to get those replaced to be able to continue doing this," he said. "Anybody who comes in and works in Del Norte County and the State of California falls under this mandate."
Herber also noted that though the contamination level in Del Norte's recycling stream has decreased significantly, people still throw trash in the community recycling bins. He showed photos of trash strewn around the bins at the Smith River post office.
"We're asking for assistance from the community," Herber said. "Nobody likes to ask for rate increases. Nobody likes to talk about rate increases. However, these things are costly. They are costly not only for Recology, but it's costly for other consumers who use our services."
In response to Westfall's comment, Ward said the perception that the rate increases would equate to raises for staff is incorrect. He also noted that it won't be an across the board rate increase.
"The whole point of having this meeting tonight was to inform people that they could adjust their service subscriptions so the rate changes wouldn't impact them as bad as they might think," he said.
Herber noted that Recology Del Norte cited specific laws and changes to the market that have resulted in increased costs.
"These are not just made up, it's been going on for quite a few months now," he said. "These adjustments, they're unfortunate, but they're necessary in order for not only us to continue our operation in Del Norte, but anyone else who comes in here and does the same service."
---
SHARE →