---
Jessica Cejnar / Tuesday, Sept. 8 @ 1:06 p.m.
Offshore Winds Blow Smoke From Happy Camp Area Fire Into Del Norte; Smokey Conditions Expected to Last Through Thursday
---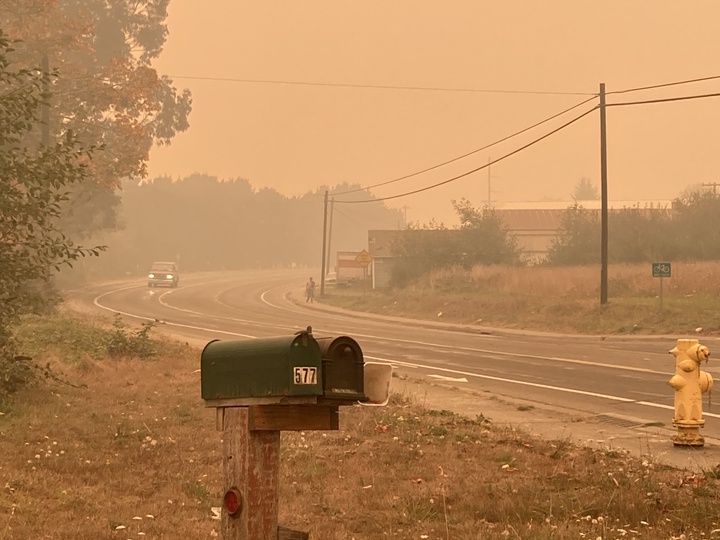 Offshore winds have blown smoke from several wildfires toward the coast, while a new fire near Happy Camp is contributing to current conditions in Del Norte County, according to a National Weather Service meteorologist.
The Slater Fire, in the Klamath National Forest, has prompted evacuation orders in the Happy Camp area, the Siskiyou Daily News reported Tuesday morning.
The fire is burning near the Slater Butte Lookout and has caused the closure of State Route 96 to eastbound traffic about 2 miles west of Happy Camp and to westbound traffic west of Seiad Valley, according to Caltrans District 2.
Offshore winds, generated by an early season low-pressure trough, are blowing smoke from the Slater Fire directly into Del Norte County, according to National Weather Service meteorologist Josh Wood. Those winds are expected to be gusty, especially on high ridges, and will likely contribute to another wave of smoke inundation for Del Norte on Wednesday, Wood told the Wild Rivers Outpost.
"The new fire in Siskiyou (County) is pushing smoke due west, right on you," Wood said.
Conditions may improve Wednesday evening or Thursday, Wood said.
Meanwhile, the Red Salmon Complex, August Complex and other wildfires are contributing overall moderate air quality conditions in Crescent City, according to a North Coast Air Quality Management District news release.
Communities in the Klamath River drainage, including Orleans and Weitchpec, are seeing overall unhealthy conditions.
Smoke can cause eye and throat irritation, coughing and difficulty breathing, according to the news release. Those who are at greatest risk of experiencing these symptoms include those with respiratory diseases such as asthma, heart disease, young children and older adults.
People are advised to stay indoors and avoid prolonged activity during smoky conditions, according to the news release.
Though Del Norte County isn't experiencing a wildfire currently, its interior is still under a red flag warning, Emergency Services Manager Kymmie Scott said.
"People should keep their go bags handy and make sure they're signed up for community alerts," she said. "But if they see something that looks threatening, don't wait for an alert. If they see fire, they should move."
To sign up for emergency alerts, visit Prepare Del Norte.
---
SHARE →