---
Jessica Cejnar / Friday, Sept. 4 @ 10:34 a.m.
Triple Digit Temps Expected for Del Norte, Humboldt, Mendo Interior Sunday Through Tuesday
---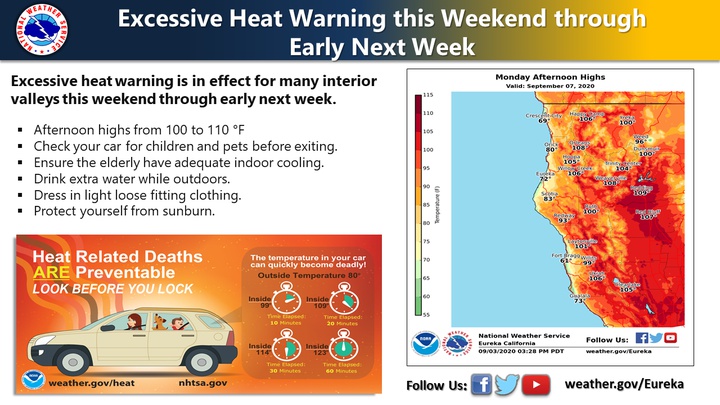 National Weather Service forecasters are predicting 100-110 degree temperatures inland Sunday through Tuesday and are warning people to be careful.
An excessive heat warning will be in effect from 11 a.m. Sunday through 6 p.m. Tuesday, according to the NWS website. The heat warning applies to interior Del Norte, Humboldt and Mendocino counties.
People are urged to drink plenty of fluids, stay in an air-conditioned room, stay out of the sun and check up on relatives and neighbors. Young children and pets should not be unattended in a vehicle under any circumstances, according to the NWS's warning.
Those who work or spend time outside are urged to take extra precautions and, if possible, reschedule strenuous activities to the early morning or evening. People should wear lightweight and loose-fitted cloathing and schedule frequent breaks in shaded or air conditioned environments.
---
SHARE →