---
Jessica Cejnar / Monday, Sept. 21 @ 11:23 a.m.
Crews Working Slater Fire May Use Controlled Burn to Remove Excess Fuel in Knopki Road Area
---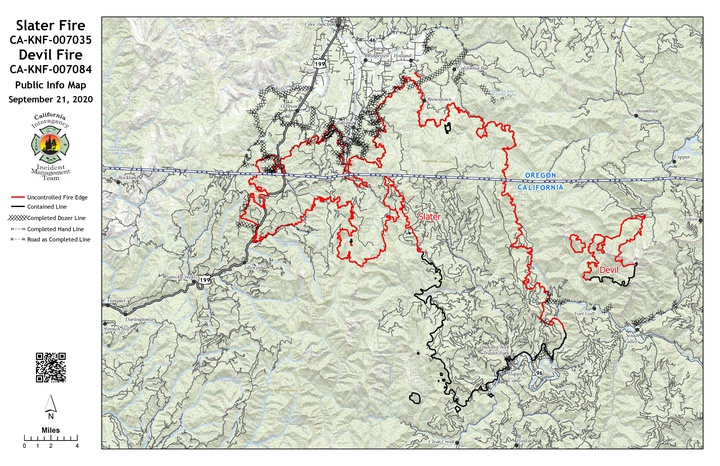 While motorists can resume travel along U.S. 199, crews have been keeping up with the Slater Fire's progression in the Knopki Creek Road area as it moves toward Sanger Lake.
Fire activity flared up on the west side of the highway Sunday, Mike Granger, operations section chief for Norther Rockies Interagency Management Team 2, reported during a Monday morning update. Crews are working to build control lines in the area, but since portions of the area are steep, hand crews will be deployed, Granger said.
"Once we have this line constructed we'll have a line around the whole portion," he said, pointing to an area near Monkey Ridge on the west side of U.S. 199. "We will burn this out once we have control lines in. We're still a few days out from having that completed."
Crews are working to build defensible indirect lines in case the fire spreads toward Gasquet, according to an 8 a.m. Monday update on InciWeb.
"The team is staying as close to the fire as they can to keep the fire from growing, especially along Knopki Road," the update states. "Some areas from Knopki Road to the east are inaccessible for building control lines along the fire. Firefighters will also use controlled fire to remove excess fuels."
The Slater Fire has grown to an estimated 148,583 acres and is 18 percent contained, according to an update on InciWeb at about 8 a.m. Monday. The Devil Fire, at 7,458 acres, is 18 percent contained.
In the Illinois Valley area, the Josephine County Sheriff's Office removed evacuation orders for the Selma area, while residents near Cave Junction remain at a Level 1 "Be Ready" evacuation order, according to InciWeb.
During his report, Granger said fire crews are building indirect lines along U.S. 199 and Forest Rte 17N05 north of Patrick Creek in the event the "fire wants to move out here."
On the Oregon side, will begin mopping up near Skag Creek.
According to InciWeb, firefighters are building containment lines south of Cave Junction and in the Takilma, Sun Star and Browntown areas.
Granger, describing the Slater Fire as a mosaic, said there are a lot of unburned pockets within the blaze's perimeter that can still catch fire. Those may burn until the region receives a substantial amount of rain, Granger said.
He also addressed the lack of containment lines on his map.
"We're not going to show the line as being black until we're confident that this line is going to hold," Granger said. "There are a lot of infrastructure, a lot of homes out here, so until we're confident these lines are holding, we're not going to put that on a map. We're not going to paint a false sense of security when we're not sure ourselves."
In an update on Facebook, Kymmie Scott with the Del Norte Office of Emergency Services stated Monday is expected to be sunny with lower relative humidity and early light wins. Clear conditions are expected for Tuesday.
"Air quality is expected to remain 'good' along the coast with levels alternating between 'good' and 'moderate' in Gasquet and with levels alternating between 'good' and 'moderate' with periods of 'unhealthy' in the Klamath area," Scott reported.
---
SHARE →