---
Jessica Cejnar / Friday, Sept. 11 @ 1:59 p.m. / Emergencies, Fire
'There's Fire Right Down on the Edge of 199'; OES Officials Tour Slater Fire Sites in Del Norte
---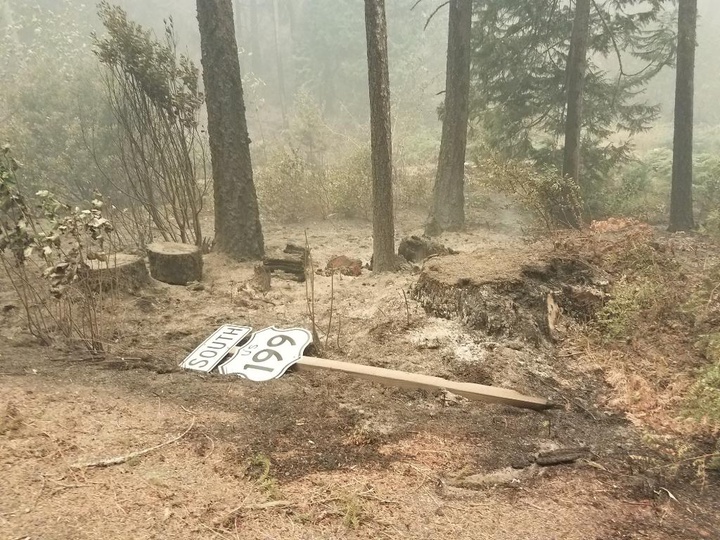 Bill Steven saw fire on both sides of U.S. 199 less than half a mile north of Oregon Mountain Road on the south side of Collier Tunnel.
Along with Del Norte Emergency Services Manager Kymmie Scott and Emergency Services Director Jay Sarina, the OES public information officer drove through the road block at Pioneer Road to the state line and back late Friday morning, surveying the Slater Fire's continuing impact in the area.
"There's fire right down on the edge of 199 in multiple places," he told the Wild Rivers Outpost. "There's these spot fires on both sides of the highway all the way up through the tunnel, the bug station. There are all kinds of potential for trees to come down into the highway. One long guardrail is down on the ground and the air quality is just horrible."
Though fire got within six feet of the building, the agricultural inspection station at the border still stands, Steven said. A fire engine is there in case "something comes that way again."
Several fire vehicles and crews are also at Bar O Boys Ranch cleaning up brush, leaves and dead trees to make the space more defensible. Though a caretaker lives at the former court school for boys, no one else is at the facility, Steven said.
The Slater Fire has grown to 140,802 acres as of 6:21 a.m. Friday, according to InciWeb. The blaze started in the Klamath National Forest near Happy Camp and has prompted evacuations in that community as well as in the O'Brien, Takilma and Cave Junction areas.
Gasquet residents were ordered to evacuate due to the fire on Wednesday. However, that order was relaxed at about 11:30 a.m.
Thursday, though residents should still be prepared to leave within 30 minutes, Scott said Friday.
Though they were permitted to return to their homes, Scott said some residents, especially those who are vulnerable, have decided to remain in the Crescent City area.
Sarina also recommended that those who rely on oxygen to reach out to their supplier to make sure they have backup if needed.
"We run into that problem with power outages, it's the same thing with the road being closed," he said. "(People) should make sure they're stocked up."
Scott pointed out that Hiouchi and Big Flat residents are on a Level 1 stand by order to evacuate.
"Everybody in that canyon should make sure their go bags are ready to go," she said.
Scott urged people to visit Prepare Del Norte to sign up for emailed updates on the Slater Fire. People can also receive alerts on their smart phone via Everbridge, she said.
U.S. 199 is still closed from Pioneer Road to the Oregon border, Caltrans District 1 reported. Steven said Caltrans may try to bring a contractor into the area to help remove fallen trees and damaged guardrails to make the road safe for motorists.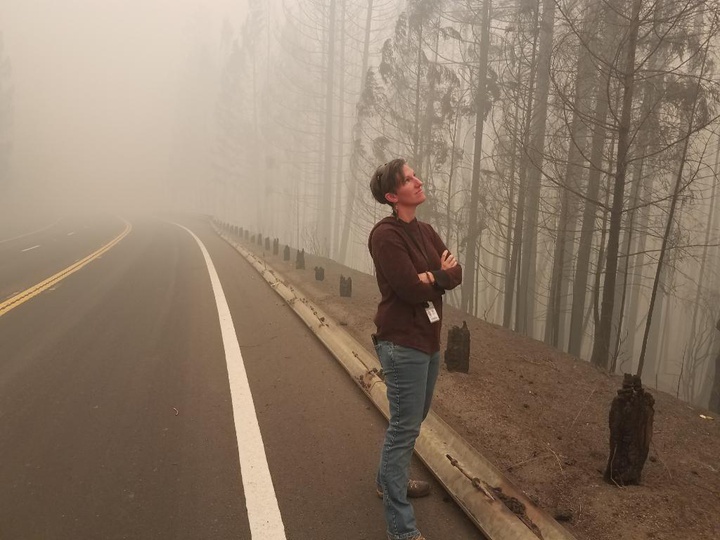 However, Steven said, officials with California Incident Management Team 10, which is managing the fire, indicated at a meeting this morning that they anticipate more activity on both sides of U.S. 199.
"There was all kinds of stuff that was discussed this morning from air quality to wind speed to humidity to short-term forecasts, long-term forecasts, inversion layer," Steven said. "We're at the mercy of all that stuff and how it all unfolds at the end of next week."
In an online briefing at about noon Friday, Tom Browning, north operations section chief for the Slater Fire, said work has been focused on fire activity in the Holland Loop area near Cave Junction, though no homes were reported lost.
There was some structure loss "early in the fire" near O'Brien, Browning said. Crews are currently out ahead of the fire to the west in the Waldo and Lone Mountain areas putting direct and indirect lines there, he said.
"We're the No. 1 fire in the nation right now," Browning said. "We're hoping to get more resources in there, (but) we're doing a lot of good work with what we have."
Air quality also continues to be a major concern, Steven said. The North Coast Air Quality Management District issued an air quality advisory for Crescent City, Gasquet and Klamath. According to the advisory, unhealthy to very unhealthy conditions were likely for Gasquet while generally unhealthy conditions were expected for Crescent City and Klamath.
According to the Air Quality Management District, in areas with very unhealthy conditions, everyone should avoid prolonged or heavy exertion. In areas with unhealthy air quality conditions, those within "sensitive groups" such as those with lung and heart disease, should avoid all physical outdoor activity.
For more information, visit the Slater and Devil Fire Facebook page or call (530) 534-2528.
---
SHARE →