---
Jessica Cejnar / Wednesday, March 4 @ 3:06 p.m.
Transitional Housing Program Submits Proposal For Possible CDBG Funding; New Rules Present New Challenges For Crescent City
---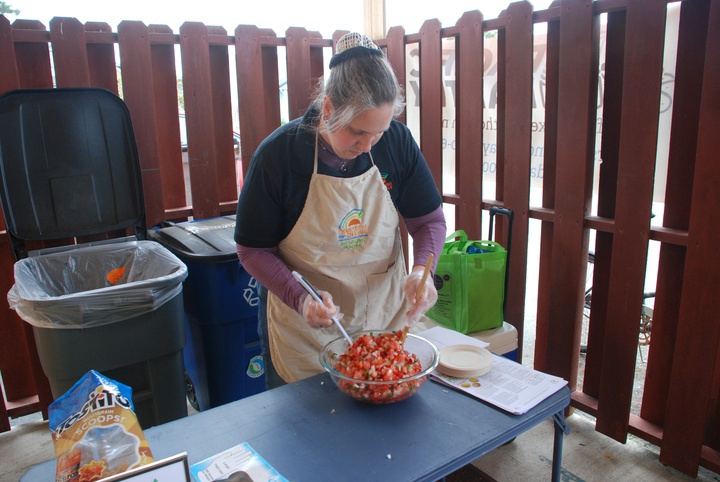 The founders of an organization new to the community asked the Crescent City Council to consider supporting their transitional housing program when seeking Community Development Block Grant funds.
At a public hearing Monday, Kristen Wilson, co-founder of Seven Angels Last Stop Services, told the Council that her organization plans to acquire trailers, refurbish them and offer them to those transitioning from being homeless to finding a home. The cost would be about $70,000 a year, she said, and involves purchasing and refurbishing five trailers.
Each trailer would serve about four different families throughout the year, Wilson said. Seven Angels would want to expand the program after the first year if it's successful, she said.
"The potential clients would come from places as in the veterans, (Our) Daily Bread, people who are in other programs who are looking for something to transition from being homeless to finding a home," Wilson said.
"It would also consist with us partnering with different departments in the local area to find people who are eligible for the program. The idea is also to make sure they have a place where they are not paying fees to be there, but have the time and secure location to make a plan and get that plan on its feet."
Seven Angels, the Community Food Council's Pacific Pantry and the North Coast Rape Crisis Team were three organizations the Council mentioned wanting to help fund via federal CDBG dollars. But as the California Department of Housing and Community Development seeks applicants for the 2019-2020 grant, a new stipulation governing how quickly award recipients spend their allocations may represent challenges for Crescent City.
The CDBG is a federally funded program through the Department of Housing and Urban Development. Funds are administered via the state Department of Housing and Community Development, which announced in January that about $60 million in 2019-2020 CDBG dollars were available, according to the city's staff report.
Communities can apply for a total of $3.5 million for grant dollars targeted toward community development, said Crescent City Finance Director Linda Leaver. For economic development programs and projects, grants can be up to $6 million.
Communities can submit up to six applications, Leaver said.
She noted that the state is also making a distinction between programs and projects. Programs include housing assistance and public services while projects apply to building something for the public, Leaver said.
Another new state rule, the 50 percent rule, stipulates that if there's currently an open grant for a public service program, half those funds must be spent before the recipient applies for another grant, Leaver said.
"For public services we have two open activities — the North Coast Rape Crisis Team and City Code Enforcement," she said. "The total between both of those in open grant (dollars) is $465,000. What that means with the 50 percent rule you have to spend $232,000 before you can apply for additional public services."
In addition to seeking input on what programs and projects the City Council would like to use CDBG money for, Leaver asked for approval to disencumber the grants belonging to the North Coast Rape Crisis Team and Code Enforcement programs. It's unlikely that the total amount awarded to these programs will be spent, Leaver said.
If the grants are disencumbered now, the city would be in compliance with the 50 percent rule, she said.
Crescent City awarded $221,000 in 2017 CDBG grant money to the North Coast Rape Crisis Team to provide emergency services to survivors of domestic violence, rape and human trafficking. So far, the program has spent about $53,000, Leaver said.
"City staff has been in contact with management a few times and also we've worked with the police department and District Attorney to try to make sure these services are being advertised, that everyone knows they are available and are using them if they're needed," Leaver told the Council.
The finance director proposed reducing the Rape Crisis Team's total budget from $221,000 to $140,000. Both city staff and the Rape Crisis Team say that amount will allow them to continue to provide services through the end of the 2017 grant.
"What we have seen so far is that the public education the rape crisis team is doing is on track," Leaver said. "They are providing a number of classes and enough people are attending. That part is working well. But the number of people who are requesting emergency assistance has just been lower than anticipated when we did the application."
In 2017, Crescent City received $244,000 in CDBG dollars to expand its code enforcement efforts, including purchasing new software and procuring legal counsel if the cases needed to go to court, Leaver said. Since then, the program has spent about $70,000, she said.
The program couldn't displace residents, which curtailed what it could do with its grant money. Also, since CDBG dollars are designed to serve low-income residents, Leaver said the code enforcement program had to operate within specified areas of the city. The grant couldn't pay for abating code violations, only staff time and legal expenses.
"Our proposal is to reduce the budget to $97,000," Leaver said. "That's enough for software, staff time and legal expenses to get through the rest of the program."
As city staff get ready to apply for the latest round of CDBG dollars, it received two proposals for public service grants from the Community Food Council's Pacific Pantry, which had been funded under the 2016 CDBG, and the North Coast Rape Crisis Team. Seven Angels Last Stop Services was the third proposal for public service dollars.
In her presentation, Leaver included a resolution for the Council to approve that would allow the city to hire a consultant using about $10,000 in money generated through CDBG programs. If a program or project's application is successful, the organization would reimburse the city for the cost of the consultant, she said. Grant applications are due to the state on April 15.
Staff with the Community Food Council requested $500,000 to help operate the pantry for two and a half years. According to Leaver, it would serve about 5,700 people, each of whom could benefit multiple times.
The North Coast Rape Crisis Team is requesting $144,000 to continue to provide emergency services and community outreach for two years. Both programs must serve Crescent City residents.
Crescent City is eligible for up to $500,000 in CDBG dollars for economic development programs. These must be micro enterprise businesses with five employees or fewer, Leaver said. The owner must qualify as a low-income individual and the business must be located within city limits, which presented a previous struggle for Crescent City.
"We had people located outside city limits who wanted to participate, but couldn't," Leaver said. "Under this (notice of funding availability), they have said we can partner with the county and offer the program countywide as a city-run program. We reached out to the county and they are receptive."
Amanda Hixson, food program director for the Community Food Council, noted that Pacific Pantry supports local growers and the local food economy along with feeding local families. When its 2016 CDBG grant ended, Hixson said they were able to sustain Pacific Pantry's operation through volunteers and fundraising, though it's operating on a skeleton crew.
Pacific Pantry currently has one paid employee, Hixson said. It used to have three paid staff. Hixson told the City Council that she's paying that one employee through a CalRecycle grant-funded food rescue program that seeks to divert 400,000 pounds of food from the landfill.
Since October, the Community Food Council's food rescue program has recovered 24,000 pounds of food, Hixson said.
"The work we do takes more than one staff member," Hixson told the Council. "If we were to receive funding we would have more than just one paid employee. We would have a full-time position and a couple part-time positions."
When considering Wilson's proposal, Crescent City Mayor Blake Inscore noted there are few transitional housing programs in the community.
"The Health and Human Services Department spends a significant amount of money every year in putting people up in hotel rooms," he said, adding that though the Seven Angels Last Stop Services proposal came to the city late, it was worth taking a look at. "That may in fact be good for a person to not be on the street, but it certainly doesn't operate in that transitional standpoint where the person is learning to take care of themselves and move back into a normalized structure in their life."
Inscore also mentioned another CDBG-funded venture, a $4.2 million storm drain project seeking to alleviate residential flooding and resulting in a redesign of the westernmost part of Front Street.
Last month, the Council approved a $3.83 million contract with Tidewater Contractors to spearhead the project, which includes widening storm drain capacity on Front Street between B and G streets and on C Street. Completing the entire project, which includes parts of F Street as well as constructing a new outlet for the storm drain would cost a total of $5.9 million, exceeding the CDBG grant.
On Monday, Inscore asked staff to explore whether Crescent City can "get in line" to receive additional CDBG dollars to complete the storm drain project. He noted that the F Street part of the project is shovel-ready and has already been sent out to bid.
Crescent City Manager Eric Wier noted that in the past CDBG recipients had to spend 50 percent of the grant on an infrastructure project to be eligible for more funding, but that's not the case anymore. Though the F Street portion of the project is currently out to bid, it's not funded, he said.
"In talking with Finance Director Leaver and City Engineer (Jon) Olson, we think it could be a nice fit and a nice opportunity, one we're ready for if we had the funding," he said.
Leaver said she would reach out to the consultant to see if additional CDBG dollars would be available to complete the F Street part of the storm drain project.
Councilor Jason Greenough asked if CDBG dollars are awarded to infrastructure projects on a first-come first-served basis, noting the list "is going to get very long very fast."
"If they run out of money at the end of this year, next year does that list continue over?" He asked Leaver. "I agree with the mayor, I would love to see the extra outfall added to that as well."
According to Wier, the F Street portion of the project would cost about $1.2 million to $1.3 million to complete. Constructing a new outlet for the storm drain would cost about $700,000.
---
SHARE →
---