---
WRO Staff / Tuesday, March 24 @ 12:41 p.m.
Local Community Foundations Launch COVID-19 Fund to Aid Critical Nonprofits During the Crisis
---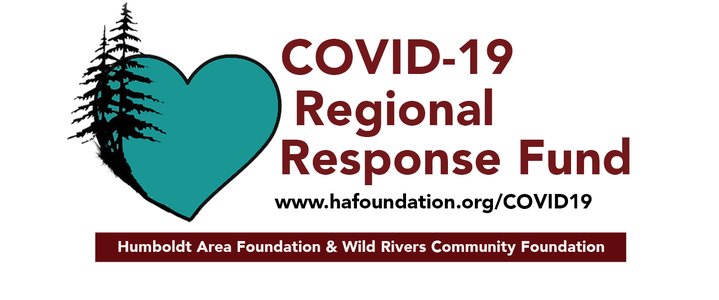 Press release from the Humboldt Area Foundation/Wild Rivers Community Foundation:
Humboldt Area Foundation and its affiliate the Wild Rivers Community Foundation have launched the COVID-19 Regional Response Fund to address the immediate and emerging needs of our region's most vulnerable residents -- from mitigation to eventual recovery from the coronavirus pandemic.

The fund was established to collect contributions and then provide grants to charitable organizations in Del Norte, Curry, Humboldt and Trinity counties. The number of people affected by the coronavirus in our four-county region continues to grow. Many are grappling with sudden changes to our everyday lives. For some, the effects are particularly dire.

"Our number one priority is to the region we serve and the amazing people who get to call this place home," said WRCF Director Gina Zottola. "Our communities have a history of resiliency and now more than ever as a Foundation we must garner all of our resources and tools to assist our residents."

HAF and WRCF, with the support of foundation partners The California Endowment and The California Wellness Foundation, committed $150,000 to seed the fund, which launched last Friday. The organizations invite civic groups, individuals and community partners to join this regional effort.

By being responsive during times of uncertainty, HAF and WRCF embrace its roles as a community foundations to respond to the evolving needs of our diverse residents.

"Deciding to help our most vulnerable neighbors and collaborating to insure the health and well being of our citizens during times of crisis is what we do best as a community" said Zottola.

Grants from the fund will be made on a rolling basis to nonprofits, other charitable organizations and Native Indigenous organizations in Trinity, Humboldt, Del Norte and Curry. The fund's initial focus will be on seniors, low-wage families, tribal communities and the nonprofits serving those populations. HAF and WRCF are not able to make grants from this fund to individuals or small businesses at this time. The process for making grants from the fund is being developed and will be available and shared soon.

The COVID-19 Regional Response Fund is just one part of the planned response by HAF and WRCF, which includes other grantmaking resources, information and support and community leadership.

For more information about the fund, visit online www.wrcf.org or call 707-465-1238.
---
SHARE →