---
Jessica Cejnar / Tuesday, June 16 @ 4:43 p.m. / Community, Emergencies, Health
One Active COVID-19 Case Surfaces as Del Norte Public Health Officer Says Tattoo, Massage, Facial and Manicure Services Can Resume Friday
---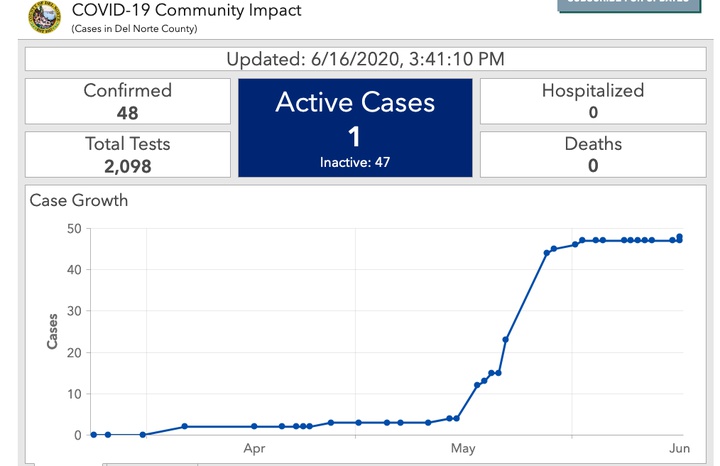 After he told the Crescent City Council on Monday that he'd "feel better" if there was an active COVID-19 case or two in the community, Public Health Officer Dr. Warren Rehwaldt got his wish.
Del Norte County has one active COVID-19 case as of 3:41 p.m. Tuesday, according to its COVID-19 information hub. This is the first case detected in Del Norte in about two weeks, according to Rehwaldt. There have been a total of 48 identified COVID-19 patients in the county out of 2,098 tests administered as of Tuesday afternoon.
"We need something going on in the community to measure the effect of changing things," Rehwaldt told Councilors on Monday. "If we go two weeks without a case, we start to wonder in public health, did we shut this last outbreak down to zero again. If we have nothing going on, it's hard to know what's safe to open and how much is safe to open at once."
Rehwaldt's report comes after he issued an order Thursday allowing RV parks, campgrounds and vacation rentals to welcome leisure travelers on Friday. Aquariums and outdoor recreation, including guided tours, were able to resume on Friday. And hotels were able to open at 50 percent capacity to non-essential travelers.
Hotels can begin to operate at full capacity and museums, galleries and family entertainment venues can reopen on June 26, according to Rehwaldt.
On Monday, Rehwaldt released further information based on a June 12 news release from the California Department of Public Health, stating that massage, tattoos, facial and manicure services can resume this Friday.
The California Department of Public Health has released guidelines for each industry sector, including personal services. In his letter to the community, Rehwaldt addressed the necessity of customers removing their face coverings to receive some of those expanded services.
"We are recommending that for these encounters, salon owners and stylists consider using an N95 respirator, rather than a typical cloth mask," Rehwaldt wrote. "A respirator is designed to protect the user more than it protects others, and for an encounter with an unmasked customer, the extra protection may be well worth the effort. Respirators can be safely reused if allowed to sit unused for five days."
People should put N95 respirators in a paper bag so they can "breathe" and dry out, according to Rehwaldt.
On Monday, Rehwaldt told the Council that the outbreak in mid-May has settled down, though he doesn't know how active the novel coronavirus is in the community currently. This is the reason he went for a staggered reopening of lodging facilities and other businesses, he said.
Rehwaldt also noted that Humboldt County is taking a similar approach.
"It's a hardship on businesses to wait longer, I fully understand it and I appreciate it," he said. "But we have a relatively small hospital, a relatively small healthcare system and we have to be careful in the steps we take going forward. I don't want to see us have to rescind anthing and take businesses off the table, so to speak, and force them to close back down again because of increased activity that we can't manage."
Rehwaldt also addressed Curry County's reopening progress — noting the Southern Oregon community has allowed more services, including lodging facilities, to resume. He also pointed out that Brookings and the southern portion of the county depends on Del Norte County's medical system.
In addition to stepping up Del Norte's testing capacity through the CDPH-funded Verily site at Del Norte High School, Rehwaldt said the Public Health Branch is taking advantage of a new technology allowing it to test the city's wastewater.
According to Rehwaldt, on May 6, the first day the Public Health Branch took advantage of the Biobot testing system, there was no genetic evidence of the virus in the city's wastewater. On May 12, the evidence was consistent with about 200 cases, he said. A third test conducted May 19 showed genetic material consistent with 180 cases, Rehwaldt said.
Rehwaldt told the Wild Rivers Outpost on June 12 that those numbers represent a general range of disease activity in the county. Because more than half of Del Norte's population is on the city's sewer system, he said, being able to test the wastewater is a good sampling tool.
"The precision of this tool is not very well understood," Rehwaldt told the Outpost. "It could be the case count was substantially lower than that, (but) it's a ballpark number to look at as something to work from."
Before Rehwaldt's presentation, the City Council heard from Doug Suzuki, who plays double pickleball at the Del Norte County Fairgrounds. Suzuki said the court is 44-feet long and 20-feet wide. Players are further than 6 feet apart, he said, and are not running or breathing heavily.
Suzuki asked when Rehwaldt will permit playing the paddleball sport indoors and outdoors.
Though, he said people should be "extra careful," Rehwaldt said tennis, pickleball and other outdoor activities could be played safely, especially since the state is allowing fitness centers to reopen.
"I don't have a lot of concern as long as people are being careful," he said. "Part of the concern in the past was just because there was very clear guidance about tennis being outdoors and not pickleball."
Rehwaldt, Mayor Pro Tem Heidi Kime and Mayor Blake Inscore urged the community to take advantage of the CDPH-funded Verily testing site at Del Norte High School.
Kime, who operates Pacific Northwest Physical Therapy, said she's gotten tested every week since the Verily site opened.
Documents
• Public Health Officer June 15 letter
---
SHARE →