---
Jessica Cejnar / Tuesday, July 28 @ 6:48 p.m. / Health
Number of Active COVID-19 Cases Drops to 1; No New Cases Reported
---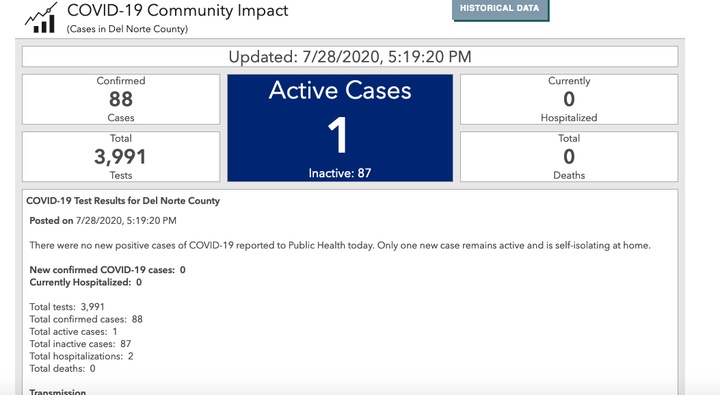 Local health officials received no new reports of COVID-19 cases and the one case that is active is isolating at home, the Del Norte Public Health Branch reported Tuesday.
The Public Health Branch's latest report came at 5:19 p.m. Tuesday and comes as Pelican Bay State Prison inmates and staff are being tested and re-tested for the novel coronavirus.
Last week, 23 cases were traced to prison after all its staff were tested, though some are Curry County residents. According to the California Department of Corrections and Rehabilitation, a total of 27 cases were reported amongst Pelican Bay staff. Nine are recovered and back at work, according to CDCR.
The department's COVID-19 Employee Status page was last updated on Tuesday.
Del Norte Public Health Officer Dr. Warren Rehwaldt said he wasn't sure why CDCR was reporting that there were 27 cases. He said he didn't think there were cases reported that haven't been made public yet and that the county's COVID-19 Information Hub has current information.
Speaking before county supervisors Tuesday, Rehwaldt said none of the cases identified at Pelican Bay presented to the hospital. Many patients didn't seek medical care, he said.
Rehwaldt also addressed the lengthy lag time between it takes for test results to be reported, saying "a lot of people are working around the country to fix it."
Though it impacts contact tracing, Rehwaldt said Del Norte public health staff can do good case investigations most of the time because most of the tests are ordered through Sutter Coast Hospital.
"They can do in-house testing and get the results back in a few hours," Rehwaldt said. "That's a huge advantage when we need to know quickly."
CDCR sends their test samples to a commercial lab, which is one reason for the lengthy turnaround time for results, Rehwaldt told supervisors. Though people may still test positive for the virus, many have completed their quarantine period and aren't infectious anymore, he said.
---
SHARE →