---
Jessica Cejnar / Friday, July 10 @ 6:19 p.m. / Education
They're Still Mulling Options, But DNUSD Trustees Say They Want Students In School For a Full Day
---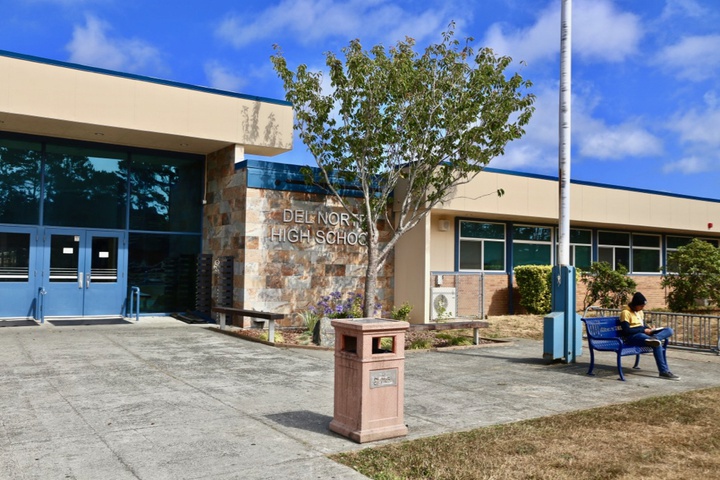 Though they favored having students at school for a full day rather than splitting them into morning and afternoon cohorts, Del Norte Unified School District trustees were unable to make a decision after four hours of discussion Thursday.
Instead, after hearing that the options they were discussing wasn't what was presented to district staff or parents, the school board delayed its decision until Tuesday, urging anyone with ideas to submit them to administrators before then.
"Nobody is happy with the choices we have to make tonight, but we have to make a choice," said District 4 Trustee Charlaine Mazzei. "We have to move forward on something. We have to give people certainty, and I don't know what more input we're going to get from people that we haven't given them the opportunity to do already."

Reopening phases
Before presenting the findings of a survey that garnered 815 parent responses and represented more than 1,500 students, DNUSD Superintendent Jeff Harris told trustees that the model they pick has to be able transition seamlessly as California moves forward, and backwards, in its reopening process through the COVID-19 pandemic.
Del Norte Public Health Officer Dr. Warren Rehwaldt wouldn't approve school reopening plans, but would help district officials ensure they're compliant with California Department of Public Health guidelines, Harris said.
Now, roughly 50 days before school starts Aug. 24, Del Norte Unified can offer blended learning, which is in Phase 3 of the state's four-phase reopening plan, according to Harris. The plan ranged from Phase 1, a full distance learning model, to a full reopening of schools.
Under a blended learning model, students can be in a classroom and participate in other learning and work activities when they're not interacting with a teacher, according to Harris.
Distance learning is still an option for families, Harris said, though Del Norte Unified has yet to figure out what that is. He referenced Assembly Bill 77, a budget trailer bill approved by state Legislators that "blew everything out of the water" when it came to distance learning.
Under AB 77, DNUSD has to have enough computers to enable them to go home with students along with being able to connect them to the Internet, Harris said. Their work would be standards based content at their grade level equivalent to what they would get in a classroom, he said.
Under AB 77, the student would have to have live interaction with a certificated employee and their peers, Harris said. The number of in-school minutes are spelled out in AB77, with Harris saying it's the equivalent of at least a minimum day. The district would also have to provide "nutritionally adequate meals," he said.
"As it stands right now, we have, I believe, about 50 days before school starts," Harris said. "We have 12 different departments that need to figure out what that's going to look like for every child from birth to adult. We have 14 school sites that have to figure that out with principals, with teachers, with all the classified supports. We have parents that face a myriad of challenges with childcare, transportation, food…"
Harris also reiterated that distance learning as AB 77 defines it, isn't what DNUSD did between March and June.
"What we did was crisis learning," he said. "Teachers picked up the ball and ran with it, but they ran at different speeds. For some of them it was a completely different game they were learning how to play. Many of them did well with it."
Harris also briefly brought up President Donald Trump, saying that if the president's able to carry out his threat to cut federal funding to schools if they don't fully reopen in the fall, it would shut down the entire California Department of Education.

Survey results
DNUSD's survey to parents and staff presented them with two learning options.
One proposed having half the district's students attend in the morning and the other half attend in the afternoon for four days a week with about 70 minutes in the middle to allow for sites to be disinfected and for teachers to prepare. The second model, a "2-1-2" model involved half the district's students attending in-person two days a week and participating through distance learning for the remaining three days.
An online only model was also proposed with little or no in-person class time.
Of the 815 family responses, 56 percent favored the am/pm model, while 31.6 percent liked the "2-1-2" model best. Just over 12 percent wanted an online platform, according to the results.
Meanwhile, of roughly 215 district employees, including teachers, classified staff and administrators, nearly 46.8 percent favored the am/pm model while 37.5 percent liked the "2-1-2" model. The remaining 15.7 percent wanted another teaching option, according to the survey results.
Each option had its pros and cons. With the am/pm model, students would be in the classroom every day, but they would only be with a teacher for about 2 hours and 45 minutes, Harris said. Instruction would focus primarily on English and math, he said.
Meals and breaks could eat up between 30 and 40 minutes of instruction time, and under AB 77, teachers have to certify they have spent a certain number of minutes with a child, Harris said. For the district's elementary school students, that's 180 minutes. Its older students must have spent 240 minutes, about four hours, of instruction each day, Harris said.
Plus, at Del Norte High School, if its six-period day goes unchanged, class time would be about 22 minutes each, Harris said.
Trustees Frank Magarino and Jamie Forkner, who represent Districts 3 and 5 respectively, asked about the possibility of extending the school day — from 8 a.m.-noon, for example, instead of the current proposed 8 a.m.-10:45 a.m. morning session. But, Harris said, that brings up problems with staff scheduling.
"If you extend the school day from 8 o'clock to noon and from 1-5, you've only bot an hour in the middle," he said. "We have contractural prep time for teachers and we also have duty-free lunches that are in contract. We know that there's going to be a lot of things that are negotiated on MOUs as we go through. It's also a longer work day than is currently in contract."
With the "2-1-2" model, all students that need transportation would be served by a regular morning and a regular afternoon route, Harris said. Hot meals could be prepared, though they'd still need to be consumed in the classroom. And there would be more time to disinfect school sites between student groups, Harris said.
It would also ensure more time for all subject areas such as physical education and the arts. Special education students would also have more time to work with counselors and instructional aids.
The drawback, though, has to do with childcare, Harris said. He said families may find it more difficult to find consistent childcare. Plus, transportation may not be available to student athletes since cohorts can't mix.
"It could lead to equity issues where more affluent families with transportation can get students to school to do athletics versus families who struggle with that," Harris said. "That may not be insurmountable. Derrick Campbell (director of transportation) is in conversation with Redwood Coast Transit on what would it look like if they were the primary carrier for our middle school and high school students that needed transportation."

Changing mindsets
Though many parents favored an am/pm blended learning model, Chrystal Helton, whose children go to Margaret Keating Elementary School, said she and other parents she's spoken with changed their minds about that.
Helton was part of True North Organizing Network's Parent Power Committee, which presented the findings of their own parent engagement effort on Thursday. According to True North leader Amy Campbell-Blair, the committee communicated with between 30 and 40 families from all over the county.
Helton said she initially liked the am/pm model over the "2-1-2" model, thinking the morning session would end at noon. But then, she said, she began thinking about how her work schedule and family life would be affected with her kids in school for only 2 hours and 45 minutes a day.
Other parents indicated it was also easier for them to plan on two full days of school work, child care and transportation than over four half days, Helton said.
"They also thought those two full days allow for more engagement with the students and that would benefit the students (more) rather than the am/pm model," she said. "They were concerned if 70 minutes between cohorts would be enough time to sanitize. One parent noted after a meal and recess, really only spending two hours with teachers, and will this be enough time? They also shared that they're not sure if a one-size-fits-all model works for the whole district. If a strategy that works for each school might be more appropriate."
Marcus Endert, a special education resource teacher at Smith River School, said he changed his mind about the "2-1-2" model. He noted that though students are in school only two days out of the week, that may be a more normal environment for them than an am/pm model.
Endert said he was also concerned about student engagement.
"I'm worried that in an am/pm model, we're focusing on core subjects to the exclusion of PE, vocational education, arts and music," he said. "When you sacrifice preferred activities for non-preferred activities, you risk a loss of student engagement and an increase in behavioral challenges."
Steve Morgan, the district's director of facilities and maintenance, spoke on behalf of his custodial staff, breaking down the amount of time it would really take to sanitize campuses with help from his custodial coordinator. It would take one custodian about five minutes to disinfect a classroom and 15 minutes to disinfect a restroom, he said.
"For instance at the high school, there's 54 classrooms and there's 12 restrooms," he said. "To do that work in an hour and a half, you'd need five custodians there."
With 14 school sites, the district would need 13 to 16 more people to ensure things were sanitized properly in 70 minutes, Morgan said.

Other viewpoints
Not everyone was in favor of a blended learning model. Lonnie Reyman, the county's chief probation officer, who has worked with the school district on truancy issues, said students should be in the classroom.
Though he didn't state exactly what they were, Reyman said he's seen "significant negative impacts" to the community because of "our response to a virus."
"I believe wholeheartedly that our schools need to be open and not in a makeshift fashion," he said. "I think our kids need to be in class. Kids need to be interacting with teachers in schools (and) people who care about them and invest in their lives on a regular basis."
Lara Hirt, principal at Mary Peacock Elementary School, said students may not be used to focusing on one thing for an extended period of time, especially when they've been out fo school since March.
She also pointed out that providing instruction in-person and via distance learning takes double the preparation time.
"Teachers are working extremely hard," Hirt said. "If they're working in a dual platform they need increased time to plan for (those) platforms."
Though she noted that whatever model they choose, it's going to be difficult for somebody, Sarah Mitchell, vice president of the local California School Employees Association chapter, said she was concerned about Harris's statement regarding Redwood Coast Transit potentially providing transportation to students.
"This is a major negotiable item that was not shared with us at any steering committee," she said. "That's information our bargaining unit would have liked to know."
Del Norte Teachers Association President Marshall Jones agreed with Mitchell about issues that still needed to be negotiated with the unions that represent certificated and classified staff. He asked the district to invite all stakeholders, including Rehwaldt, to a special meeting to "talk this through" before the Board of Trustees made its decision.
That meeting will be held at 2 p.m. For more information, visit https://www.dnusd.org/.
Documents
---
SHARE →