---
Jessica Cejnar / Thursday, Jan. 9, 2020 @ 1:10 p.m.
Harbor District Explores Buying 3 Properties, Including Former Harbor View Grotto Restaurant
---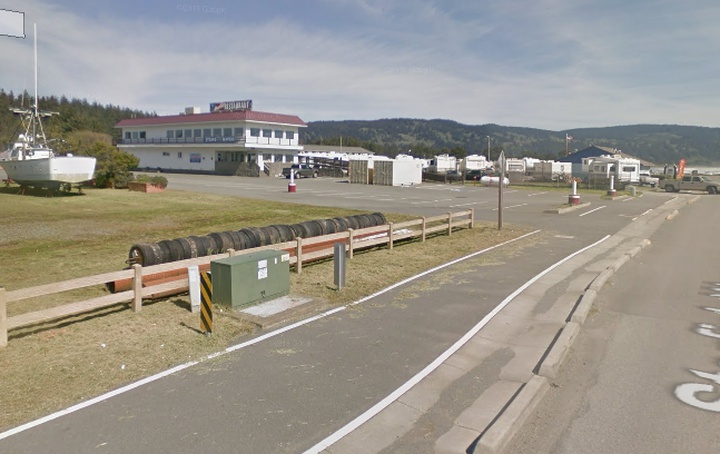 The Crescent City Harbor District will explore the feasibility of acquiring three nearby properties, including the two-story Harbor View Grotto.
The harbor district's new board president and board secretary, Brian Stone and Carol White, agreed Tuesday to form an ad-hoc committee that would determine if the port could develop the properties. Stone and White would bring recommendations to the rest of their colleagues on the harbor district's board of commissioners.
In addition to the former seafood restaurant at 150 Starfish Way, the other two properties brought to the Harbor District's attention include a 5-acre parcel at 000 Anchor Way owned by Hambro WSG and at 2,867 square-foot lot at 450 U.S. 101 South near the Travelodge and the Purple Cat thrift store.
The Hambro property, a triangular parcel at the corner of U.S. 101 and Anchor Way, is undeveloped and is listed for $300,000.
The lot at 450 U.S. 101 South is also undeveloped. The sale price is currently $47,000, according to a Harbor District staff report.
The sale price for the Harbor View Grotto is currently $850,000. The building was listed through Stremberg Realty for a much higher price when it was first placed on the market, Harbormaster Charlie Helms told commissioners. The listing has since expired, he said.
"They're really desperate to sell it," Helms said of the building's current owners. "But what I think is, look at the trouble we've had renting the old Englund Marine building. What are we going to encounter if we acquire this and try to lease it out?"

Stone, however, noted that with the restaurant between the Redwood Harbor Village and Bayside RV parks, acquiring the building may be advantageous for the Harbor District.
His colleague, Commissioner Rick Shepherd, noted there was a gift shop, kitchen and bar on the bottom floor and asked about the possibility of selling the business's liquor license.
"There are five or six total liquor licenses in Del Norte County and I know they're worth a lot of money," Shepherd said.
Mentioning Helms' ongoing efforts to drum up funding for a vertical tsunami evacuation center, Carol White suggested establishing an evacuation point on the Harbor View Grotto's top floor. She noted that the building is easy for people to access and asked if federal funding to turn it into a smaller evacuation center than the facility Helms envisioned would be a possibility.
"We should at least take a look at it," Carol White said. "Charlie put a lot of effort and energy into a potential tsunami center. I don't know if you could, on a smaller scale, consider building on similar lines — not to the grand scale, but at least have an evacuation point upstairs. You don't have to keep it as a restaurant."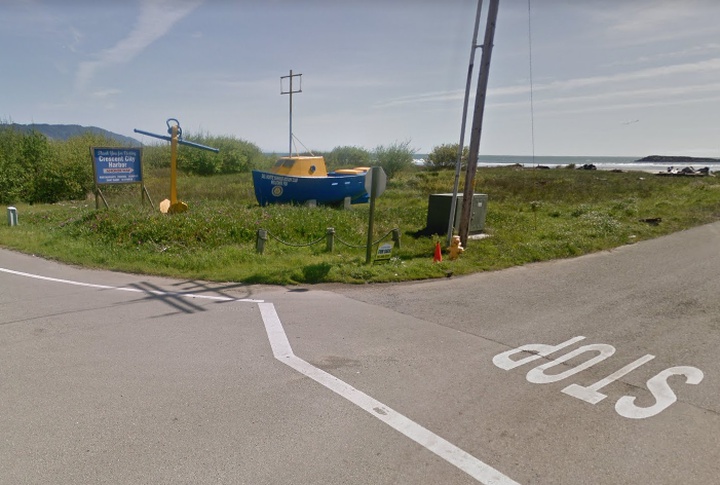 The Harbor District board also discussed developing the 5-acre Anchor Way parcel Hambro currently owns, though Commissioner Wes White, former Hambro CEO, recused himself.
Speaking on behalf of the seller, real estate agent and Del Norte County planning commissioner, Jim Peters, said there's a stream that runs through the property that includes a 100-foot setback. He said a variance in the 100-foot setback may be possible, but a fish and wildlife survey would need to be conducted.
"There is no environmental impact study that has been done and it's not necessarily true that an EIS would have to be done," Peters told Commissioners. "That determination would be made by the county and it would look at the local coastal development plan that's in place for the parcel to make a determination."
Helms noted that in addition to the 100-foot setback from the stream running through the Hambro property, there is also a depression with willows growing in it that the California Coastal Commission may consider a wetland. As a result, Coastal Commission staff have indicated that an environmental impact study may be necessary, Helms said.
An environmental impact study could cost "easily" $100,000, Helms said. He also noted that the property is in the tsunami inundation zone, which could hinder development.
Helms said there is also a setback through Caltrans built into the Hambro property since it's located on U.S. 101.
Peters said the cost for an environmental impact study could be a negotiated part of a purchase agreement between the buyer and seller.
Though he noted that its proximity to Caltrans property could affect access to the Hambro property, Stone said the parcel could be the site of a future harbor development.
"I would like to see us entertain the idea to maybe purchase it at some point in time if the conditions are right," he said. "Primarily to gain control of it so we can keep that area open as we develop the harbor into the future."
Peters said he could help the harbor get more information from Hambro about potential development opportunities for the property. He brought up tent camping as a possible option, stating that Kampgrounds of America offers sites for $38 a night.
When it came to the small parcel on U.S. 101 South near the Travelodge and Purple Cat thrift store, Wes White asked about the harbor's green space along the highway, suggesting that it could be used to expand the port's commercial space.
Helms said California Coastal Commission staff was amenable to using the port's green space as a place for the tsunami evacuation center.
---
SHARE →