---
Jessica Cejnar / Thursday, Dec. 31, 2020 @ 4:54 p.m. / Arts
Arts Program Allows Pelican Bay Inmates To Show Their Creative Side To Del Norte County
---
COVID-19 may have halted visitation at Pelican Bay State Prison, but instructors with the Arts In Corrections Program are still able to reach their students.
Six months after classes transitioned to paper correspondence, 13 students will give Del Norters a glimpse of their creative side. Hosted by the Del Norte Association for Cultural Awareness, Art From the Inside will consist of 22 framed pieces and will be on display at the Del Norte County Courthouse from Jan. 14 through March 3.
According to visual art instructor Julie McNiel, she and her colleagues, theatre arts instructor Janessa Johnsrude, of Dell'Arte International, creative writing teacher Tim Fitzmaurice and Dale Morgan, who teaches guitar, have been delivering lessons on paper since June.
"Hundreds of AiC participants inside have continued their arts practice and study through this correspondence since it began in June 2020," McNiel said in a written statement.
The Arts in Corrections program has been facilitated through the William James Association and administered since 2013 through the California Arts Council and the California Department of Corrections and Rehabilitation.
Arts in Corrections offers workshops in visual, literary, media, and performing arts in all 33 state prisons. DNACA has partnered with the William James Association since 2014 to bring those workshops to Pelican Bay, according to a DNACA news release.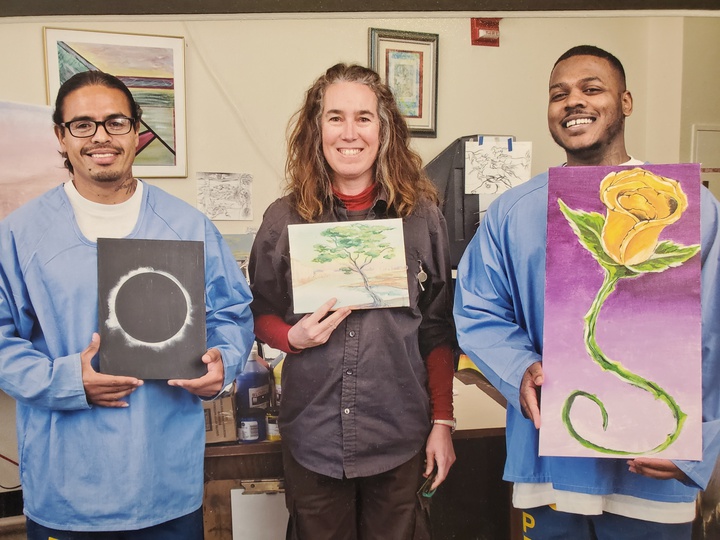 For Morgan, who is based in Crescent City has taught guitar at Pelican Bay for about 19 years, though the Arts in Corrections Program went on hiatus for about 10 years, the students he teaches are primarily beginners. However, a few have been with him for multiple years.
"What I do is I make lessons based on the way I think as a musician," Morgan told the Wild Rivers Outpost. "I'll go, 'OK, we have this triad here,' and just kind of explain the things you think about and do as a musician as opposed to saying, 'Memorize all these scale notes.' The thing is, if you don't know what something really is, it's pointless to memorize it."
Morgan says he prefers to give his students "tools not rules." Rules tend to be rigid and stiff, he says, while tools are starting points.
Morgan said there may be pictures of his class on display at the courthouse, but it's really the students' art that will be showcased. He says his goal is to learn the basics of guitar and to appreciate it.
This seems to have paid off, he said.
"When you go in there and teach a class — which normally it's more like we just have some songs we're playing and then we might improve our playing a little bit with bass and bass notes or we'll iron out the rhythm — it takes persistence," Morgan said. "They love it. And some of the guys I have had for a couple of years. A fair amount of them are hanging in there because they like to learn."
Art From the Inside is part of DNACA's Art in Public Places program, which promotes local and imported artists. These exhibits rotate on a regular basis at the courthouse and at the Crescent City Airport.
---
SHARE →