---
Jessica Cejnar / Friday, Dec. 18, 2020 @ 3:21 p.m. / Community
Santa's Workshop Spreads Christmas Cheer This Weekend; Program Will Offer Toys To Restaurant Workers, Owners
---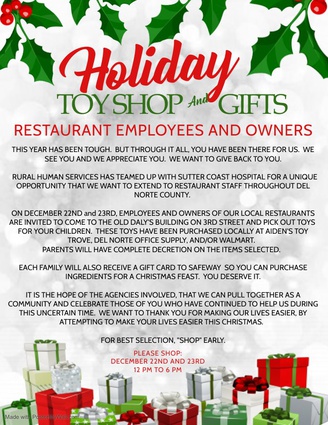 Volunteers with Santa's Workshop will be hard at work this weekend, distributing gifts to roughly 218 families.
Meanwhile, thanks to Sutter Coast Hospital, Santa's Workshop will open its doors to restaurant workers and owners Tuesday and Wednesday. In addition to parents being able to pick out toys for their youngsters, they will receive gift cards for gasoline as well as Walmart or Safeway, according to Celia Perez, a board member for Rural Human Services, Santa's Workshop's long-time organizer.
"At least it'll get them out for the day," she told the Wild Rivers Outpost on Friday. "They can look at lights with their kids or they can go buy a turkey or something for Christmas dinner."
Santa's Workshop opens at 10 a.m. Saturday at the old Daly's building at 964 3rd Street in Crescent City. Parents who have filled out an application for their children will drive up, show their identification and the lot number they received by text and receive their gifts.
Though Perez said she didn't know how many toys, clothing and other items Santa's Workshop received this year, she knows it's on par with previous years. Financial support for the program came from private donations as well as the Pelican Bay Athletic Organization. Volunteers wrapped gifts and will help distribute them.
When asked if there is more need this year than in previous years — especially with the COVID-19 pandemic — Perez said she thinks things have changed.
Just as many people rely on Santa's Workshop to help their youngsters have a bright Christmas, she said, but with layoffs due to the pandemic as well as being unable to see family who would give gifts to their children, the need has grown.
"People rely and depend on Santa's Workshop," she said. "Even after the deadline, I extended it for a few people because they live in Klamath or out of the area and didn't have gas money. When we took the applications we asked them do you have a ride to get your toys? We got them toys so they didn't have to come back and make another trip."
Perez said she heard from a lot of people who would have saved for Christmas gifts, but had to tap into those savings to fix something that needed to be repaired or pay a bill. That created a need, she said.
"Some people depended on bonuses from their employers and they don't have that coming," she said. "Another thing too was if you're working hourly and you had to quarantine for COVID, you lost time. You didn't get paid for that. I had those stories."
Santa's Workshop will be open from 10 a.m.-6 p.m. Saturday at 964 3rd Street in Crescent City. On Tuesday and Wednesday restaurant workers are asked to come by Santa's Workshop from noon-6 p.m.
---
SHARE →