---
Jessica Cejnar / Monday, Aug. 31 @ 4:17 p.m. / Infrastructure
DN Transportation Reps Hope to Get STAA 197/199 Project On Road Six Years After Environmental Lawsuit Stalled It
---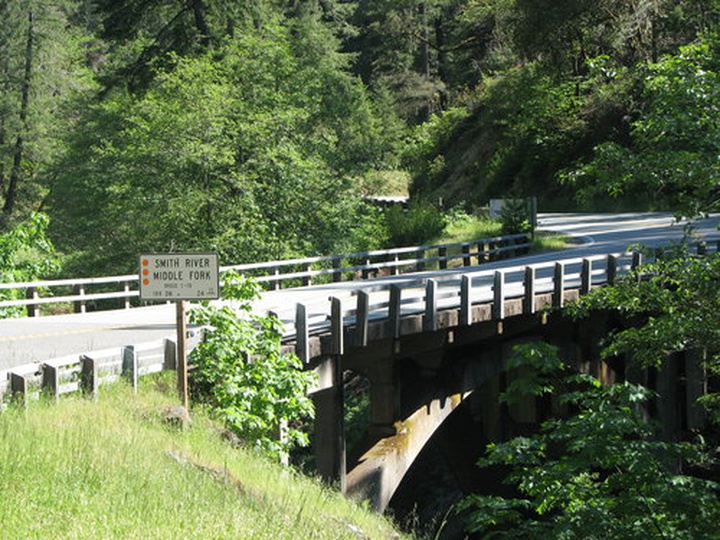 Proponents of a project to bring highways 199 and 197 up to 1982 federal trucking standards are seeking support from local elected officials to try to get it back on the road to construction.
Two weeks after a federal judge in San Francisco granted intervener status to the Del Norte Local Transportation Commission in the STAA 197/199 project, commissioners are submitting resolutions to local governing bodies.
The Del Norte County Unified School District Board of Trustees on Thursday unanimously approved the resolution supporting the project. The Crescent City Harbor District Board of Commissioners will be asked to vote on the same resolution Tuesday.
"One of the reasons we're in support of widening (U.S. 199 and State Route 197) is for access for schools and for our school buses," DNUSD's Trustee Area 2 representative Angela Greenough said Thursday.
Though Local Transportation Commission representatives say they hope an intervener will move the project forward, Don Gillespie, of Friends of Del Norte, said he's not concerned that this will change its status.
The Transportation Commission's intervener designation has come six years after Friends of Del Norte, the Arcata-based Environmental Protection Center and the Center for Biological Diversity in Berkeley successfully obtained an injunction halting the STAA 197/199 project.
On Monday, Gillespie told the Wild Rivers Outpost that he was ready to submit a proposal for a safety campaign on the 199/197 corridor to District 3 Supervisor Chris Howard, chair of the Local Transportation Commission, but COVID-19 put an end to in-person meetings.
"It was unfortunate. We wanted Chris to meet us to get to know who we are," said Gillespie, adding that he has had conversations with Howard and District 4 Supervisor Gerry Hemmingsen since November 2019 about the project.
Gillespie described his proposed safety campaign as "very much like what Oregon has already been doing from O'Brien to Grants Pass with signs saying, 'slow down people are dying.'"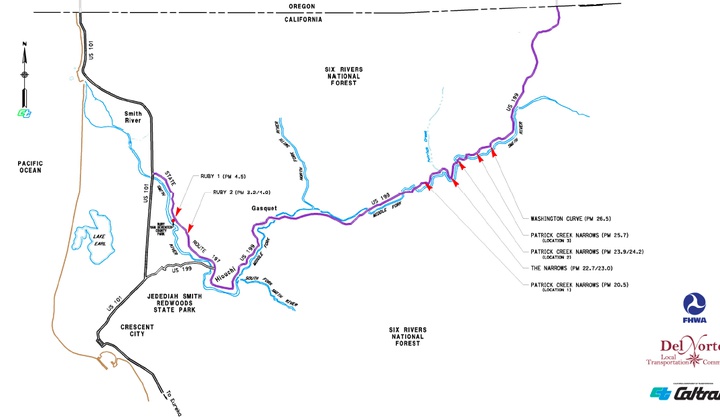 The $34 million STAA 197/199 project includes widening three curves on U.S. 199 and replacing a bridge that was built in 1924. The project also consists of widening two curves on Highway 197 near Ruby Van Deventer Park.
Caltrans' goal is to make the project safer for trucks meeting the 1982 Surface Transportation Assistance Act (STAA) standard, according to a staff report submitted to the DNUSD Board of Trustees on Thursday.
The project has been paid for with state and federal dollars since 2008, Local Transportation Commission Executive Director Tamera Leighton told the Outpost.
Now that its petition to be an intervener in ongoing litigation involving the STAA project was granted, Leighton said Transportation Commission representatives are going before Del Norte's elected boards.
"Our elected officials are, by vote, the designated representatives for our community," Leighton said. "The project opponents, such as Friends of Del Norte, have never managed, since this project has moved forward, to have somebody representing their viewpoint voted in as an elected official.
In addition to approaching local boards, Local Transportation Commission representatives will also seek support from Assemblyman Jim Wood, State Sen. Mike McGuire and Congressman Jared Huffman, Howard told the Outpost.
Local Transportation Commissioners will ask elected boards in Curry, Josephine and Jackson Counties in Oregon and Humboldt County to weigh in as well as representatives of the community's larger businesses, Howard said.
The last time transportation commissioners solicited local officials for support was in 2006, Howard told the Outpost.
"The list of signees to the 199 project was significantly long at the time. We worked it all the way to DC," he said. "Going forward, we thought it was time to see where people's heads and thoughts are — if anything's changed."
The list of those opposing the project was also long, Gillespie said. Fifteen-hundred residents signed a Friends of Del Norte petition against it, he said.
Friends of Del Norte and EPIC also hired Smith Engineering and Management in 2012 to review Caltrans project report for the STAA 197/199 project. Smith Engineering president Daniel T. Smith's review argued that though Caltrans' report argues that introducing longer STAA trucks would likely increase rather than decrease the safety risk on the two roads.
U.S. 199 and State Route 197 are important arteries for tourism and the movement of goods in Del Norte County, Gillespie said. But in the last 10 years, 790 traffic crashes have occurred on U.S. 199, Gillespie said, showing 112 pages of collision reports from the California Highway Patrol he obtained in April 2020.
"The proposal is to widen five curves and replace a bridge, which would then allow these trucks to start using the road," Gillespie told the Outpost. "That, in combination with the increase in summer traffic for tourism, I think, is a disaster waiting to happen. What these projects will do is speed people up. They're not going to slow things down."
Gillespie also took issue with the staff report the Local Transportation Commission submitted to the DNUSD Board of Trustees on Thursday. He said he found fault with its statement "the U.S. Highway 199/ State Route 197 corridor do not meet the 38-year-old standard, leaving Del Norte without a common goods movement systems (sic)."
Del Norte, Gillespie argued, does have a vibrant goods movement system using trucks that meet California standards, though their tractor wheel base isn't as long as STAA-standard vehicles. That extended wheelbase is responsible for the trailer drifting over the roads' center line, Gillespie told the Outpost.
Currently, STAA trucks that use Interstate 5 must change to a California-legal tractor in Medford or Grants Pass to bring their goods to Del Norte County or re-load their shipment onto a different trailer, Gillespie said.
For Howard, one major concern is replacing the Middle Fork Smith River bridge. Not only is it structurally obsolete, the alignment is horrible, he said.
"I'm sure most people in Del Norte County are quite familiar with the Middle Fork bridge," Howard told the Outpost. "The exit and entry into it are quite staggering and you end up cutting people's lanes off even if you're in a small car."
The Crescent City Harbor District Board of Commissioners will meet at 2 p.m. Tuesday via Zoom.
Documents
• Del Norte Local Transportation Commission staff report
• Resolution to the DNUSD Board of Trustees
---
SHARE →