---
Jessica Cejnar / Wednesday, Aug. 26 @ 2:28 p.m.
Del Norte Unified Starts Preschool Online on Aug. 31; In-Person Classes Start Sept. 14
---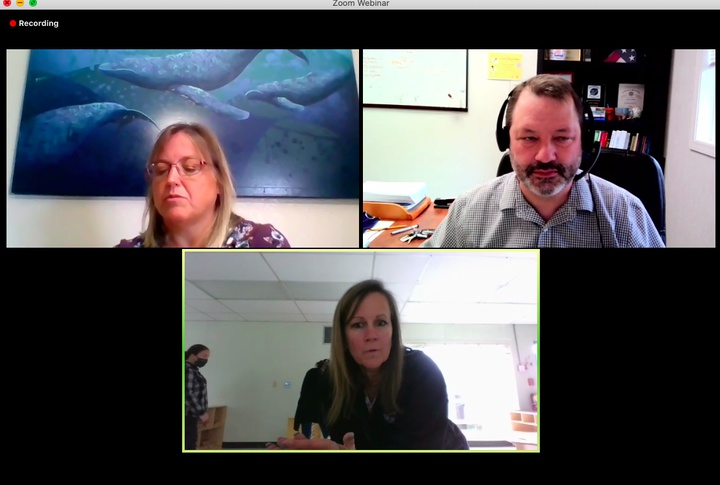 Preschoolers enrolled in district-affiliated programs will be able to meet their teachers for the first time via computer, tablet or phone on Monday.
But there will still be room for parents who want to wait until in-person classes resume on Sept. 14, though they should still make sure their child is enrolled, program coordinator Lindy Holloway advised.
In the first of two virtual town-hall meetings hosted by Del Norte Unified School District on Wednesday, Holloway and preschool teacher Tobi Schan urged parents to let their youngsters know that they'll still have as much fun on Monday even if their lessons aren't in a classroom.
"They feed off your emotions," Holloway said, preschool teachers will be starting their lessons via Zoom at 9 a.m. "If you make it sound like it's the most exciting 30 minutes of your life, they'll be comfortable with what's going on."
Parents will have another chance to ask questions about preschool at 6:30 p.m. by clicking here.
Del Norte Unified operates state preschools at Bess Maxwell, Joe Hamilton, Mary Peacock and Pine Grove elementary schools. Its district preschool program is at Smith River School, and a special education preschool program is held at Mary Peacock Elementary School.
On Monday, along with its preschoolers, other district students through 12th-grade will start lessons remotely — in Phase 1 of its four-phase "Continuum of Learning." On Sept. 14, DNUSD will transition into Phase 2, bringing small groups of special needs and at-risk students back to campus.
Phase 3, or blended learning, will kick in for transitional kindergartners through 8th-grade students starting Oct. 5. Del Norte High School students will continue on-campus learning in small cohorts.
When the district transitions into its Phase 2 learning model on Sept. 14, its preschoolers will be divided into Monday-Wednesday and Tuesday-Thursday cohorts. All preschoolers will take part in distance learning on Fridays, according to Tom Kissinger, DNUSD's assistant superintendent of educational services.
Monday-Wednesday and Tuesday-Thursday groups will be divided further into morning and afternoon sessions, Kissinger said.
"Parents have been able to self-select the cohorts they want to participate in," he said. "WE have a lot of choices for that."
Each classroom will contain 10 students and three adults, Holloway said. Two classrooms are already full, but there are still openings available, she said.
"It's 2.9 years old to 4, almost 5, years old," Holloway said, urging parents to call (707) 464-0720 to find out what their options are and to get help with accessing online programs. "If you got internet issues; if you got device issues, please reach out so we can help you with that."
Schan, who teaches at Smith River School, said she has already reached out to parents to let them know what preschool will look like during the first two weeks of the year. This includes distributing packets with art projects, crayons, glue sticks, scissors and other supplies and providing parents a tour of her classroom.
Every single preschool class will start the day at 9 a.m. on Zoom with "circle time," Schan said. She said teachers have other activities planned.
"We're really excited," Schan said. "I think this is something that's all new to us. It's exciting. It's a little intimidating — a little scary — but we are embracing it the best way we can."
According to Kissinger, the preschools at Uncharted Shores Academy, Little School of the Redwoods and Foursquare Christian School are starting in-person next week.
Every teacher has a Zoom account and the ability to record a session, said Ryan Bahten, the district's director of information network services. He said they can be shared out through Google Drive.
Bahten also addressed what would happen if a student or staff member comes down with COVID-19. Pointing to the learning options page on DNUSD.org, Bahten said a "Reopening Response Flow Chart" outlines the protocols in place for addressing a possible infection.
This flow chart outlines the protocol for a student or staff member who is a close contact to a confirmed COVID-19 case as well as if a student or staff member tests positive for COVID-19.
There are currently 12 students enrolled at Smith River School's preschool. Sixteen students are enrolled at Bess Maxwell Elementary School's preschool; 14 students are at Joe Hamilton Elementary School; 23 students are enrolled at Mary Peacock Elementary Schools and 25 students are at Pine Grove Elementary.
For more information about preschool, call (707) 464-0720.
Documents:
• COVID-19 Reopening Flowchart
---
SHARE →