---
Jessica Cejnar / Friday, Aug. 21 @ 6:09 p.m.
'We Are Their Voices': Group Advocating For Incarcerated Relatives Visits Pelican Bay, Del Norte
---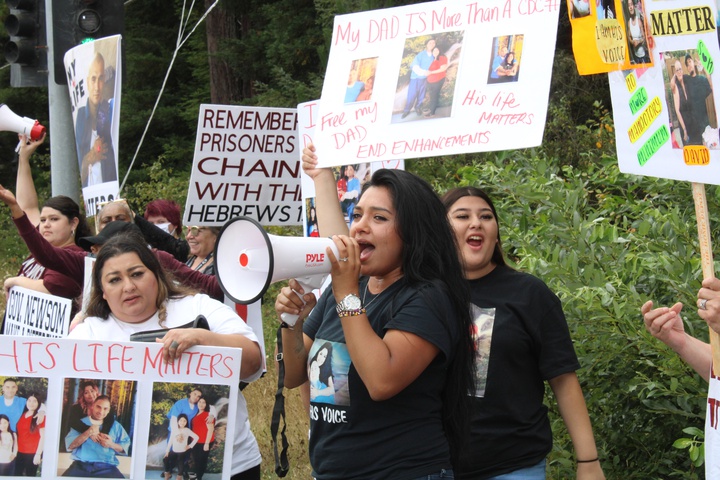 Sylvia and Bernadette Guzman were approaching the entrance to Pelican Bay State Prison, megaphones at their sides, when a fellow demonstrator said she saw inmates in the yard.
Sylva and Bernadette, whose husband and son, Andrew Guzman, is serving 20 years in prison for robbery, put the megaphones to their lips.
"We are with you!"
"We love you!"
Sylvia Guzman, who is from Santa Barbara, and her mother-in-law, Bernadette Guzman, who hails from the Huntington Park area of Los Angeles County, traveled the length of California to demonstrate outside Pelican Bay on Friday.
They were joined by others who have loved ones incarcerated at Pelican Bay and who are part of a statewide group protesting the California Department of Corrections and Rehabilitation's handling of the COVID-19 pandemic.
After meeting at Beachfront Park, they spent the morning at the Del Norte County Fairgrounds with signs proclaiming "Incarcerated Lives Matter Too." They also called on California Governor Gavin Newsom to end sentence enhancements and "state execution by COVID-19."
"This is for all of the incarcerated people kept in the SHU at Pelican Bay!" Sylvia Guzman shouted through her megaphone at the fairgrounds, referring to the Security Housing Unit. "CDCR employees are the ones infecting all the inmates!"
Guzman said her goal was to be in front of the prison in time for its 2 p.m. shift change.
As of Wednesday, 1,258 inmates out of a total of 96,096 have active cases of COVID-19 statewide, according to a CDCR news release. Twenty-nine inmates are receiving care at healthcare facilities outside the system. Fifty-five inmates have died from COVID-19 as of Friday..
According to a CDCR email Friday, the latest death involved an inmate from San Quentin State Prison who died at an outside hospital from possible COVID-19 complications.
There have been no COVID-19 cases amongst Pelican Bay's inmate population, according to CDCR's Population COVID-19 Tracking tool.
Among CDCR's staff, 1,261 have active cases of COVID-19, according to the system's Employee Status webpage. At Pelican Bay State Prison, 28 employees had tested positive for COVID-19. Eighteen have returned to work, according to CDCR.
"We Are Their Voices" is on Facebook and Instagram and currently has about 2,160 members, Sylvia Guzman told the Wild Rivers Outpost. About 1,000 members demonstrate outside the CDCR facilities closest to their homes, she said. There are about 4-5 protests going on at the same time, she said.
On Friday, in addition to the demonstration at Pelican Bay, "We Are Their Voices" members demonstrated at Avenal State Prison in Kings County, California.
There have been demonstrations at CDCR facilities in Corcoran, Kern County, San Quentin, Tehachapi, Folsom and Chino, Bernadette Guzman said.
"We're going to be their voices," she said. "They let us know what's going on in there. We'll have protests each week or every month. When all this is done, we'll go back to Sacramento. This started in Sacramento."
In October, "We Are Their Voices" members will demonstrate at CDCR headquarters in Sacramento, the state capital building and at Governor Gavin Newsom's house, Sylvia Guzman said.
One demonstrator, Mauricia Valenzuela, whose husband, Matthew Kelly, and cousin, are inmates at Pelican Bay, said 27 staffers testing positive for COVID-19 is "too many." Correctional officers aren't wearing masks, she said, and the masks inmates are wearing are made from the same material their pants are made of.
"They're not able to buy any soap or any hygiene stuff," she said. "They have nothing to protect themselves."
Another demonstrator, Dawn Alexander, said she has been living in Del Norte County for about six years to be close to her son, Theo, who has been at Pelican Bay since he was sentenced for robbery in 2009.
Alexander, who spoke to her son that morning, said the letters and phone calls will help her son when he finally does leave Pelican Bay.
"When they do come home they can at least be able to function without being institutionalized," she said.
According to CDCR's "COVID-19 Screening and Testing Matrix for Patient Movement," to reduce the spread of COVID-19 from one facility to another, movement is limited to medical needs including isolation or quarantine and also to reduce overcrowding and "custody concerns."
Under CDCR's movement policies, inmates moving from one facility to another must be tested for COVID-19 and quarantined. Prisoners and staff accompanying them must wear N95 masks during transfer, according to CDCR. Transportation vehicles must then be disinfected and staff tested for COVID-19.
Previously infected inmates whose cases are resolved are considered immune from re-infection for at least 12 weeks and will not be required to test for "movement purposes" during that time, according to CDCR.
Though prison staff can't compel inmates to under COVID-19 testing, most of Pelican Bay's population has been tested, Del Norte Public Health Officer Dr. Warren Rehwaldt told the Outpost on Friday.
"They continue to do sample testing, especially for higher risk inmates and they're also doing testing for any movements in or out (of the facility), and that's been something they really ramped up," Rehwaldt said.
Meanwhile, Rehwaldt said the prison has finished the third round of testing for its staff last week. Last month more than 20 prison employees tested positive for COVID-19.
The latest round of testing among Pelican Bay staff turned up one positive case, Rehwaldt said Friday.
---
SHARE →