---
Jessica Cejnar / Monday, Sept. 30, 2019 @ 3:59 p.m. / Community, Environment, Ocean, Our Culture
'Our Earth Is In Pain': Local Rally Urges Action On Climate Change
---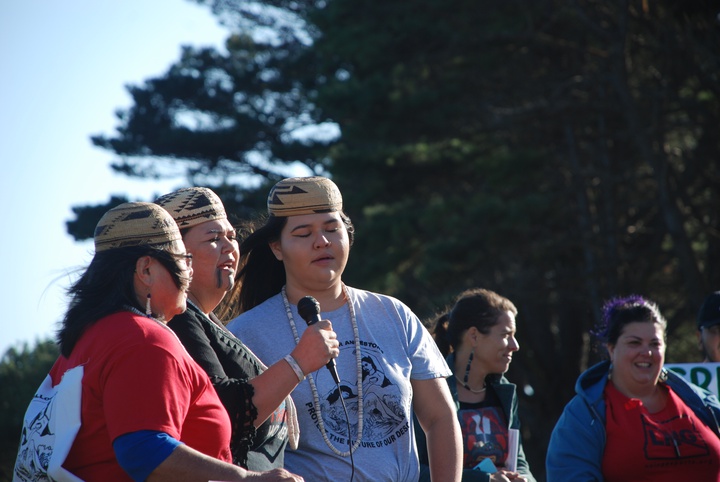 Before culminating a week of action to spread awareness about climate change with a rally Friday, Sheryl Steinruck, Marva Siixuutesna Jones and Chuskii Scott prayed to the Creator.
Serving as a reminder of the indigenous people that call Crescent City home, the three Tolowa women pointed out that it was everyone's responsibility to care for "our Mother Earth."
"We know that if we stand together in solidarity that the spirit will be with us to do the right thing at all times," Steinruck said, acknowledging current and future generations who will be addressing the impacts of climate change. "The love we have for one another, the love we have for our country, our people and all the people around the world who are standing in solidarity this day as we understand that this climate emergency must be addressed. We ask that the spirit be with us to further our work, to help us be strong."
Led by the new Del Norte Climate Justice Alliance, speakers at the rally urged their neighbors to make an effort to curtail their consumption of fossil fuels and plastics and to continue to advocate for the future of the planet. Following the rally, the group held a panel discussion on climate change's impacts to the Smith and Klamath rivers.
During the rally, Chrystal Helton, one of the group's co-founders, said she began seeing a need to work collectively for stewardship and to build connections and resilience. She said she began advocating for climate justice to honor her ancestors and to help her three sons prepare for a world that she will not fully understand.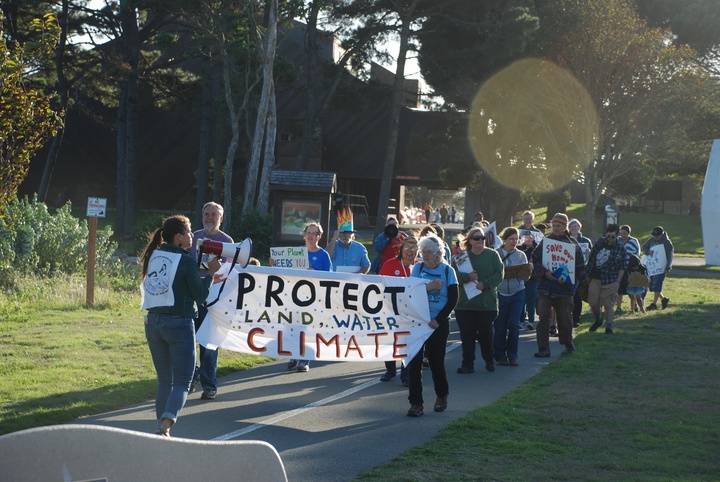 Helton said though the Del Norte Climate Justice Alliance doesn't have all the answers to combat climate change, it does have the necessary tools to do climate justice work.
"We are compassionate, we are fierce, we are inclusive, we work hard, we learn and we believe in the power of the people," she said, adding that she advocates for climate justice because of her "connection to her place." "Magic happens when you're connected to your place and in this magic, currently, I feel pain. Our Earth is in pain."
Another Del Norte Climate Justice Alliance founder, Mahlija Florendo, said she began advocating for climate justice after years of traveling to similar events in the Bay Area and across California and Oregon.
"We have people who want to get involved," she said. "There's so much we can do here."
Manuel Saavedra, a leader for the Chicanx Club at College of the Redwoods' Del Norte campus, acknowledged "all of our community members who couldn't make it."
"Who do not feel like their community stands in solidarity with them," Saavedra said. "We want to show people we are here for you. This is only the beginning. It's a kick off to a larger movement."
That larger movement will be a collective decision by the Del Norte Climate Justice Alliance. According to Helton, the group will begin having monthly meetings, the first scheduled for later in October. Group members will decide on what its vision and mission statement will be, she said, and will look at the different ideas for further action people at the rally had.
Two things the Del Norte Climate Justice Alliance will do to further their cause will be to hold a water panel discussion focusing on how climate change affects the ocean, Helton said. The group will also further coordinate with Southern Oregon Climate Action Now, an activist organization founded in Medford about seven years ago that now has a coastal contingent.
Helton said there will be further educational opportunities for both the community and the group. This will include brainstorming ways the group can support work the water panelists are doing to educate children how to be good stewards of the area's resources and "how to take care of ourselves," she said.
---
SHARE →
---