---
Jessica Cejnar / Tuesday, Sept. 3, 2019 @ 12:08 p.m. / Community, Infrastructure
Fish Gut Spill At Last Chance Grade Delays Holiday Traffic
---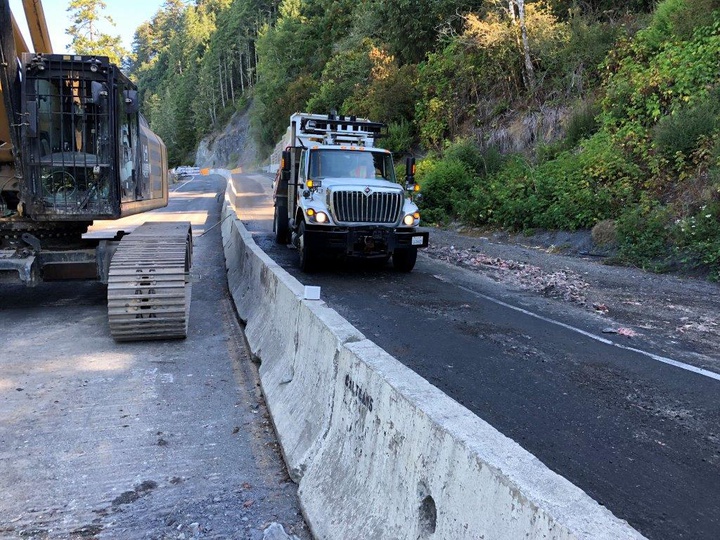 A vehicle hauling fish guts and "other similarly lovely smelling decomposing organic material" spilled a large part of its load onto U.S. 101 near Last Chance Grade on Saturday, according to Caltrans.
Because vehicles couldn't gain traction over the spill, the California Highway Patrol restricted traffic to one-lane for about 70 minutes after they were called to the scene at about 8:45 a.m., said Officer Brandy Gonzalez. Since there was no reporting party, Gonzalez said, officers were unable to identify the vehicle or even its direction of travel.
Because the spill occurred on a section of U.S. 101 that's under construction, Caltrans was forced to turn off the signals and clean the area using flaggers to control traffic, Sebastian Cohen, area construction engineer, said in an email Tuesday.
"The rumors and reports about a malfunctioning signal on (Last Chance Grade) causing traffic to back up and resulting in extensive delays is incorrect," Cohen said.
Cohen noted that material often spills out of the back of dump trucks that are overfilled on the steep grade of highway near milepost marker 15.26 commonly called the "ski jump."
There were no collisions or injuries as a result of the spill, Gonzalez told the Wild Rivers Outpost on Tuesday.
---
SHARE →
---