---
Jessica Cejnar / Friday, Sept. 27, 2019 @ 9:40 a.m. / Education, Local Government
Citing Higher Enrollment, DNUSD and Teachers Union Will Resume Contract Negotiations
---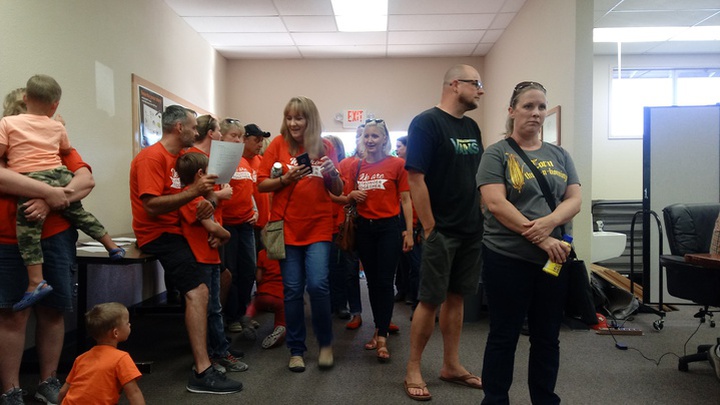 Citing a change in enrollment and "other information," school district officials will return to the negotiating table, Board President Frank Magarino said Thursday.
Reporting out of a closed session meeting, Magarino said the Del Norte Unified School District Board of Trustees heard the request from the Del Norte Teachers Association to "work together for a resolution."
But teachers say they continue to feel stretched. Though a handful of people said they were glad the district was willing to resume contract negotiations for the 2019-2020 school year, most expressed frustration at what they say is a failure to communicate and prioritize students.
"I can't tell you how happy I was to hear that district negotiators are coming back to the table," Del Norte High School teacher Miriam Wilson told trustees. "However, there has been a long failure to do that. A failure by the Board of Trustees and the district administration to negotiate a fair contract with teachers in the district — operative word being fair."
As of Thursday, actual DNUSD enrollment is 51 students higher than its projected enrollment, District Superintendent Jeff Harris told the Wild Rivers Outpost. That data will be sent to the state on Wednesday, he said.
Student enrollment was higher than what was projected at the beginning of last year too, Harris said. With other areas of California dealing with catastrophic wildfires, kids "swarmed in" to Del Norte. But, by the end of 2018-19 enrollment had dropped to levels consistent with the end of the 2017-18 school year, Harris said.
Up until Thursday, the DNTA and DNUSD had been at an impasse and had entered fact finding in 2019-2020 contract negotiations. The teachers union began contract negotiations in the spring, asking for a 6 percent salary increase and a $1,000 increase to the health and welfare cap the district contributes.
In August, union representatives said they were willing to take a 1 percent salary increase if the district agrees to eliminate enough professional development days and adjunct hours to equal a 3.35 percent pay raise.
DNUSD offered to either increase teacher pay by 1 percent or apply that 1 percent to the health and welfare cap, saying an expected 3.26 percent cost of living adjustment wouldn't be enough to raise salaries further.
At the district's Sept. 12 meeting, Jeff Napier, assistant superintendent of business, said the cost of living adjustment equates to $586,000 for the district. That COLA is intended to maintain existing services to students, including employee, materials and overhead costs, he told the school board. With step and column increases and increases in retirement benefits, the district had already spent $550,800 of its COLA on teachers, Napier argued on Sept. 12.
During public comment Thursday, teachers addressed the Board of Trustees wearing red t-shirts and snapping rubber bands against pieces of cardboard each time one of their colleagues said the word "stretched."
Jennifer Longrie, a 2006 Del Norte High School graduate who now teaches three subjects of history as well as algebra at DNHS, said she was asked to take on math because of the difficulty recruiting teachers. Most of her students have individual education plans and are high school freshmen. Longrie said students began the first week of school with a substitute teacher.
Rather being known by her name, Longrie said, she's known as "teacher B."
"When their parents call, 'Who's teacher B?'" she said. "When the office is looking for a kid my name is not on there. What is the message we're sending to students. The message is clear. They're not worthy and I have to combat this message every day in this class."
DNTA President Marshall Jones said representatives from the teachers' union at Northern Humboldt Unified School District were at Thursday's meeting to support their Del Norte colleagues. He noted that a lot of teachers were unable to attend the meeting because they're still grading papers or preparing lesson plans.
"They are on the breaking point of their stress level," Jones said. "These are teachers with little kids that should not have to worry about the fact that their paycheck this coming Monday will be less than it was in previous years and the demands on them are increasing and increasing."
Jones said he was fortunate to have his wife and family at home, but he noted that many teachers who are from other states don't have that support.
Jones also said that the wages Del Norte teachers earned are not competitive with other areas, which makes recruiting new teachers difficult.
"I'm really concerned," he said. "I'm so thankful that we are going to go back to the bargaining table and get this settled very soon. The morale and stress is a killer."
However, emotions were also high among the Board of Trustees. Angela Greenough, who represents Del Norte County District 2 on the Board, said that her "family heritage was put into question."
"I was notified that we need to, 'Have Mexican Americans on the board because we don't have any,'" Greenough said, adding that her maiden name is Gomez and her parents made the journey from Mexico to the United States, including going through the arduous citizenship process. "I know I don't speak like the typical Mexican. I don't speak like the typical Mexican, but I am Mexican-American and I'm very proud of that fact. If you have any questions about who I am please come and talk to me."
Magarino said he also heard disparaging comments about his heritage as a Latino.
"It kind of shows the age of hyperbole we live in," he said. "People speed things out without really knowing the facts. We should probably tone it down a bit and start really looking into the facts before we start throwing all this misinformation and stirring people up."
Though Jones apologized to Greenough and Magarino, during her comment, Wilson said there are no dedicated translator services for bilingual and monolingual families. Phone calls home are in English only and most of the parent notices are in English as well, she said.
Following Magarino's statement, Don Steinruck, who teaches at Pine Grove Elementary School, said someone on the board needs to speak for the Mexican-American community.
"It is a group of people living in this county that have no representation," Steinruck said. "You see Spanish speakers getting up and talking to you in Spanish? No you don't."
Jones apologized to Greenough and Magarino, noting that he has taught many Latino kids over 27 years at Smith River School and that Greenough was one of them.
"I am so sorry that happened," he said. "That is not OK."
---
SHARE →