---
Jessica Cejnar / Friday, Sept. 20, 2019 @ 4:26 p.m. / Community, Environment, Science, Wildlife
Small Strike Kicks Off Climate Justice Week in Del Norte
---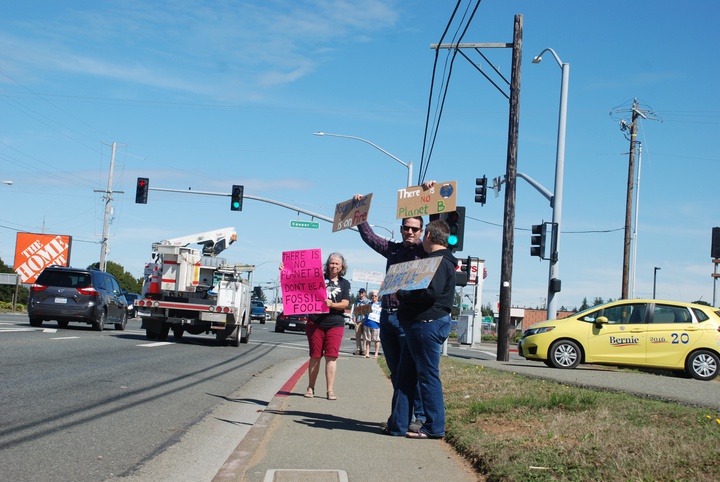 Though their numbers weren't those of New York City or Berlin, a handful of Del Norte County residents joined the hundreds of thousands worldwide protesting global climate change.
"This is a done deal if we don't do something about it," said Shelly Godfroy, whose sign Friday reminded motorists "there is no Planet B." "Today is my day for climate justice."
Godfroy parked her yellow Honda Fit, adorned with Bernie Sanders slogans, in front of the Del Norte County Fairgrounds as she, Angela and Michael Glore, Craig Strong, Mary Niski and others held their own climate strike.
Godfroy, whose son, daughter and granddaughter live in Indiana, said she drives her "Bernie-mobile" back and forth stopping at various communities to advocate for climate justice. She said she was at Standing Rock during the Dakota Access Pipeline protest in 2016. Godfroy noted that during the 2016 presidential debates, Sanders was the only candidate who said climate change was the most dire issue facing the world today.
"There is no planet B," she said. "This is it. This is our home."
Led by teens, strikes were planned across the United States with protesters streaming out of schools and office buildings and meeting up at local city halls, the New York Times reported on Friday. Scientists, doctors and technology sector workers joined the strikes at multiple locations, the Times reported.
Outside the U.S., more than 100,000 protested in Melbourne, Berlin and London, according to the Times. There were rallies in India, Turkey, Pakistan and across Europe, NPR reported.
Closer to home, Angela Glore, executive director for First 5 Del Norte, used her day off to organize an impromptu strike in her community. She noted that though most of the strikes are youth led, many local students spent Friday conducting a beach cleanup ahead of California Cleanup Day on Saturday.
"When I'm not at work, climate change is my issue and I'm thrilled there are so many events asking people to come out," Glore said, noting the thousands of people worldwide who are protesting. "I wanted to make sure somebody did (a strike) here."
While Del Norte's climate strike was spur of the moment, a series of activities are planned to raise awareness of the local impact climate change will have. The Week For Future Generations starts with the Smith River Alliance's local Coastal Cleanup effort on Saturday.
Tim Hayden, a representative of the Yurok Tribe's natural resources department, will talk about the tribe's carbon credit program on Monday. The Community Food Council will hold a food forest tour at College of the Redwoods on Tuesday, while the Yurok Tribe will host a climate adaptation plan workshop at its Klamath headquarters that evening.
The Week For Future Generations will end with a rally and a panel discussion on the effects of climate change on the Smith and Klamath rivers, said Chrystal Helton, founder of Del Norte Climate Justice Alliance. There will also be a march on U.S. 101 at least to the S curves in Crescent City following the rally.
Helton said she was hoping to include ocean fishermen in the panel discussion on climate change effects on water. However, though many have conflicting commitments, they have expressed an interest in discussing how climate change is affecting local ocean fisheries, Helton said.
Meanwhile, Del Norte Climate Justice Alliance has drawn the attention of the coastal contingent of Southern Oregon Climate Action Now. SOCAN has been active in the Medford area for about seven years and has members ranging from south of the California border to Roseburg, said Bill Gorham, the co-facilitator of the coastal group.
The coastal group, under Brookings resident Ed Patterson, was founded about a year ago, Gorham said. Coastal SOCAN is in the process of reaching out to as many groups as possible, Gorham said.
The Wild Rivers area is already being impacted by climate change, Gorham noted. A marine biologist by training, Gorham said domoic acid blooms locally, the dead zone off the Oregon and Washington coast and ocean acidification are examples of those impacts. He noted that the blob of warm water off the coast, though it's an unusual event, had been seen years ago. Sea birds died as a result of the warmer waters, Gorham said. Meanwhile, ocean acidification causes crustaceans' shells to deteriorate, he said.
"It's getting hotter, so we got species that are moving in and others that are moving out," Gorham said. "It messes up the timing of things like salmon — when they go into streams to reproduce. If salmon are coming out, smelt is coming out and the food isn't there, that's a big deal."
According to Helton, one goal of the Week For Future Generations, is to figure out what the Del Norte Climate Justice Alliance's next step should be.
"We have to make this the beginning of something big," she said. "SOCAN can bring in speakers and open it up to anybody. But what's next in terms of the group? What's next in terms of accountability? People have great ideas already, but what action can you commit to?"
Glore noted that though she tries to eat locally, had one child on purpose, drives a "reasonably fuel-efficient car" and has been vegetarian since 1985, it's equally important to change the system.
This is reason for the Global Climate Strike, she noted, to put pressure on the politicians and policymakers.
"We can all ride bicycles and be vegan but it will not fix the problem," she said. "It will never ever be enough."
---
SHARE →