---
Jessica Cejnar / Friday, Sept. 13, 2019 @ 4:56 p.m. / Education
DNUSD Justifies 1 Percent Raise Offer For Teachers
---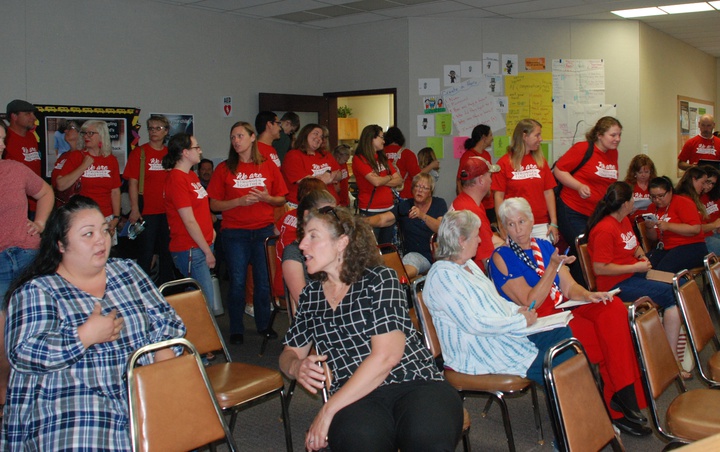 Teachers didn't buy the assistant superintendent's argument that though it received a 3.26 percent cost of living adjustment, Del Norte Unified School District couldn't raise salaries beyond 1 percent this year.
In a presentation before the school board Thursday, Jeff Napier, assistant superintendent of business, said the 3.26 percent COLA equates to $586,800 for the district. A COLA is intended to maintain existing services to students, including employee, materials and overhead costs, he said. With step and column increases and increases in retirement benefits, the district has already spent $550,800 of its COLA on teachers, Napier argued.
Members of the Del Norte Teachers Association rejected Napier's argument. Carrie Crist, a fourth-grade teacher, at Joe Hamilton Elementary School, showed the school board a graph comparing the salary increases she received with Napier's raises over the past four years. She said her salary increased 14 percent over that timeframe while Napier's increased by nearly 25 percent, or about $40,000. According to Crist's graph, Napier's annual salary increased from $118,580 to $157,150 over the past four years. Meanwhile, Crist's annual salary increased from $63,971 to $74,391 over four years with the proposed 1 percent increase.
"His contract lets him enjoy an annual 2 percent increase plus whatever DNTA negotiates," Crist said. "Which is directly contributing to my highlighted point of the widening disparity between management and teachers. If teachers receive just a 1 percent increase, Mr. Napier's contract structure assures him of an increase of nearly three times that amount."
DNTA started contract negotiations in the spring, asking the district for a 6 percent salary increase and a $1,000 increase to the health and welfare cap DNUSD contributes. Union representatives at the Aug. 22 meeting said they're willing to take a 1 percent salary increase if the district agrees to eliminate enough professional development days and adjunct hours to equal a 3.35 percent pay raise.
At the Aug. 22 meeting, DNTA representatives say the district refuses to budget on its initial offer to either increase teacher pay by 1 percent or apply that 1 percent to the health and welfare cap.
Both parties reached an impasse in contract negotiations for the 2019-2020 year and met with a mediator on Aug. 7. Unable to make progress, they are now in the fact finding stage.
On Thursday, Napier said teachers have received $270,000, or 1.5 percent, in step and column increases. These are annual raises teachers receive for every year in service. Seventy-three percent of DNTA members received $1,862 more this year than last year due to step increases. Fifteen-teachers received a 5 percent increase because they moved ahead in columns on the salary schedule, he said.
With increased costs of 0.82 percent in the California State Teachers Retirement System and 0.74 percent in health costs for retirees, the total compensation the district is offering to DNTA members equals $730,800, according to Napier.
Further, he said, the school board has approved salary increases for teachers that aren't tied to a COLA every year since 2013-14.
This is due to additional state dollars that were provided to the school district to return funding levels to what they were in 2007-2008, Napier said. Governor Jerry Brown also allocated one-time funds to DNUSD every year since 2013-14, but this year, with a new governor in office, Napier said the district is looking at a net deficit in unrestricted funds this year compared to 2018-19.
"When considering changes in compensation, the board takes into consideration similar districts and competitiveness for total compensation," Napier said.
The district's projected ending fund balance is $4.5 million, which includes a 10 percent reserve, Napier said. He said the state requires school districts to have at least 3 percent of its expenditures in their reserve budgets.
"Funding to the school district does not come all at once creating cash flow issues in certain months," Napier said. "That's why we retain reserves. Reserves are not ongoing funding, they're one-time dollars. Once you spend the fund balance, it's gone."
Following Napier's presentation, Matt Phillips, an accountant with School Services of California, said DNUSD has $37 million in unrestricted funds in the 2019-2020 school year. He noted that every year since 2013-14 school districts have received funding increases based on the Local Control Funding Formula, which allocated extra dollars based on the number of foster students, homeless students, low-income students and English language learners.
This year, however, school districts are only expected to receive cost of living increases, Phillips said.
During public comment, Paige Thompson, DNTA's lead negotiator, drew a comparison between teacher contracts and the administrator contracts. She noted that assistant superintendents negotiated received a new contract this year, though their previous one didn't sunset until 2020.
"This new contract, along with the existing 2 percent yearly step increase assistant superintendents get, overnight from June 2019 to July 2019, our assistant superintendents (received) a 5.7 percent salary increase," Thompson said. "This includes a 2 percent step increase they already had. It also has a 3.7 percent increase. Is that because Del Norte Unified School District needed to attract and retain and hire an assistant superintendent?"
DNUSD hired Tom Kissinger as its new assistant superintendent of curriculum and instruction when its previous assistant superintendent, Steve Godla, retired in June.
Former student school board member Emily Cupp took her adult colleagues to task. In a letter read by her mother, Redwood School teacher Mary Michelle Cupp, Emily Cupp credited her instructors for the success she's currently experiencing in college.
"They deserve the world and yet you struggle to give them even the smallest bit of what they deserve," Cupp said in her letter. "Teachers in this county deserve more than 1 percent. All the teachers who taught me and impacted me deserve more than 1 percent. My mom deserves more than 1 percent."
DNTA President Marshall Jones said community members have reached out in union activities over the last two weeks and stated they are worth more than the 1 percent salary increase the district is offering.
"Educators in Del Norte County are ready," he said. "Every day this goes on, it's another lost opportunity and it's a lost opportunity for you, the school board, the district and our teachers to be stronger together."
---
SHARE →