---
Jessica Cejnar / Friday, Oct. 4, 2019 @ 9:37 a.m. / Community, Our Culture, Tribes
Panel Discussion on Klamath's Food Challenges Planned
---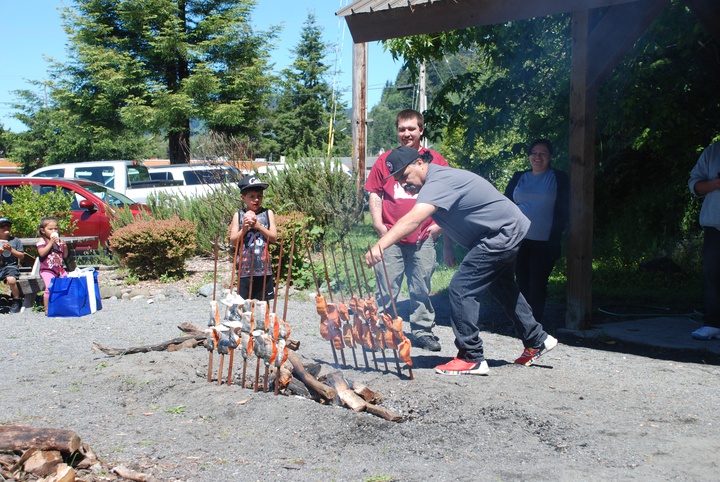 Klamath's relationship with food is complex.
Twenty miles from the nearest supermarket on the Yurok Reservation, Klamath qualifies as a food desert under standards set by the U.S. Department of Agriculture. Many residents say the community needs a grocery store. Yurok Tribe representatives say establishing something that offers affordable prices and is sustainable is a challenge. For a grocery store to be successful in Klamath, it has to have community buy-in, they say.
Then there's challenges when it comes to other methods of obtaining food in Klamath — gardening, gathering, hunting and fishing. Accessing traditional gathering places is difficult since the community is adjacent to National Park Service lands. A decline in salmon runs on the Klamath River, the heart of the Yurok community, prompted the tribe to cancel its commercial and subsistence fisheries in 2016 and 2017.
But Klamath residents are also resilient in spite of these challenges. The Wild Rivers Outpost will delve deeper into these issues and what's needed to solve them at a panel discussion, featuring Yurok tribal representatives and native community leaders. The event will be held from 5:30 - 7 p.m. Thursday, October 17 at Margaret Keating Elementary School, 300 Minot Creek Road in Klamath. Click here to RSVP. Refreshments and free childcare will be available.

The panel will run from 6-7 p.m., featuring the following speakers: Susan Masten, Klamath Wisdom Keeper and former Yurok Tribal Chairwoman; Brigette Norris, former food programs coordinator for the Community Food Council of Del Norte and Adjacent Tribal Lands; Aristea Saulsbury, Greenway Partners consultant who worked with the Hoopa Valley Tribe on its supermarket; and Josh Norris, planner for the Yurok Tribe.
Wild Rivers Outpost reporter Jessica Cejnar will discuss her reporting on her series "Feeding Klamath," which takes a look at how food access impacts the residents who live there. Read the first, second, third, and fourth stories here.
There will be a Q&A period where community members will have a chance to ask panelists their questions. The Feeding Klamath reporting project was made possible thanks to funding and community engagement support from the University of Southern California's Center for Health Journalism.
You can RSVP here and tell us what questions and topics you'd like Jessica to focus on during the panel discussion.

---
SHARE →
---